Kejriwal to file nomination from Varanasi today
April 23, 2014 08:53 IST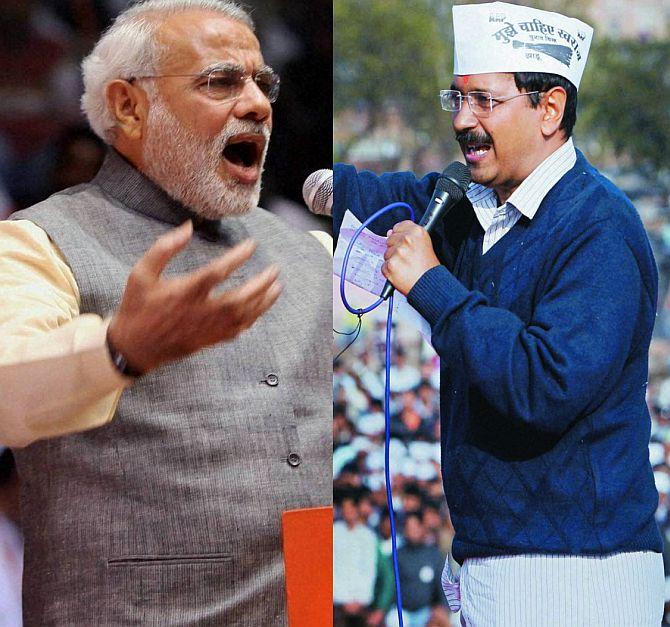 Security in the temple town of Varanasi has been tightened significantly ahead of filing of nominations by Aam Aadmi Party leader Arvind Kejriwal on Wednesday and Bharatiya Janata Party's prime ministerial hopeful Narendra Modi on Thursday.
Last month, Kejriwal had announced that he will contest from the Varanasi Lok Sabha seat after BJP's decision to field Modi from the city, considered one of the most prestigious constituencies in politically crucial Uttar Pradesh.

Forty-five-year-old Kejriwal, who had led his fledgling AAP to a spectacular victory in the Delhi Assembly polls in December last year, has been trying to replicate the successful Delhi campaign model in Varanasi by holding scores of road shows and corner meetings across Varanasi.
Hundreds of AAP volunteers are also going door-to-door to garner support from people with the BJP running an aggressive campaign to consolidate its vote bank.
Click NEXT to read further...
Kejriwal to file nomination from Varanasi today
April 23, 2014 08:53 IST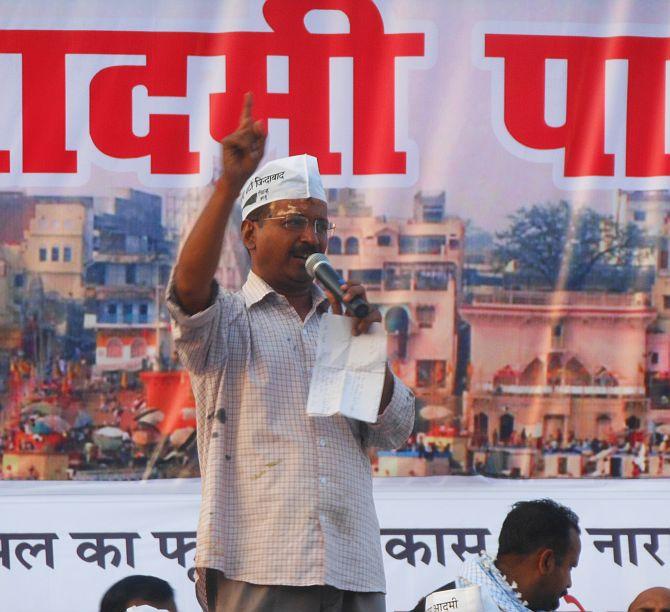 Additional security forces have been deployed across the city including in and around Banaras Hindu University, Kashi Vidyapeeth and Vishwanath temple which are likely to be visited by Modi during his visit to the city on Thursday. A high-level police team from Gujarat has arrived to ensure a fool-proof cordon around him.
Sources said the police team from Gujarat is holding back-to-back meetings with the top officers of the local administration in Varanasi for security of Modi, who will be filing his nomination following a road show in the heart of the city.
They said a number of top police officials of Uttar Pradesh administration are reviewing the security aspect as they expect a large crowd in Modi's road show along the narrow streets of Varanasi.
April 24 is the last day of filing of nomination for Varanasi constituency where election will be held on May 12. Gujarat's chief minister has been challenged by Aam Aadmi Party leader Arvind Kejriwal in the constituency along with a number of other contestants including Congress' Ajay Rai.
The BJP's prime ministerial nominee will arrive at Lal Bahadur Shastri airport on Thursday morning from where he is likely to go to the Banaras Hindu University by a helicopter.
At the campus of the premier university, Modi is likely to pay floral tribute to BHU founder Pandit Madan Mohan Malvya at his statue at the Lanka crossing. Then, he is scheduled to visit Mahatma Gandhi Kashi Vidyapeeth.
The BJP workers in the city are leaving no stone unturned to accord a grand welcome to Modi and make his road show a grand success.
"We will make Modi's road show a great success. People of Varanasi are eagerly waiting to welcome Modiji," said BJP worker Sanjoy Kapur. Officials in the local administration said adequate number of police personnel will be deployed along the route of road show by Modi, who is also contesting from the Vadodara constituency in Gujarat.
Click NEXT to read further...
Kejriwal to file nomination from Varanasi today
April 23, 2014 08:53 IST
The police team from Gujarat has already reviewed security preparedness at places where Modi is likely to visit while mine detector and anti-sabotage teams have been deployed at various sites.
Meanwhile, pujas have been organised in various temples here to pray for Modi's success in the election. BJP workers offered puja and organised 'hawans' at Vinayak and Kal Bhairav temples.
In 2009 Lok Sabha election, senior BJP leader Murli Manohar Joshi had won the seat defeating gangster-cum- politician Mukhtar Ansari by a margin of 17,000 votes. Quami Ekta Dal's Ansari, who is known to have a strong support base among Muslims, has decided not to contest against Modi from the seat "to avoid division of secular votes".
Click NEXT to read further...
Kejriwal to file nomination from Varanasi today
April 23, 2014 08:53 IST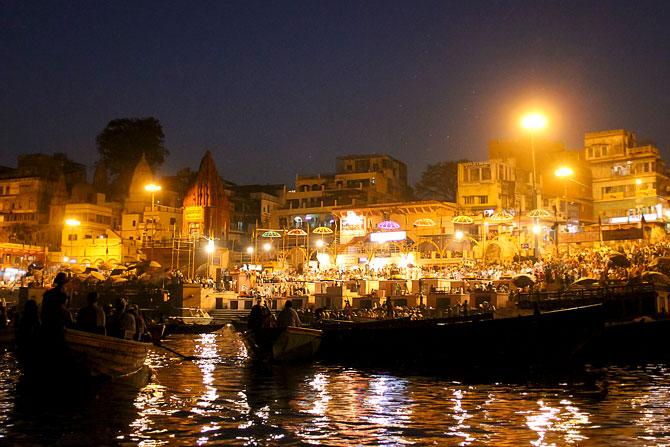 The four-time member of Legislative Assembly from Mau is currently lodged in Agra jail in BJP MLA Krishnanand Rai murder case.
The Congress has fielded Ajay Rai, a Varanasi local, who is an MLA from Pindra assembly constituency. Samajwadi Party candidate Kailash Chaurasiya is also a sitting MLA from nearby Mirzapur.
Both Rai and Chaurasiya have already filed their nominations. The entry of Modi and Kejriwal has escalated the political temperature in the battle turning it into one of the most keenly watched contests in the 2014 Lok Sabha polls.
xuding confidence of pulling off a surprise, the Aam Aadmi Party leader says people of Varanasi will stand behind him and defeat the BJP strongman while the saffron party feels Modi will not face any significant fight in the constituency.
The constituency has around 1.5 lakh Muslim voters and Kejriwal has been trying hard to woo the community. An AAP leader said Kejriwal will hold a road show before filing his nomination on Wednesday.
Polling in Varanasi would be held in the last phase of Lok Sabha elections on May 12.
Modi will file nomination on May 24, the last day. The Bahujan Samaj Party has fielded Vijay Prakash Jaisawal while the Communist Party of India-Marxist has given ticket to veteran party worker Heera Lal Yadav.
Mamata Banerjee's Trinamool Congress has given ticket to Indira Tiwari.
© Copyright 2022 PTI. All rights reserved. Republication or redistribution of PTI content, including by framing or similar means, is expressly prohibited without the prior written consent.