Mamata gives in to EC ultimatum; 7 officials to be transferred
Last updated on: April 08, 2014 22:25 IST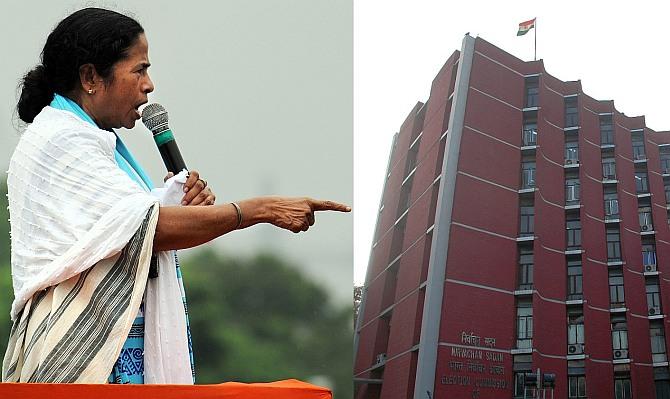 After breathing fire, the Mamata Banerjee government in West Bengal on Tuesday night buckled under pressure and agreed to transfer seven top officials as the Election Commission put its foot down and gave an ultimatum to it for complying with its order by Wednesday.
The EC had ordered the shift of four IPS officers and three IAS officers against whom complaints of bias were received.
Chief Minister and Trinamool Congress supremo Mamata Banerjee told reporters in Durgapur that she has agreed to replace four SPs, a DM and two ADMs, as directed by the Election Commission, moving away from the path of confrontation as the EC stuck to its gun.
"I will appoint the officers as directed by the Election Commission. I have no objection," Banerjee said.
"It will rather be good for me, I have good contact with all the officers in my state," Banerjee said.

Banerjee's piping down came just a day after she had threatened threatened to defy the EC order and face arrest as a consequence.
Even as she agreed to abide by the EC order, Banerjee continued to fume at the EC over the transfer decision, accusing the poll body of playing a political game and described its directive as its "political vendetta."
She alleged such action by the EC was visible only in the states ruled by regional parties like West Bengal
"How many similar actions has it taken in Gujarat, Rajasthan or Maharashtra?" she said, wondering "why regional parties are being targeted."
She said the officers who were ordered to be transferred were competent and their integrity was not in question.
"The officers were transferred without consulting the state government. No opinion was even sought as to which officer has the competence in which district," Banerjee said.

Unfazed by the severe criticism of its action by West Bengal Chief Minister Mamata Banerjee and her threat to defy the directive to shift the officials, the EC today told the state chief secretary that its order of April 7 should be complied with by tomorrow morning.

The chief secretary on Tuesday morning wrote to the EC to reconsider its Monday's order transferring one District Magistrate, two Additional DMs and Superintendents of Police of Malda, Murshidabad, Burdwan, West Midnapore and Jhargram.
One of the SPs had dual charge of West Midnapore and Jargram districts. A total 19 of Lok Sabha seats form part of these districts. The state has a total of 42 Lok Sabha seats.
"We have reconsidered their request and reiterated that our orders of April 7 should be complied with by 10 am on Wednesday," EC sources said on the Chief Secretary's plea.
The EC order on Monday had triggered a major row with the chief minister threatening to defy it saying none of the officials will be shifted as long as she is the chief minister. She had also dared the poll panel to act against her, asserting she was prepared to be arrested and go to jail.
© Copyright 2021 PTI. All rights reserved. Republication or redistribution of PTI content, including by framing or similar means, is expressly prohibited without the prior written consent.