Laluji is name of an ideology. He can't be finished, says son Tejaswi
October 15, 2013 09:24 IST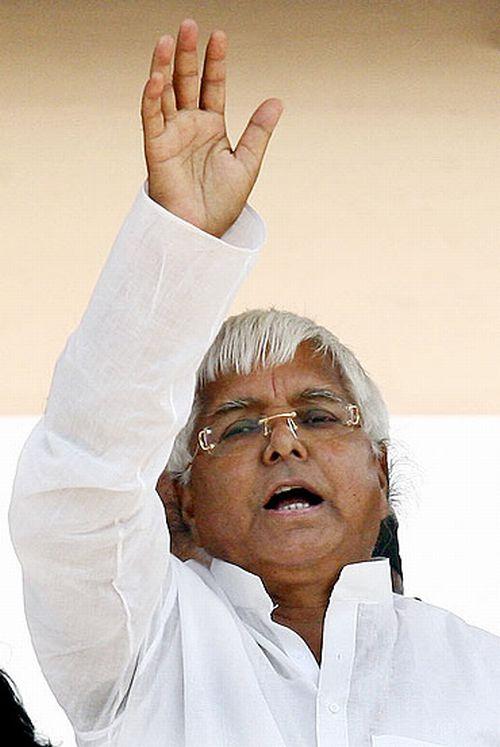 After Rashtriya Janata Dal chief Lalu Prasad's conviction in the Rs 950-crore fodder scam case, his cricketer-turned politician son Tejaswi Yadav suddenly finds himself in the limelight. Tejaswi spoke to Business Standard's Satyavrat Mishra about his party's strategy for the 2014 general elections, his father's conviction, the relationship with his siblings and cricket. Edited excerpts:
How has the political journey been for you?
When I started, our party was not in a good position. We had lost both the parliamentary and state assembly elections. That was a difficult time for all of us. However, the Parivartan Rally and the Maharajganj by-poll have been a morale booster for us. We saw a tremendous response during the run-up to the Parivartan Rally. Just a couple of weeks later, we won the Maharajganj by-poll and that, too, by more than 1,50,000 votes. We are now organising district-level meetings of party workers. Media surveys are also showing that the RJD will be the single largest party in Bihar in the coming polls. I can say that, now, we are in a strong position.

Click NEXT to read further…
'Nitish Kumar has no role in Bihar's development story'
October 15, 2013 09:24 IST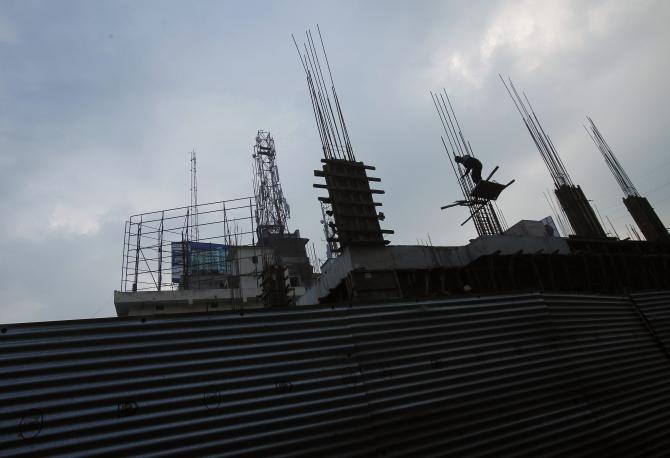 How do you plan to connect with the youth?
We have begun a campaign on social media and are also organising youth meets all over the state. Our focus is on education and jobs for the youth. The quality of education in Bihar is not on a par with the national level. When we were in power, our government had set up several universities in the state. It is because of our constant efforts, the Aligarh Muslim University is setting up its centre at Kishanganj. The employment situation is equally dismal. People are still migrating since the state government has failed to create employment opportunities in Bihar.
There are a lot of facts that need to be brought out in the open. The youth, today, does not know what our leader Lalu Prasad has done for the state. They do not know how he made social justice a reality, which was the dream of Jayaprakash Narayan and Karpoori Thakur. Most of the development that you see in Patna and Bihar was funded by the railways. Laluji gave employment opportunities for thousands of Bihari youth, when he was the rail minister. He always cared about the poor and, therefore, never raised railway fares during his tenure.

At the same time, due to his able leadership, the Indian Railways was in profit for the first time in its history. The Mahatama Gandhi National Rural Employment Guarantee Scheme and the Pradhan Mantri Grameen Sadak Yojna were launched by our leader Raghuvansh (Prasad Singh) ji. During the United Progressive Alliance-I, the central government provided funds for the construction of roads of more than 36,000 km. It is because of our leaders that Bihar has developed. Nitish Kumar has no role in this development story.

Click NEXT to read further…
'Laluji was a whistleblower in fodder scam, has been framed'
October 15, 2013 09:24 IST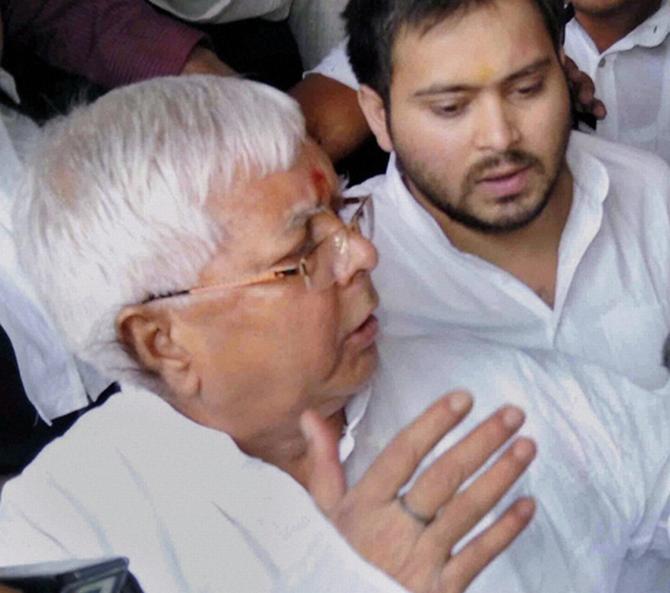 The RJD's vote share has shrunk during the last two elections. How do you plan to regain it in the coming general elections?
We have not lost much of our base. In the 2010 assembly elections, we lost only two to three per cent of the votes and it happened because the secular parties decided to fight on their own. Besides, some of our more ambitious colleagues also switched sides or fought independently. If you analyse it, the winning margin was very small. However, this time, we will stand together. Moreover, the JD-U and the Bharatiya Janata Party have also parted ways and that will benefit us. The people of Bihar have also become disenchanted with the so-called "development story" of Nitishji. They are not going to vote for him again.
Would your father's conviction be a problem for the RJD in 2014?
A problem for what? People are trying to discredit him since the day he became the chief minister. Our party has only emerged stronger in the face of crises. Laluji was sent to jail in 1997 and our party swept the next three elections. We have won 24 seats in the Lok Sabha after that. People know that justice has not been served to Laluji. He has done a lot for the poor and the minority sections. Social justice with secularism is our motto. The political fight should have been fought on the political grounds. But these people, who have lost on the political ground, are now trying to use the judicial system to frame Laluji.
We will tell how Laluji was framed in a political conspiracy. You would remember that the scam begun in 1977. He became the chief minister in 1990 and was the whistle-blower in this scam. He was the one who ordered a probe. But he was framed and sent to jail. Those who were directly involved have either been let off the hook or are out on bail.
Click NEXT to read further…
'There are two BJPs in Bihar -- one is Modi's and the other Advani's'
October 15, 2013 09:24 IST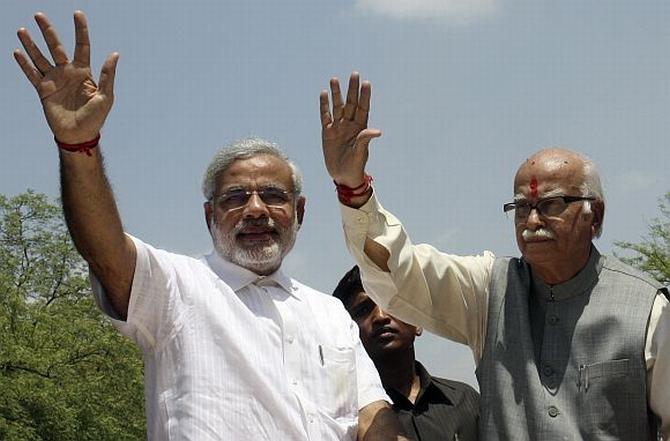 Who will lead the RJD now? Are you ready for it?
There is no question of my leading the party. I am just a foot soldier in the RJD. There are many senior leaders in our party. Laluji was, is and will remain our leader. He is the name of an ideology. He cannot be finished. It does not matter where he is. Laluji will continue to lead us. We have complete faith on the judiciary. He will be out on bail in no time. We will approach the higher courts and present our case.
Will you stand in the next elections?
I have no intention to do so.
Who will be your biggest political rival in 2014, the BJP or the JD-U?
There is no JD-U in Bihar; it's just an extension of the BJP. They want to divide secular votes so that communal forces can come into power. There are two BJPs in Bihar -- one is Narendra Modi's and the other, L K Advani's. Nitishji leads Advani's BJP, while Modi's BJP is being led by Sushil Modi. They just want to confuse the minority voters and divide the secular votes. Nitishji likes to call himself secular, but he did nothing when Godhra was burning. He was the first leader to ask Narendra Modi to become the prime ministerial candidate. Nitishji has a problem with Narendra Modi, but he still favours Advaniji. He keeps changing his statements. On the other hand, we have never compromised on our secular credentials.
Click NEXT to read further…
'Nitishji is desperate; he is trying to seduce Congress'
October 15, 2013 09:24 IST
Does the cordial relation between the Congress and the JD-U worry you?
There is no cordial relationship between the Congress and the JD-U. Look at Mr Jairam Ramesh's comments, there is no friendship between the Congress and the JD-U. Nitishji is desperate and, therefore, he is trying to seduce the Congress. He wants to divide the secular votes. It is just a nautanki.
Does the RJD still see the Congress as a friend?
We will join hands with all secular parties to keep communal forces out of power.
How is your relationship with your brother, Tej Pratap? Is there any rivalry between siblings?
We share a very cordial relationship. We keep in touch and whenever we have time, we visit each other. We have always been taught to love and respect each other and stand together. The rivalry thing is nothing but a creation of some people's mind. Why should we fight? None of us hold any post in the party and none of us want to fight elections. We do not want anything but the development of Bihar.
You used to play cricket earlier. Do you miss it?
Yes, I do. Last time I played professionally was in 2010. After that, I got into campaigning for the party. It proved to be a good opportunity for me to connect with people. I met a lot of people at that time and they advised me to get into politics. After that, I decided to venture into politics. Even nowadays, whenever I get a chance, I play.
TOP photo features you missed last week
October 15, 2013 09:24 IST
Click on MORE to see another PHOTO features...
Source: