Lalu Prasad Yadav: The shrewd politician's highs and lows
September 30, 2013 16:16 IST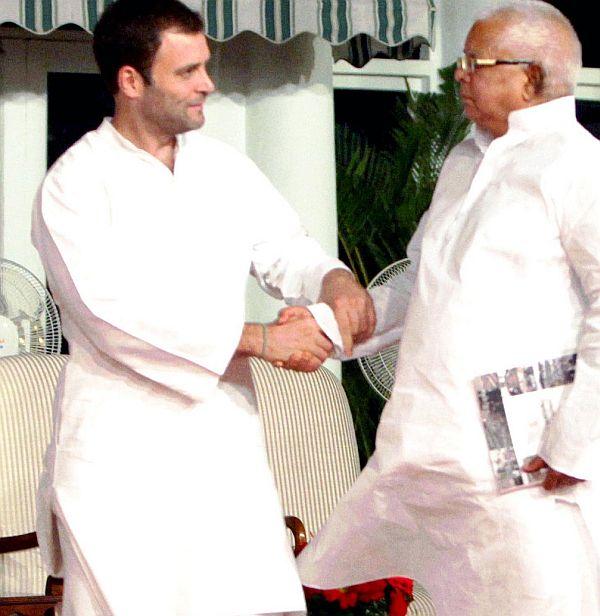 Lalu Prasad Yadav took his first step into politics as a student at PatnaUniversity in its union elections. The election won 29-year-old Lalu Yadav a Janata Party ticket to the 9th Lok Sabha in 1977.
Born to poor peasant parents on June 11, 1948, in Phulwaria in Gopalganj district, Bihar, Lalu Prasad Yadav studied at the Patna University and holds an LLB degree.
The two time chief minister of Bihar is the Rashtriya Janata Dal party's national president, which was formed by breaking away from the Janata Dal, is a Parliamentary member of Saran constituency in Bihar.
In a span of 10 years, Yadav became a formidable force in Bihar state politics, known for his popularity among the Muslim and Yadav voters.
Click NEXT to read further...
Lalu Prasad Yadav: The shrewd politician's highs and lows
September 30, 2013 16:16 IST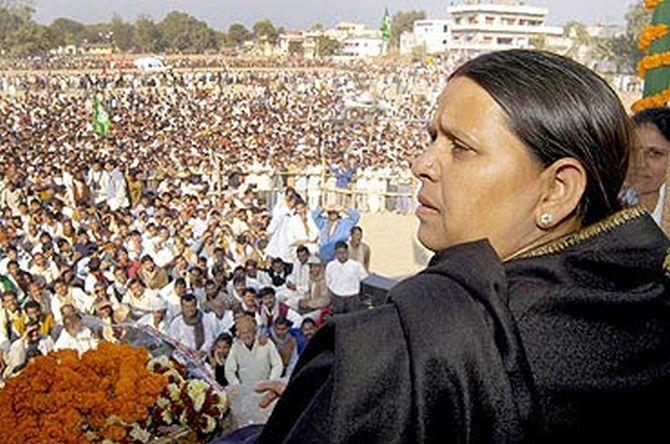 Lalu first became chief minister on March 10, 1990 and served till April 3, 1995. His second stint was from April 4, 1995 to July 25, 1997.
It was during this tenure as chief minister that Lalu was charged with being involved in the embezzlement of 950 crore over several years from the Bihar government's coffers in the name of fodder, medicines and other supplies for non-existent cattle. Lalu Yadav was charged in a specific case involving the siphoning of Rs 37 crore in 1994-95.
The multi-crore scam led to his resignation but led Lalu's wife Rabri Devi to take charge as chief minister in spite of several objections. Political opponents often accused Rabri Devi was being a proxy chief minister.
Bihar was been criticized for its lawlessness under Lalu Prasad Yadav's tenure as chief minister. It was termed as 'jungle raj'.
A charismatic leader with mass appeal Lalu Prasad is well-known for his wit. Despite his cultivated image of being a rustic buffoon, Lalu Yadav is one of the most media-savvy politicians in India. His clever retorts have been the delight of journalists and MPs are often seen laughing at his remarks in Parliament.
Click NEXT to read further...
Lalu Prasad Yadav: The shrewd politician's highs and lows
September 30, 2013 16:16 IST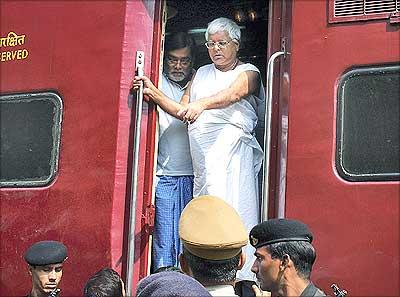 When it comes to political battles, Lalu has been a heavyweight and has engineered defections from other parties and has been masterful in the murky number game.
He was elected from the Madhepura and Chhapra seats of Bihar to the 14th Lok Sabha and became Railways minister in the UPA government from 2004 to 2009.
Lalu's biggest achievement came as Railways minister when he turned around the Indian Railways fortunes. He showed superb imagination in turning around the bankrupt Railways and was credited of posting to it a surplus of about Rs 20,000 crores. Lalu's management became a subject of research and he was invited at the several forums to deliver lectures.
Lalu Yadav has been a strong supporter of Congress President Sonia Gandhi and a loyal ally of the Manmohan Singh government. The United Progressive Alliance government's decision to go for the ordinance allowing convicted MPs and MLAs to continue in office and contest elections was seen as a clear move by opponents to help out beleaguered Rashtriya Janata Dal chief Lalu Prasad Yadav.
But after Rahul Gandhi's condemnation of the ordinance as "complete nonsense," stalled that move.
The RJD chief's conviction will result in his disqualification as Lok Sabha member under a recent Supreme Court order that an MP or MLA would stand disqualified immediately if convicted by a court for crimes with punishment of two years or more and under some other laws even without jail sentence.
Click NEXT to read further...
Lalu Prasad Yadav: The shrewd politician's highs and lows
September 30, 2013 16:16 IST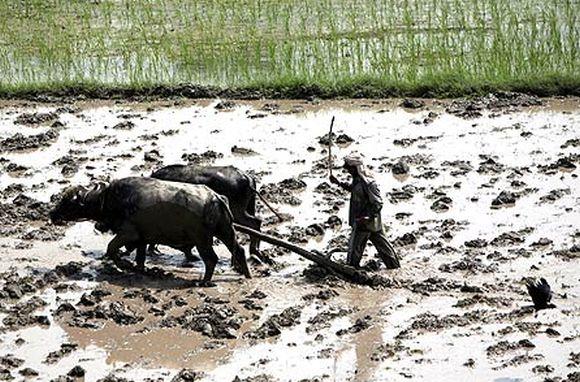 The Fodder scam case:
January 1996: Fodder scam surfaces after Deputy Commissioner Amit Khare raids offices of animal husbandry department, seizing documents showing syphoning of funds by non-existent companies in the name of supplying fodder.
March 11, 1996: Patna High Court directs CBI to probe the scam. Supreme Court upholds the order.
March 27, 1996: CBI registers FIR in Chaibasa treasury case.
June 23, 1997: CBI files charge sheet and makes Lalu Prasad accused.
July 30, 1997: RJD chief Lalu Prasad surrenders before CBI court, sent to judicial custody.
April 5, 2000: Charges framed before special CBI court.
October 5, 2001: Supreme Court transfers fodder scam cases to Jharkhand after the creation of new state.
February, 2002: Trial begins in Ranchi special CBI court.
August 13, 2013: Supreme Court rejects Lalu Prasad's plea seeking transfer of the trial court judge hearing the case.
September 17, 2013: Special CBI court reserves judgement.
September 30, 2013: Two former Bihar Chief Ministers Lalu Prasad and Jagganath Mishra along with 45 others convicted by special CBI judge Pravas Kumar Singh.
TOP photo features you missed last week
September 30, 2013 16:16 IST
Click on MORE to see another PHOTO features...