Iraq kidnapping: 'India can't do much politically or militarily'
June 20, 2014 15:18 IST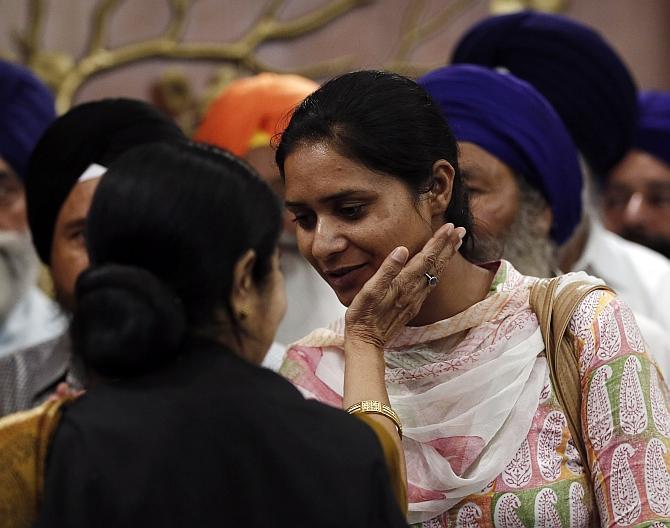 'There's nothing we can do militarily (in the kidnapping of 40 Indians in Iraq). No military option for India, no way. Certainly, if the United States is feeling so reluctant to get involved there, it would be extremely unwise of India to think of any military option in this matter. What can we do politically? Hardly anything.'
'We just have to take care of our citizens. Pay ransom money if we have to and get away. In the past as well we have paid ransom money when three Indians were kidnapped in Iraq. The company that employed them paid.'

'I think Muslims in our country need to be reassured without going into the Shia-Sunni business. All Muslims need to be reassured and it seems that they are not that apprehensive about Modi as they were or made out to be in the media at least.'
Ambassador Chinmaya Gharekhan explains the situation in Iraq and Syria in the final part of his interview to rediff.com's Sheela Bhatt.
In the first part, Ambassador Gharekhan speaks eloquently about the complete mess in the Iraq which, he claims, is a direct culmination of the US invasion of Iraq in 2003.
Part 1: 'Americans created the sharp sectarian divide in Iraq'
When Barack Obama came to power, he went to Egypt and gave that famous speech on Islam, then he went to Vienna to give a speech on the nuclear issue. But, we don't see the Obama impact lingering on.
Well, for all his first term he was preoccupied with the economic conditions in the US so he did not do much. His priority was to get out of Iraq and Afghanistan and in Iraq he failed to get an agreement with the Iraqi government. The SOFA agreement (Status of Forces Agreement) that would have permitted America to keep troops over there. But the Iraqi government did not agree, Prime Minister Nouri al-Maliki did not agree to the conditions that America wanted.
Basically they wanted immunity for their troops from local jurisdiction which they did not get, so they left. But they left thinking they had left behind a stable democratic system in place. But that did not happen. And I do not know to what extent Obama believed that Iraq would be a stable democracy after the departure of American troops. Same with Afghanistan…

Click NEXT to read further…
'Putin must be extremely worried about the rise of ISIL'
June 20, 2014 15:18 IST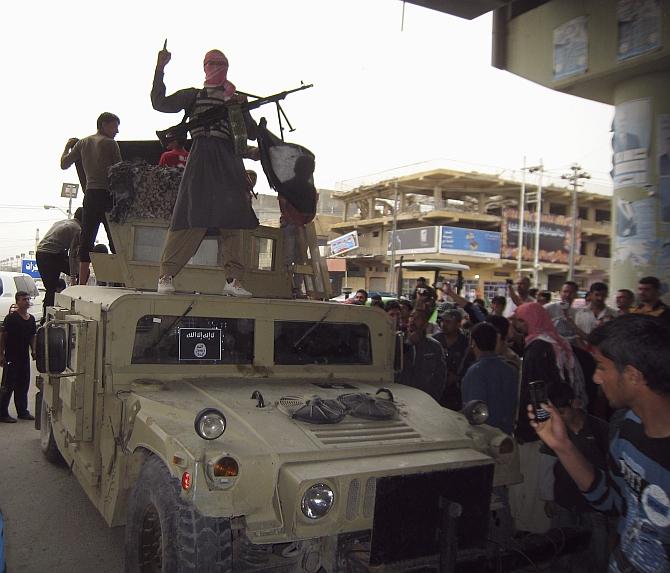 Do you foresee America coming back into Iraq?
I don't.
How do you see Russia and China playing their respective roles in the Iraq issue?
Well, I think they are not unhappy that Americans are stuck about their choice, their options. So I'm sure Russian President Vladimir Putin is relishing the decline of the US in the Middle East. But, at the same time, he must be extremely worried about the rise of the ISIL because he has got a big Muslim population in Chechnya and other neighbouring countries. So I think he's a much worried man.
And this was one of his country's concerns in Afghanistan also. Because, the rise of the Taliban in Afghanistan has fomented radicalism in the Central Asian republics and through them in Russia itself. I think Putin will try to use the situation. He has got some clout in Syria because the regime is much dependent on Russia for weapon supplies and politics also.
Russia is the one who blocks resolutions in the Security Council. So he has clout there. Probably, Russia has some clout in Baghdad through Iran. Iran has considerably good relations with Russia. I don't think Russia is in a position to do something significant.
What about China?
I think China is also worried about radical Islam in the western region and oil supplies; they are also dependent for their energy supplies on this region. They're concerned but I don't think they are also in a position to influence the course of events in Syria and Iraq.

Click NEXT to read further…
'We just have to take care of our citizens. Pay ransom money if we have to...'
June 20, 2014 15:18 IST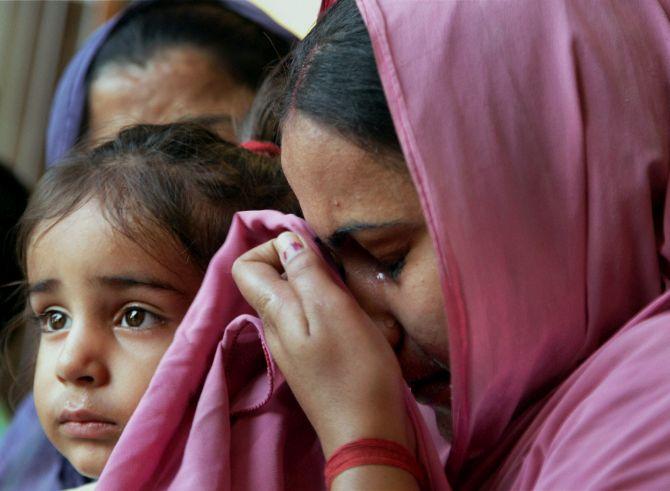 Now coming to India, can you tell me the best possible options before India to handle the kidnapping of Indians in Iraq?
There's nothing we can do militarily. No military option for India, no way. Certainly, if the US is feeling so reluctant to get involved there, it would be extremely unwise of India to think of any military option in this matter.
Political?
What can we do politically? Hardly anything. Of course, we must be in touch with the government in Baghdad with whom we have good relations. We get oil from Iraq, oil supplies have so far not been affected, or disrupted. But it is not going to take long for the oil supplies to be affected.
So I don't think there's much India can do right now, politically or militarily or any other way. Obviously we won't have any contacts with these ISIL fellows. I would be highly and favourably impressed if we have contacts with these terrorist guys. But I don't think so. I suspect we don't have any.
We just have to take care of our citizens. Pay ransom money if we have to and get away. In the past as well we have paid ransom money when three Indians were kidnapped in Iraq. The company that employed them paid up. The 40 people have been kidnapped for money, probably. However, the ISIL fellows are the richest terrorist organisation in the world. They looted $425 million from the central bank of Iraq in Mosul. Now they have more money than the Al Qaeda.
What do you think is their approach towards India?
This is the thing we need to be careful about. If the Shias get thrashed in Iraq, then in today's globalised world, their fellow religionists here or anywhere in the world get worked up. Fortunately we do not have tensions like Pakistan has. And Indian Shias and Sunnis by and large live at peace with each other. There will be underlying tension, which will increase.
Click NEXT to read further…
'India's Muslims need to be reassured without going into the Shia-Sunni business'
June 20, 2014 15:18 IST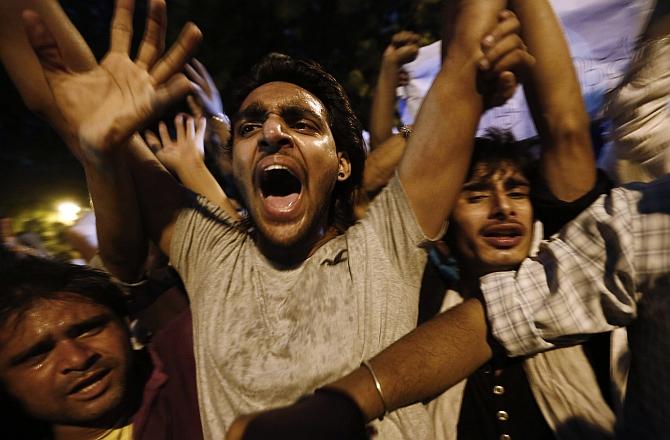 Narendra Modi has became the PM less than a month back. He has a certain image of being a strong Hindu nationalist leader. Does that factor come into account when we assess future developments on the issue?
I know what you're trying to suggest. You see, from what one has seen, Modi as the PM is a different person from what he has been portrayed during the election campaign or what he has been perceived to be as the chief minister of Gujarat.
And he has made very statesman-like statements and declarations. He talks about 125 crore Indians must work together and so on. And I think Modi is so focused on fulfilling his development agenda, which is the only thing that will ensure him his second term, five years later.
Like any other politician he also wants to create a name for himself in history. I think that whatever his personal convictions, of which I know nothing at all, I think he'll take a pragmatic view. I think from what one hears in talk shows and all and the fact that the Muslims of Gujarat have voted for him in larger numbers this time is reassuring.
I think Muslims in our country need to be reassured without going into the Shia-Sunni business. All Muslims need to be reassured and it seems that they are not that apprehensive about Modi as they were or made out to be in the media at least. Even in Pakistan, their press, their media had carried articles about the 'Hindu leader' coming to power and the fear of the Hindu rashtra etc.
But, Modi's statements and actions since he came to power give us hope.
What will be the impact of the current situation in Iraq on the global economy?
That's a good question because the Middle East produces more than half of the global reserves of energy and hydrocarbon resources. Oil prices have already gone up and the trend will be upward. So it will affect the global economy, it will affect India, our balance of payments, as our import bill will go up.
So far I don't think there's going to be a problem of supplies. Even if Iraqi supplies get reduced, we can get it from Iran, Saudi Arabia, UAE, there is no problem about getting supplies. The bill will be much bigger, so the energy prices in India will go up, inflation will go up. We are in a vicious cycle. The government will have to face all these problems.
But it'll also be political because nothing comes free. It is not just that you buy oil. pay money and that's it. Our dependence on other countries like Saudi Arabia, Iran will grow. And if we get more oil from Iran, that will make the Americans unhappy.
But I think we have done well to keep our lines open with Iran. America and Iran will make up one day very soon and they will leave everyone in the lurch. So we have to look at our national interest. We're a big country and considerably strong, if we remain unified within ourselves then nobody can touch us.
Click NEXT to read further…
'Rape has become a major weapon of war and this has to despised'
June 20, 2014 15:18 IST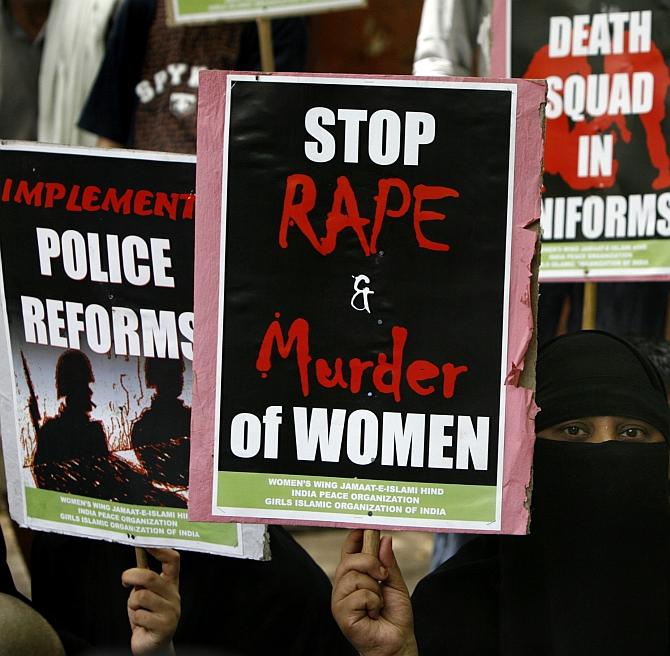 You have been to the Middle East many times. What must be the plight of the ordinary people over there?
Many people can be fanatic, or fundamentalist or extremist. But, in the battle zone the common people must be feeling terribly unsafe, insecure, living in constant fear. We see their women, their daughters being brutally massacred or assaulted. Rape has become a major weapon of war and this has to despised and condemned.
We have to feel extremely sad for them but what can we do?
How was your experience with the people of Iraq and Syria?
The people of Iraq are friendly towards India. Indian troops played a major role there in the First World War and so on. And the people in Syria as well like India. They have very affectionate feelings towards India and its people. During the old days, especially Indira Gandhi and Rajiv Gandhi's time, we were great friends. So I feel very sad for them.
Lebanon is a very fragmented country. You know again the same sectarian war is there. But I'm afraid they are condemned to live with this situation for many years to come.