Has the Mahatma's life been reduced to a tourist attraction?
August 14, 2014 13:17 IST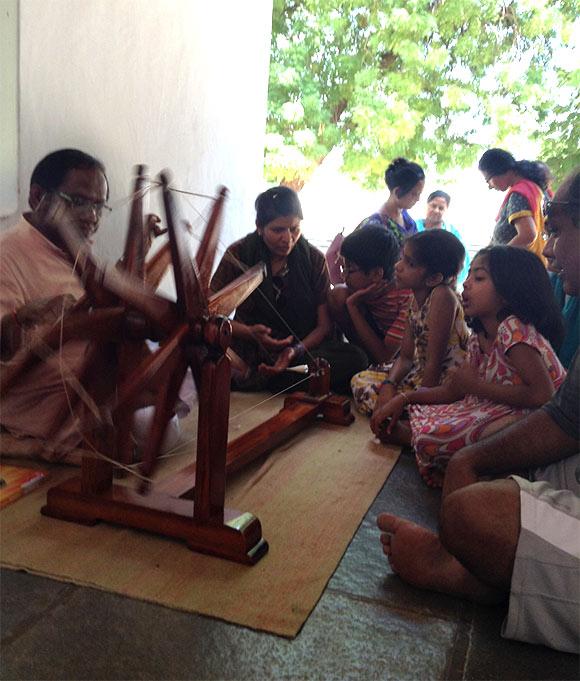 On her visit to Mahatma Gandhi's home, Sabarmati Ashram, Shubhrastha wonders what India could have been if it had followed Gandhiji's teachings in its entirety.
As we approach the 67th Independence Day a visit to India's philosophical architect -- Gandhiji's -- home in Sabarmati Ashram, seemed necessary to anchor my deliberations on what it means to be free today and what we have achieved since 1947.
True to his life and message, every facet of our lives is a message we send out about ourselves to the world. As a young and aware Indian with massive anticipation regarding the Independence Day speech from the altars of the Red Fort, to be given by the recently elected prime minister, this visit to the ashram reinforced the values of self-exploration and self-education.
Situated on the banks of river Sabarmati and canopied with trees and greenery, the ashram is a delightful journey in itself. Lata ben, a caretaker of the ashram says, "Everyone who has to pass time in the city visits the ashram. Tourists, passengers waiting for their next train from Ahmedabad, school students, researchers visit the ashram."
This statement came as a sweet pain to me. While at one level I was happy that the legacy of bapu continues to stay, I felt deeply aggrieved that slowly his whole life and message is being reduced to a tourist attraction.
A series of photographs, his handwritten letters, his teachings embossed in frames, his recorded speeches -- someday -- will merely exist for heritage entertainment. This thought made the Indian in me extremely pensive. What will perhaps remain is a concrete reminder to where the man slept, where he stayed and the manufactured beauty of the place.
Shubhrastha is the founding member of Citizens for Accountable Governance
Please click NEXT to read more…
Has the Mahatma's life been reduced to a tourist attraction?
August 14, 2014 13:17 IST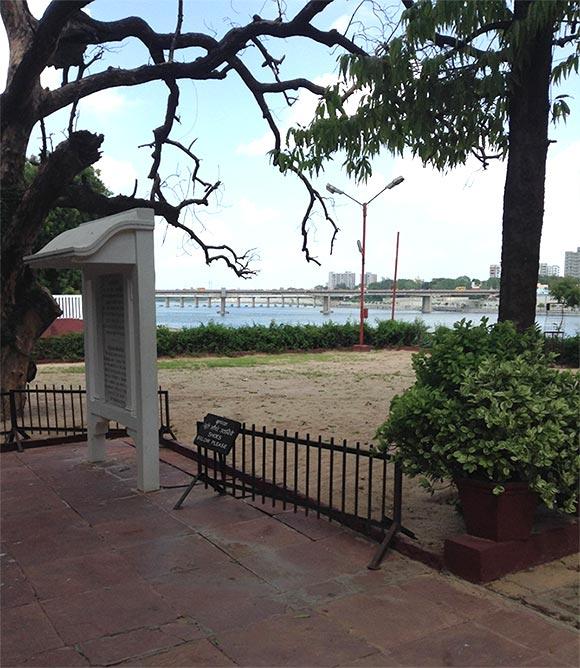 The insides of the ashram struck me for the extreme simplicity of bapu's life. Open, average sized rooms in the neighborhood of people he connected with and worked with -- his disciples mainly -- lent an air of purpose and calm. There is a sense of serenity that serenades the entire premise.
A look at the ashram and its slow penetration into consciousness actually reveals what India could have been if it had followed Gandhiji's teachings in entirety -- a peaceful, tranquil nation with perfect comity with all neighbours and an ideal for the world to follow.
Gandhiji's statue in the middle of the 'prayer ground' lends a surreal picture to a visitor. It seems as if the mahatma -- still alive -- is bearing testimony to the present times and is trying to make sense of the madness around. The statue overlooks a note in the adjacent corridors which reads bapu's words.
It reads that Gandhiji has been making shoes and asks people who want their shoes made to send him the measurements.
The sheer force of self-reliance and ability to do any work without an inherent and/or cultivated bias of smallness and largeness of the task at hand left me amazed. How simple it would be for all of us to value work for its purpose and not its status. How very convenient and progressive it would be to give equal importance to all work -- casual, physical, mental. How it would actually establish the socialist ideal.
Please click NEXT to read more...
Has the Mahatma's life been reduced to a tourist attraction?
August 14, 2014 13:17 IST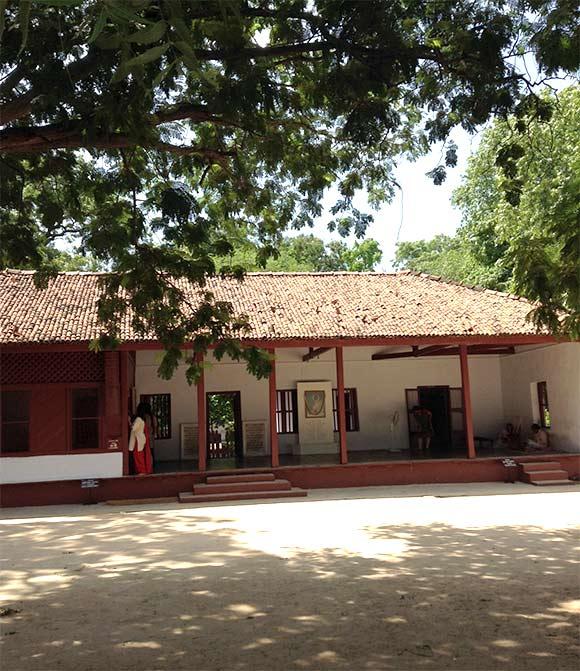 Gandhiji brought about the revolution he could with the magic of the charkha. As a symbol of self-reliance, self-sufficiency, hard work, perseverance and indigenous pride, the charkha and weaving are motifs of true Indianness.
One of the ashram sanchalaks who sits with the magic wheel all day and explains it to visitors remarked, "In today's fast-paced lifestyle, people have forgotten the magic of simplicity. There is a Swedish national who visits us every year and spends his winters in the ashram trying to understand khadi and weaving across Gujarat."
The statement made me reflect on another of the mahatma's notes where he says that to leave our culture is the worst form of suicide and that we should strive to follow what is our own with a sense of pride and purpose. And true to the value of the words, I could connect khadi, its popularity, reach and its craze with bapu's teachings.
Please click NEXT to read more...
Has the Mahatma's life been reduced to a tourist attraction?
August 14, 2014 13:17 IST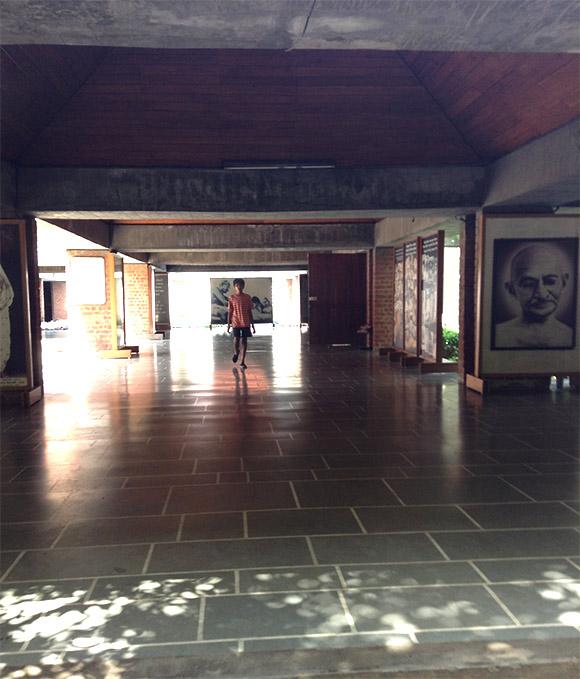 I could see the anticipation palpitating in every Indian in his/her expectation from the newly formed government to hear a message of support and institutional structure to promote self-reliance in the nation.
While children continued to occupy major portions of the ashram -- looking at every object with curiosity, playing with the squirrels and camping under the trees, roaming around in the corridors, I could smile and sigh with assurance that all is not lost.
If we take our responsibilities seriously and make sure that the mahatma's words and life stays close to the children through different ways and means, we can be assured of a generation of conscious and aware Indian youth ready to take on the world with spiritual might.
And this child walking in this corridor -- pulsating with the historical reverberations and legacy of the great mahatma -- painted a picture of sheer hope and optimism.