I only bought a one-way ticket: Tragic joke of MH17 flier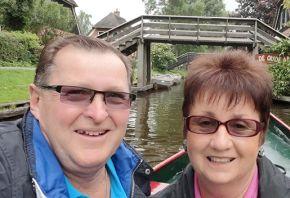 A Queensland man who died in the Malaysia Airlines tragedy joked about not returning from his European holiday.

Before leaving Brisbane, retiree Howard Horder, 63, quipped that he was flying with Malaysia Airlines and only needed a one-way ticket, his brother says. It was a reference to the baffling disappearance of MH370 en route from Kuala Lumpur to Beijing in March.
"I spoke to him two days before he went on his holiday and he said he was flying with Malaysia Airlines," Howard's brother Glenn Horder said, adding, that his brother was only joking and it was just his sense of humour. "He just said that the other flight didn't come back."
Horder and his wife Susan, 63, from Albany Creek in north-west of Brisbane, were among seven Queenslanders aboard flight MH17 when it was shot down over eastern Ukraine. There were 28 Australians among the 298 people killed.
Glenn Horder said his family and neighbours were still coming to grips with the news. "Most of the population of Australia can't believe you could go on a holiday and you're going to get shot down by a rocket," he said. "It's still hard to believe they're not coming home from a simple holiday."
Image: Howard Horder and his wife Susan were among the 7 from Queensland aboard flight MH17. Photograph: Facebook
Image:
Flowers and mementos lie on wreckage at the crash site of Malaysia Airlines Flight MH17, near the settlement of Grabovo in the Donetsk.
Photographs:
Maxim Zmeyev/Reuters