Godhra train carnage case chronology
Last updated on: February 22, 2011 14:01 IST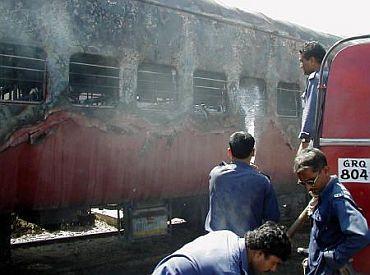 Following is the chronology of the case related to the 2002 Godhra train carnage and the communal violence that followed the incident.

February 27, 2002: 59 'karsevaks' die after S-6 coach of the Sabarmati Express is torched by a mob near Godhra railway station.

February 28, 2002: FIR filed against 1,500 people

March 31, 2002: Communal violence erupts in various parts of Gujarat killing over 1,200 people, mostly belonging to the minority community.

March 3, 2002: Prevention Of Terrorism Ordinance (POTO) invoked against those arrested for Godhra train burning case.

Click on NEXT for more...

Also Read:
Godhra case: 31 guilty; court confirms conspiracy 


Godhra train carnage case chronology
Last updated on: February 22, 2011 14:01 IST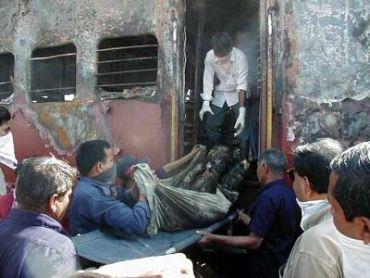 M
arch 6, 2002:
Gujarat government appoints a commission under Commission of Inquiry Act to probe the Godhra incident and the post-Godhra riots.
March 9, 2002:
Police include IPC section 120 B (criminal conspiracy) against all accused.
March 25, 2002:
POTO suspended on all the accused due to pressure from the central government.
May 27, 2002:
First charge sheet filed against 54 accused but they are not charged under Prevention of Terrorism Act (POTO became an Act as it was cleared by Parliament).
Godhra train carnage case chronology
Last updated on: February 22, 2011 14:01 IST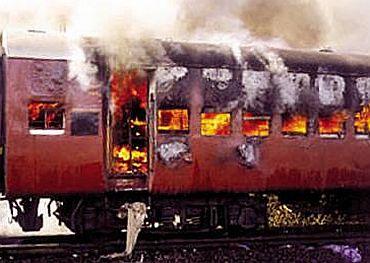 February 18, 2003: Prevention of Terrorism Act re-invoked against the accused after BJP government is re-elected in the state.

November 21, 2003: Supreme Court stays judicial proceeding of all riot-related cases including Godhra train burning incident.

September 4, 2004: A committee headed by former Supreme Court judge U C Banerjee constituted following a Union cabinet decision to inquire into certain aspects of the incident under Railway Ministry when RJD leader Lalu Prasad was the minister.

September 21, 2004: Decision to review POTA charges against the accused, as the newly elected UPA government repeals POTA.


Godhra train carnage case chronology
Last updated on: February 22, 2011 14:01 IST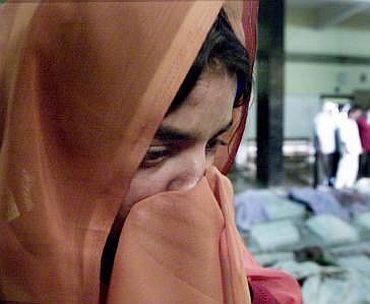 January 17, 2005: U C Banerjee submits preliminary report suggesting that fire in S6 coach was a 'accident' and ruled out the possibility of fire having resulted after any external attack.

May 16, 2005: POTA Review Committee gives its opinion to not charge the accused under POTA.

October 13, 2006: Gujarat high court rules formation of U C Banerjee committee as 'illegal' and 'unconstitutional' since Nanavati-Shah Commission was already conducting inquiry in all riot-related cases and said Banerjee probe results stand 'invalid'.

March 26, 2008: SC constitutes Special Investigation Team (SIT) to investigate Godhra train burning incident and eight other post-Godhra riot cases.


Godhra train carnage case chronology
Last updated on: February 22, 2011 14:01 IST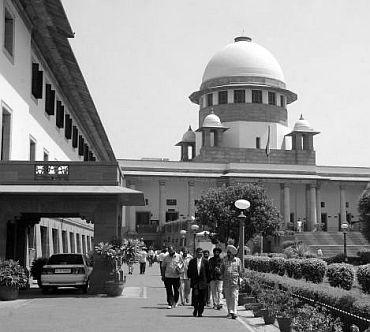 September 18, 2008: Nanavati Commission submits its report on Godhra train burning incident, saying that it was a pre-planned conspiracy and S6 coach was torched by a mob, which had poured petrol inside it.

February 12, 2009: HC upholds Pota Review Committee decision that the act cannot be applied in this case.

February 20, 2009: Kin of victim of Godhra train burning case move SC against decision of HC to drop POTA charges against the accused. Case is still pending.

May 1, 2009: SC lifts stay on trial of Godhra and all other cases being probed by the SIT, after the team headed by former CBI director R K Raghavan makes steady progress in the Godhra-train buring and eight other major riot cases in the state.




Godhra train carnage case chronology
Last updated on: February 22, 2011 14:01 IST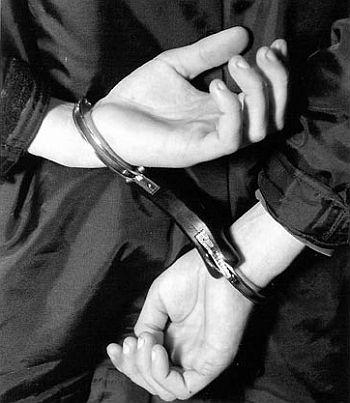 June 1, 2009: Trial of the Godhra train carnage commences inside the Sabarmati Central jail in Ahmedabad.

May 6, 2010: SC restrains trial courts to pronounce judgement in nine sensitive riot cases of Gujarat, including Godhra train incident.

September 28, 2010: Trial concludes, no pronouncement of judgement due to stay by the apex court.

January 18, 2011: SC lifts ban on pronouncement of verdict.

February 22, 2011: Special court convicts 31 accused and acquits 63 others in the train burning case.