'For 60 yrs you were ruled, now give me a chance to serve for 60 months'
January 19, 2014 16:46 IST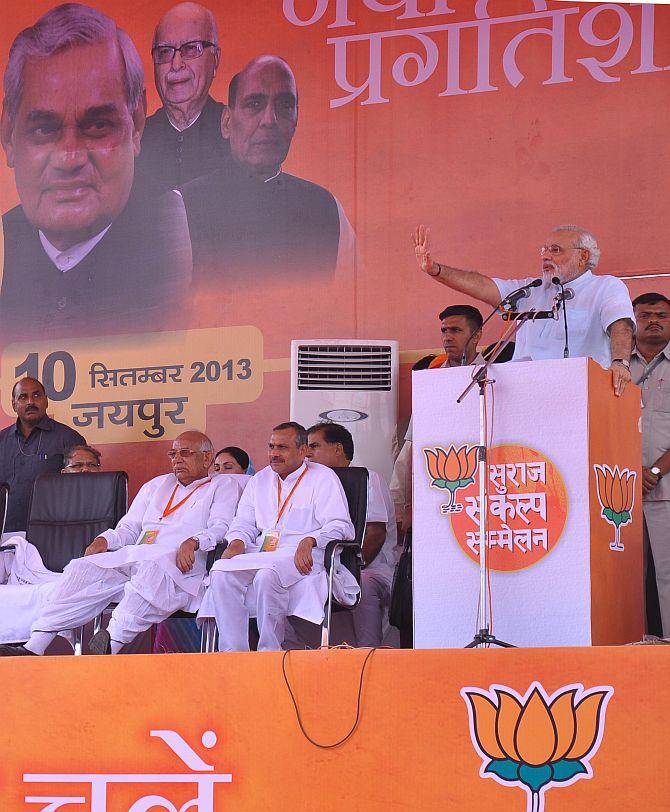 The BJP's Prime Ministerial candidate Narendra Modi on Sunday launched a sharp attack on Congress, saying it had desisted from projecting Rahul Gandhi as its prime ministerial candidate as Sonia Gandhi did not want to "sacrifice" her son politically in view of the "imminent defeat".
The BJP's prime ministerial candidate also responded to the Congress' "chai wala" jibe at him, saying all the tea vendor were today proud that one among them was contesting for the top post.
Addressing the party's National Council here, he targeted Rahul without naming him as he said that "those born in an aristocratic family" feel below their dignity to contest against a tea vendor coming from a backward as they have "feudal mindset".
In his 75-minute speech, Modi questioned Congress' contention that it was following the tradition of not naming a PM candidate as the person should be elected by the MPs. In this regard, he referred to 1984, when Rajiv Gandhi was declared the prime minister after the assassination of his mother Indira Gandhi.
Click NEXT to read further...
'With defeat imminent, which mother will sacrifice her son politically?'
January 19, 2014 16:46 IST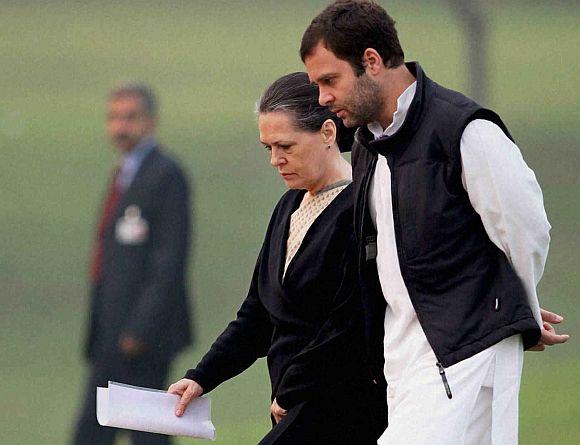 He also mentioned 2004, when Congress MPs elected Sonia Gandhi to be the prime minister but she instead nominated Manmohan Singh for the top job.
"I see a human angle behind this decision of Congress. When defeat is imminent, which mother will sacrifice her son politically? The heart of a mother (Sonia) decided to protect her son," Modi said on the ruling party's stand of not naming Rahul as the PM candidate for the upcoming Lok Sabha polls.
Attacking the UPA government, Modi said the country has never seen such bad days as during the last decade when corruption and inflation were at peak and poverty was all over.
Modi said Congress had ruled the country for 60 years and it was now time for giving a chance to his party for 60 months.
"For 60 years, you have chosen rulers...I appeal to the people, you have given 60 years to rulers, now give 60 months to this 'sevak' (servant). It is time now for 'sevak'," he said while addressing the BJP gathering at Ramlila ground.
Click NEXT to read further...
'Our thought is nationalism, their thought is dynasty'
January 19, 2014 16:46 IST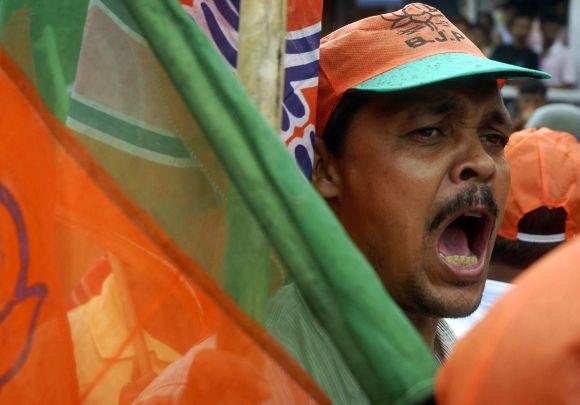 Apparently with the Aam Aadmi Party effect in mind, Modi said democracy so far has been "representative" but now it was time to make it "participatory" with greater involvement of people in governance.
Taking a dig at Rahul's contention that Congress is a "thought" which cannot be erased, he said he did not want to delve into what kind of thought it is. "But the entire Congress party is in deep thought."
Continuing his swipe, he said, "our thought is nationalism, their thought is dynasty."
He also hit out at Rahul for his remark that tickets would be given to those having Congress in their hearts. "Our thinking is that tickets be given to those who have the country in their hearts."
Rahul's other comments like 'India is a bee-hive' and 'poverty is a state of mind' also came in for attack from Modi. "For us, India is our mother and the poor should be treated like god," he said.
Modi cited the former prime minister Atal Bihari Vajpayee's rule and the decisions taken during that time while urging people to elect a government based on the track record of political parties and not on rheotrical claims coming out of "decrepit tape-recorders".
Click NEXT to read further...
'Country is burdened with committees it needs commitments'
January 19, 2014 16:46 IST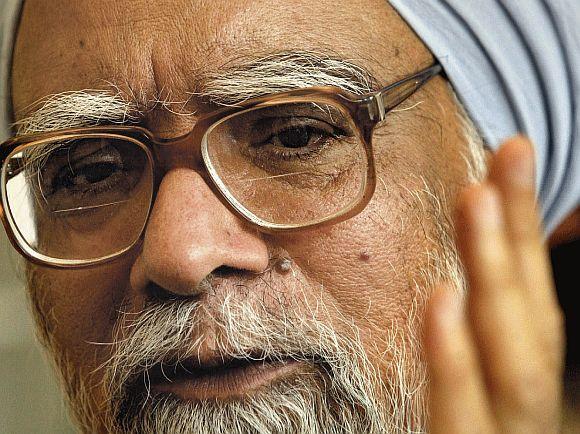 Modi also praised the L K Advani, who had initially been opposed to his projection as the PM candidate, and promised to implement his favourite proposal of getting back blackmoney stashed abroad if he becomes the prime minister.
Targeting the prime minister, Modi said, "not a single month goes when he does not form a committee. The country is burdened with committees. Now it is time not for committees but for commitments."
He said, "The country does not need Bills but political will... We have heard enough of Acts what we need now is action. We do not need doles, we need delivery."
In an apparent bid to counter the charge by his rivals that his economic model is pro-rich, he said "good governance" is not for the rich who can "buy" government but for the poor, dalits and deprived who need schools and hospitals.
He sought to reach out to states, many of which are ruled by regional parties whose support to him could be crucial in future. He promised to change the present order in which the Centre behaves like a "big brother" and acted as if it was doing a favour to states with its help.
"I as a chief minister who has worked with favourable as well as unfavourable central governments, I understand the compulsions of states... There won't be any big brother or younger brother. The Union ministers will work with ministers from states... We will be equals," he said.
Click NEXT to read further...
'Want to build brand India to compete in the globalised world'
January 19, 2014 16:46 IST
Observing that India has huge potential to be among the top countries of the world, Modi unveiled his vision of giving a new direction to progress through empowerment and job opportunities to various sections, particularly the poor and skilled workers.
He talked about his plan to create 100 "smart" cities and establishing IIMs, IITs and AIIMS in every state.
"We need second generation infrastructure, inter-linking of rivers, gas grid to end fight over (LPG) cylinders, optical fibre network across the country, the BJP leader said.
He said the Vajpayee government built golden quadrilateral of roads and it was time to build golden quadrilateral of bullet trains as country approaches "diamond jubilee" of Independence.
Wanting to build "brand India" to compete in the globalised world, he said it would focus on 5-Ts -- talent, tradition, tourism, trade and technology.
To address the issue of price rise, he talked about setting up of a 'price stabilisation fund' and creation of an agriculture grid, which will involve keeping realtime data about production.
Wondering whether inflation could not be checked, he said there is no realtime data about sowing of seeds and production of foodgrains.
"Our first priority will be to have realtime data of foodgrains sown and produced as also the requirement. By this method, we can also decide what to export," he said.
He also proposed to have a price stabilisation fund which could help the government intervene in case of price rise and give immunity to the people.
Setting up of a National Agriculture Market is another proposal he has besides special courts to deal with black marketing.
"If Atalji's government could prevent price rise, our govt in 2014 can also do," he said.
© Copyright 2019 PTI. All rights reserved. Republication or redistribution of PTI content, including by framing or similar means, is expressly prohibited without the prior written consent.