Desi kids shine in US Congressman's app competition
August 02, 2014 03:18 IST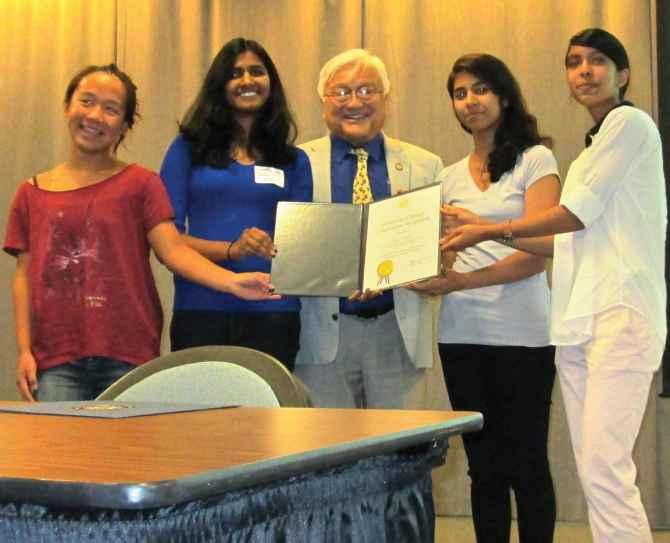 From developing an app that instantly alerts teachers and parents when a student is bullied in school to a one that helps airline users to track their lost baggage -- young Indian American students made their mark at the inaugural app competition organised by prominent United States Representative Mike Honda in California recently. Rediff.com/India Abroad's Ritu Jha reports.
Sravya Koduri, 17, and her team have created iStander, an android app that allows users to instantly send texts to administrators, parents, and friends when a bullying incident occurs.
And for that, the Cupertino High School student and her team were feted at United States Representative Mike Honda's inaugural STEAM (Science, Technology, Engineering, Art, and Math) reception held in San Jose, California, recently.
"Many people including our parents and our computer science teacher encouraged us to create this app," Sravya, who created the app along with her classmates Amukta Nayak, Shivani Mouleeswaran and Christine Tung, told India Abroad. "Honestly, we did not expect to win this award. Right down to the last minute, we were holding each other's hands in anticipation!"
"In February, Sravya said, "when the four of us started thinking of ideas, we decided to create an app that would not only be popular but also beneficial to people in our community. We wanted to find a solution to a problem that high school students generally face, and bullying was the biggest issue."
"As a team", she explained, "we conducted a survey in our local community (in Cupertino, California) to which over a 100 people responded. Based on the results, over 80 percent of people had witnessed or experienced bullying. Our goal was to reduce that number to zero."
All the entries in the app competition segment were created by high school students in California's Congressional District 17, which includes sections of Santa Clara and Alameda Counties.
"Our district has so many talented students," US Congressman Honda said in a press note. "I'm glad Congress is encouraging their growth in the critic fields of science and art. We need to focus on STEAM education to ensure our future global competitiveness and success. Bullying is an epidemic that needs to stop. As the founder of the Congressional Anti-Bullying Coalition, I'm glad to see this team using technology to address this problem."
Please click NEXT to read further…
Desi kids shine in US Congressman's app competition
August 02, 2014 03:18 IST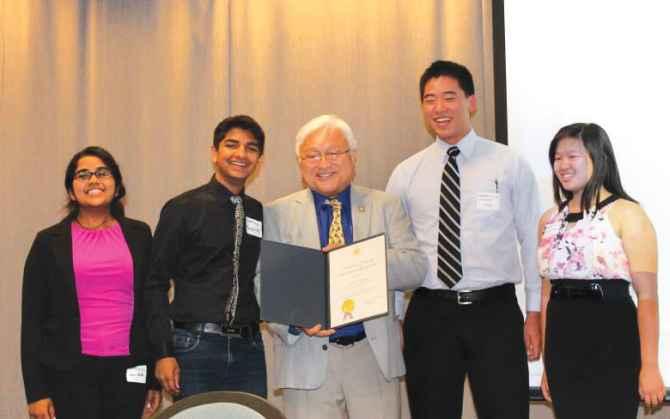 The second prize in the app competition went to BaggageTrack, which helps airline users trace their lost baggage, developed by the team of Ruchit Majmudar, Aarti Panda, Sam Sze, Vincent Ding and Keshav Rao from Mission San Jose High School in Fremont.
"Our inspiration," Ruchit told India Abroad, "comes from trying to solve a problem we and people around us face."
Aarti said, "BaggageTrack is highly appealing to the average consumer. Millions of bags are lost every year by airlines everywhere. By having a simple, reasonably priced tracking device, this product would save problems for any air traveler."
Keshav said, "Winning this award means a lot to our team."
The third prize-winning app was the Pre-Calculus Trigonometry Tutor, developed by Sonia Sachar from Irvington High School in Fremont.