Death for rapists is only compensation I want: Kolkata braveheart's father
January 04, 2014 16:12 IST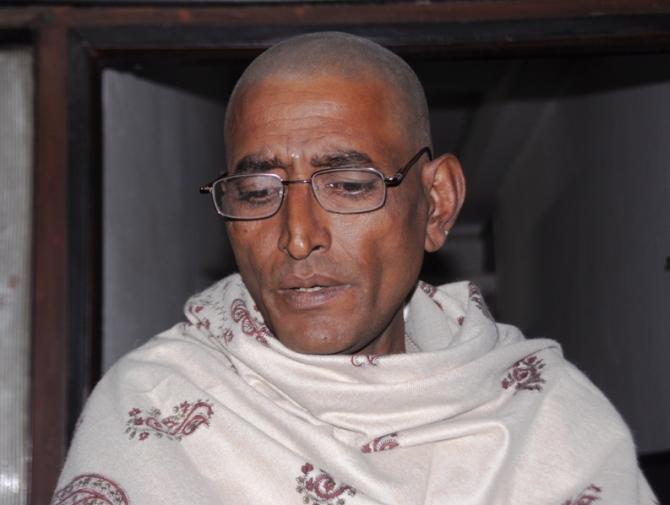 Kolkata is on the boil after the gang rape and subsequent murder of a teenager in Madhyamgram area in the northern fringe of the city.

Rediff.com's Indrani Roy met the girl's father Ramshankar Jha at Centre of Indian Trade Unions' office in central Kolkata, where the family has taken refuge, as they are too scared to return to their old residence.
"Death sentence for the accused is the only compensation that I can ask for," father of the Madhyamgram rape victim Ramshankar Jha, a taxi driver, told rediff.com.
Minutes after having completed his daughter's shraddh at Nimtala in Kolkata, shock and pain were etched deep in his face.
"There couldn't have been a worse start to a new year for us," he said. "I still can't believe what has happened. How can human beings be so brutal?"
"My daughter was so young. She was always smiling, always happy," recalled a distraught father.
"How can I forget her? How can I continue to live?" he added, the last few words almost inaudible, eyes welling up.
"We had come to Kolkata in search of a better life... a better life... you see."
"But, I will not give up the fight for justice. I won't rest unless the perpetrators are brought to book. They must be hanged."
On being told that the police have nabbed two of the accused, Jha said, "There are more, many more. They too must be arrested."

Asked about the threats that he received from the gang that raped his daughter, Jha said, "There was a lot of pressure on us. Soon after registering a police complaint, we were forced to shift to Dum Dum (in north Kolkata) after some local goons threatened us with dire consequences if we didn't withdraw the case."
"On December 23, a close associate of the gang leader barged into our Dum Dum residence and tried to burn my daughter alive. They killed my daughter, didi and wanted to make it appear like suicide," he told this correspondent. "Even while we were taking her body to the crematorium on January 1, the police attempted to hijack it from us."
"The goons hurled abuses and even attempted to kill us while the police stood there as mute spectators. They ordered us to leave Kolkata and head for Bihar. Should the society put up with such act of barbarism," Jha asked.

Click NEXT to read further…
'They killed my daughter and wanted to make it appear like suicide'
January 04, 2014 16:12 IST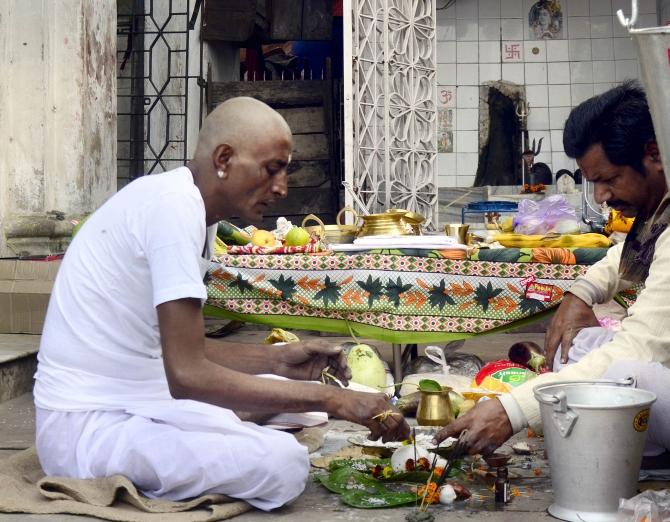 How the tragic events unfolded

The 16-year-old girl was gang-raped by more than six youths on October 26 and allegedly for the second time the next day after she lodged a police complaint.
The family shifted from Madhyamgram to Dum Dum to escape taunts and threats from the friends of the accused. However, the accused continued to threaten the family to withdraw the police case.

On December 23, a group barged into their house and set the girl on fire. She was grievously injured and shifted to a city hospital. There she succumbed to her burns on December 31.
Initially, the incident was reported by the police as a suicide attempt.
In her dying statement, the girl said that the rape accused Ratan Sil and Minta Sil had set her on fire, Additional Deputy Commissioner of Police (Airport Division) Nimbalkar Santosh Uttamrao told rediff.com.
Sources in the Bidhannagar police commissionerate also told rediff.com that the victim was pregnant during the time of her death and that the foetus has been sent for forensic study.
A detailed report on this would be divulged to the media soon, they told rediff.com.
Click NEXT to read further…
'Bengal govt has given us no help; goons are threatening us'
January 04, 2014 16:12 IST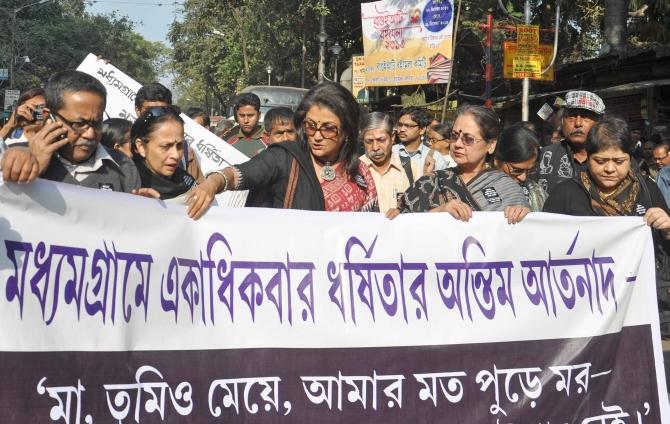 A deafening silence by the ruling party
Interestingly, the ruling Trinamool Congress government has chosen to maintain a 'stoic' silence and a 'safe' distance from the incident.
Repeated attempts by rediff.com to meet the local councillor, Trinamool Congress member of Legislative Assembly on the issue went in vain.
West Bengal Chief Minister Mamata Banerjee, who had dared to gate crash into the Writers' Building with a rape victim during Jyoti Basu's tenure, is yet to come out with a statement on the issue.
Her most trusted aide Mukul Roy has described it as 'a conspiracy orchestrated by the Left'. Roy has even said that one of the accused is a Forward Bloc worker.
And the buck doesn't stop there. Though West Bengal Chief Secretary Sanjay Mitra assured financial and other assistance to the victim's family a few days back, not a single penny has been sent to them so far.
No security has been provided either to the Jha family, which has repeatedly alleged that they face threats from the goons who raped and killed their daughter.
"We got Rs 100,000 from Bihar Chief Minister Nitish Kumar and another sum from the donations collected by Centre of Indian Trade Unions," the girl's father told rediff.com.
"We have not been given any help by West Bengal government."

The Jhas approached Governor M K Narayanan on Wednesday and filed a petition seeking protection for them and gallows for the accused.
The victim's father said he is not sure if he would be able to drive the taxi again. "The goons have threatened to cancel my licence."
The family is left in the lurch. They need a safe shelter and a secure means of livelihood.
Click NEXT to read further…
'Here, some crimes don't even get registered'
January 04, 2014 16:12 IST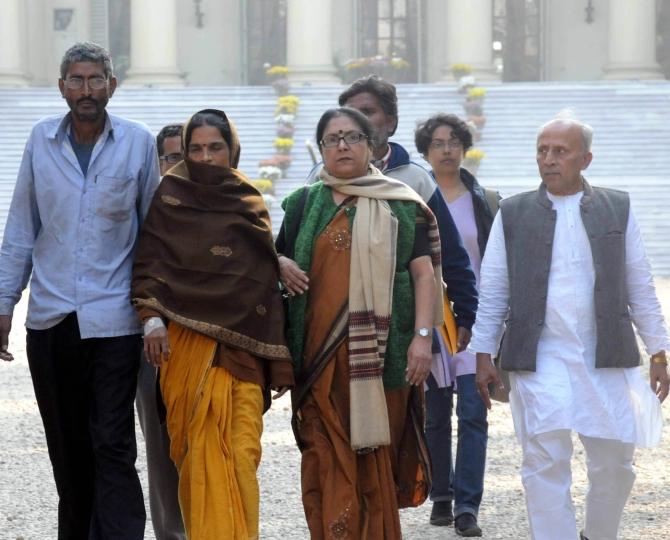 Neighbours are scared stiff
Ram Avatar (name changed on request), a neighbour of the Jhas, who runs a paan shop, told rediff.com the area is "infested with hoodlums and law and order have ceased to exist.
"Some crimes don't even get registered."
"We knew the Jhas. They are non-interfering and law-abiding people. What happened to them is really pathetic," said Avatar.
Another neighbour, a tea-stall owner, added, "The girl did not commit suicide. She was set on fire."
"Poriborton (change) is here, indeed. We are living in the middle ages," he said sarcastically.
Click NEXT to read further…
'As a woman, Mamata should have at least expressed sympathy'
January 04, 2014 16:12 IST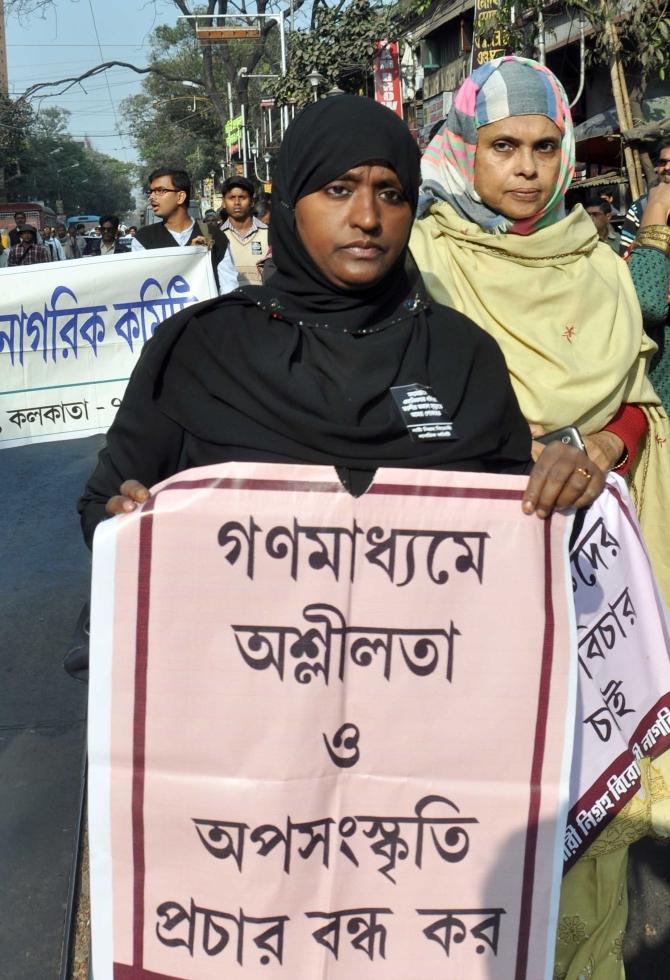 What the Left Front has to say

Veteran Left leader Shyamal Chakaborty (left) is quite surprised at West Bengal Chief Minister's 'studied' silence over the incident. "She speaks on anything under the sun and issues a statement even when a spider breathes its last," Chakraborty said.
"Why is she so quiet now? As a woman, she should have at least expressed her sympathy. Her indifference is shocking and unacceptable."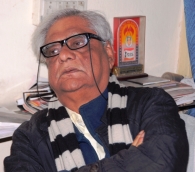 Asked if this rape will have any impact on the forthcoming Lok Sabha elections, Chakraborty said, "We are not bothered about elections at the moment. We are not even considering that factor."
"Our onus now is to stand by these people and provide them a secure shelter and a steady means of livelihood," he said.
Taking cue from Chakraborty, Shatarup Ghosh, joint secretary of Student Federation of India, told rediff.com, "Crimes are unstoppable. People can't hold the government responsible for any offence."
"But people do expect assistance and sympathy from the government and the administration when a wrong is committed. The government should have stood by the victim's side and offered them help."
"But all that it's doing is digging out the 'old conspiracy theory'. How long will the people buy such nonsense," the student leader asked.

Ghosh was seen busy making arrangements for collecting funds for the bereaved family.

Click NEXT to read further…
'Mamata used such issues in the past to climb to power'
January 04, 2014 16:12 IST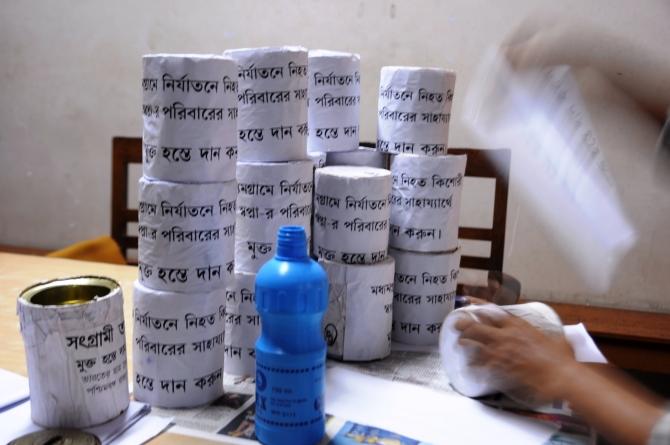 While the Leftists are attacking the Mamata government for its apathy towards the incident, dissident and outgoing Trinamool Congress member of Parliament Somen Mitra did not mince his words while speaking to rediff.com.
"Where is Mamata Banerjee now," he asked. "It's she who had rushed into the Writers' Building to seek justice for a rape victim during Jyoti Basu's tenure."

"Why is she quiet this time? Is it because she is the chief minister now and she doesn't need to fight to gain power?"
"Are we then to suppose that she used such 'burning issues' in the past to climb the ladder of political supremacy," an angry Mitra blurted.
"Mamata is forgetting the fact that people are no fools. They won't forgive her."
Sourav Ganguly is aghast
The Madhyamgram rape has sparked vehement protests across the state so much so that even otherwise reticent cricketer Sourav Ganguly demanded 'stringent punishment' for perpetrators of the rape.

Speaking to the media recently, Ganguly sought punishment for anyone standing in the way of bringing the perpetrators to book.
"It is a horrible incident," Ganguly said. "The perpetrators should be given stringent punishment. I can't even imagine how some people can stoop to such levels."
"Those who have done this must be punished as well," he added.
On allegations that the police took away the body and tried to cremate it, Ganguly said, "If anybody stands in the way of bringing the perpetrators to justice, then they also should be punished."

Click NEXT for more photo features...
TOP photo features you missed last week
January 04, 2014 16:12 IST
Click on MORE to see another PHOTO features...