Congress is philosophy that can't be wiped out, Rahul retorts to Modi
February 25, 2014 17:38 IST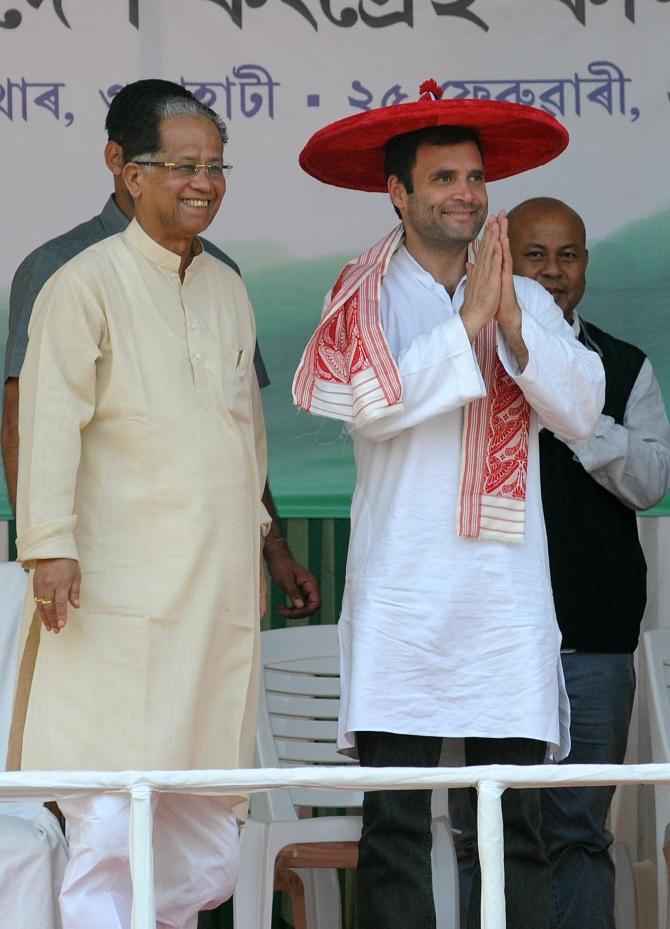 Rebuking Bharatiya Janata Party prime ministerial candidate Narendra Modi's call to wipe out the Congress in 2014 election, party Vice President Rahul Gandhi said, "The Congress is not a mere political party but a time tested 'philosophy'.

"Those who are talking of wiping the Congress out in the India are ignorant about the power of the spirit of love and harmony that forms the basis of the philosophy, which has sustained India, the nation, for over 3000 years," he said addressing a mammoth public rally in Guwahati on Tuesday. Rahul arrived in the state for a two-day tour.
"India is like a guldasta (bouquet of flowers). This country can be run with love, peace and harmony. There is no need to wipe out anything here. Ghamand (pride) has no place here," he said.
"The BJP talks of Hindutva, but they have not read the Gita which teaches us to deal with people with love and not pride. The Congress is a party of great leaders like Mahatma Gandhi, Jawaharlal Nehru and it has thrived on the philosophy of love, peace and harmony. The same philosophy has kept the country going since days of great kings like Akbar."
Rahul said empowering the common people, especially women, was of prime concern for the Congress.
Click NEXT to read further…
'India can't become a super power without empowering its women'
February 25, 2014 17:38 IST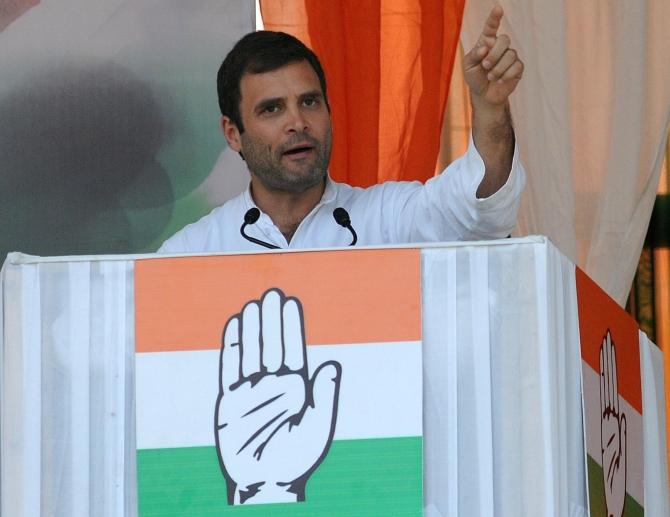 "India can't become a super power without empowering its women, which constitute almost 50per cent of the population. I want to see women occupying 50 per cent of seats in the Lok Sabha, Rajya Sabha and state assemblies in coming days."
"I am not a leader who wants your (people's) power in my hands to run the country. I am a leader who wants to give power to the people, listen to the people and learn from the people because you have better knowledge about your problems that those sitting in New Delhi like me," he said addressing the crowd.
"So, the priority is to empower the common people to take decisions to solve their problems. Some leaders come and say they will change the country. But leaders can hardly change the country; it is the people who can change the country," he added.
Rahul claimed that during the last ten years the Congress-led United Progressive Alliance government could bring 15 crore people above the poverty line and it would now focus on the welfare of those 70 crore people in the country who are neither in the middle class nor below the poverty line category.
"We want to make lives of those 70 crore people who work as drivers, security guards etc better and bring them to the middle class bracket. But our commitment to work for the poor and down trodden will continue."

Click NEXT to read further…
'Development hasn't been brought about by any PM, but by people'
February 25, 2014 17:38 IST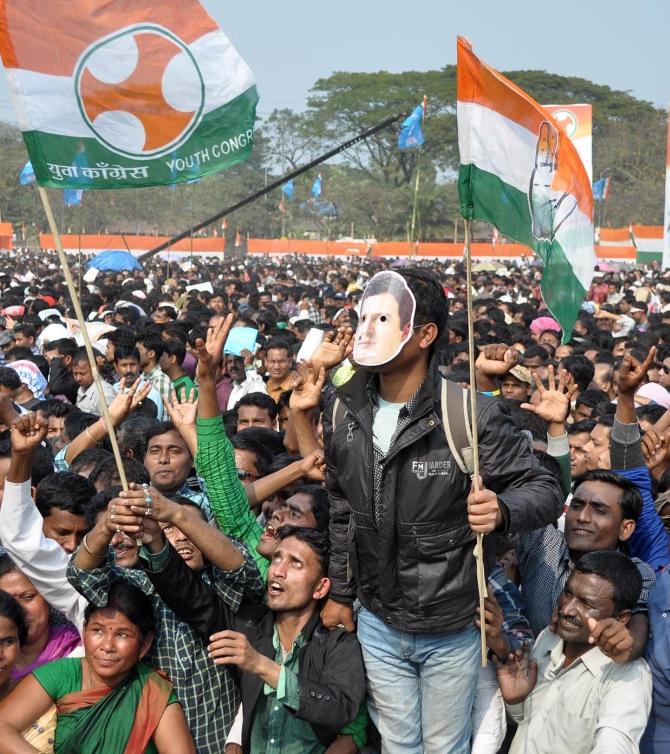 Taking a dig at the Modi, he said, "The BJP says they will do in three months what the country could not achieve in the 70 years. By saying so they have only laughed at you, as for the last 70 years whatever development has occurred it's only because of the people. Development has not been brought about by any government or any PM."
The Congress VP belittled BJP's charges of rampant corruption during the UPA regime saying that it was the government, which empowered the common people of the country by bringing about the Right To Information Act, which has given rights to every citizen to know what is happening in every government department.
"For the Congress, citizens from any nook and corner of the country are equal in status -- wherever they work and live. But for them (the BJP) a Sikh is an outsider in Gujarat, people from UP and Bihar are outsiders in Maharashtra and the people from Maharashtra are outsiders in UP and Bihar," Rahul said, lambasting the Opposition for its divisive outlook.
He praised the youth of the northeastern region for being able to carve a niche for themselves in rest of the country, especially in the service sector through their efficiency.
Click NEXT to read further…
'Stringent anti-racial law is needed'
February 25, 2014 17:38 IST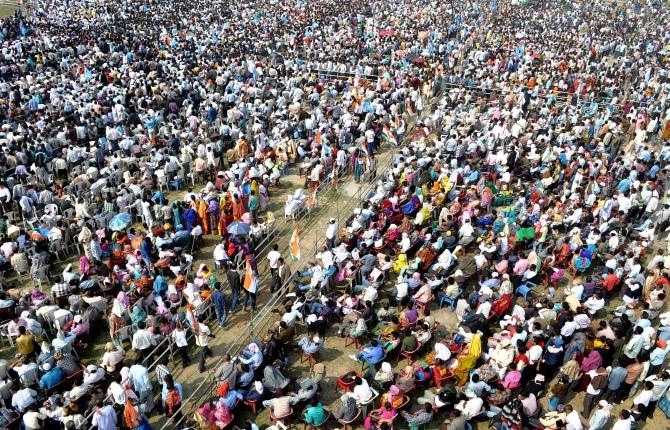 Referring to the "tragic" death of Arunachal Pradesh student Nido Tania in New Delhi, Rahul said, "A very stringent anti-racial law should be brought about in the country to safeguard people from all parts anywhere in the country."
During another interaction with leaders of various tribal councils and ethnic groups and tribals at Diphu in Karbi Anglong, he advocated for more decentralisation of power and flow of more funds from the Centre to tribal councils and bodies. "I am for more decentralisation of power and funds from the Centre to empower the people at the grassroot level, which will be good for the development of the country."
He added, "I am for empowerment of women, at least 50 per cent power should be entrusted to women. Not only women but also the poor, Dalits, adivasis etc so that people can take decisions as they are closer to problems. If all the decisions are taken in New Delhi or in state capitals then there will be conflicts. But if people who are closer to the problems and understand the problems better are empowered to take decisions then there will be less conflicts."
Rahul arrived in Assam amid bandh calls and attempts by organisations of different hues to prevent people from attending his rally in Guwahati.
Heavy security arrangements have been made across the state, especially in the capital, to neutralise protestors from different organisations including the Krishak Mukti Sangram Samity, who had vowed to derail Tuesday's rally in protest against the failure of the Assam government to provide land settlements to the landless people in Assam.
Sporadic incidents of violence were reported during a 12-hour Guwahati bandh called to protest the death of a farmer activist.
KMSS supporters put up road blockades and pelted stones at vehicles carrying Congress supporters to Assam Veterinary College grounds at Khanapara in Assam where Gandhi addressed a rally later in the day, officials said.
The bandh supporters also set ablaze a truck at Jorabat and burnt tyres on major thoroughfares.
Chief Minister Tarun Gogoi and Assam Pradesh Congress Committee President Bhubaneswar Kalita, state health minister Dr Himanta Bishwa Sarma welcomed Rahul at Guwahati airport. He then flew to Diphu to attend the first programme during his visit.

Click NEXT for more photo features...
TOP photo features you missed last week
February 25, 2014 17:38 IST
Click on MORE to see another PHOTO feature...