26/11 terror trawler has no takers
Last updated on: November 26, 2010 19:09 IST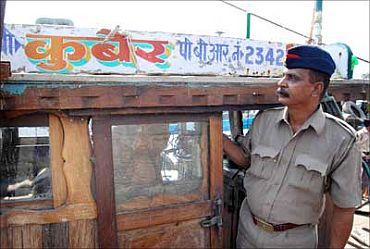 Fishing trawler 'Kuber', which was hijacked and used by Pakistani terrorists to reach Mumbai and unleash terror in November 2008, has been lying useless as nobody wants to use it, the vessel's owner said.
The boat was on a fishing trip in the Arabian Sea when it was hijacked by the terrorists and used to reach the Mumbai coast.
Two years after the 26/11 terror attacks, the trawler is lying at Porbandar shores unused.
"Nobody wants to take this boat for fishing in the sea," 'Kuber' owner Vinod Masani rued and demanded compensation for the loss.

Click on NEXT to read further...

Also Read:

'Terrorists had military precision'
'I felt there were more than ten terrorists'
Colaba still reverberates with 26/11 memories
Light a candle for 26/11: Show you remember


26/11 terror trawler has no takers
Last updated on: November 26, 2010 19:09 IST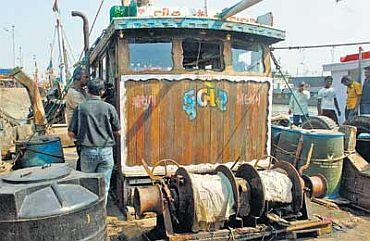 "My appeal to the government is to provide the owner of the boat some compensation as nobody wants to use it anymore (because of association with the attacks," he said.
There were five fishermen, including captain Amarsinh Solanki, onboard Kuber when it was hijacked by the terrorists, who brutally killed Solanki and abandoned the boat near Mumbai. Bodies of the other fishermen were never found.
"Families of the fishermen killed by the terrorists were compensated by the local community. I, too, compensated their families. But I have not received any help from the government till date," he claimed.