'26/11 men left clues despite foolproof plan'
Last updated on: May 26, 2011 11:04 IST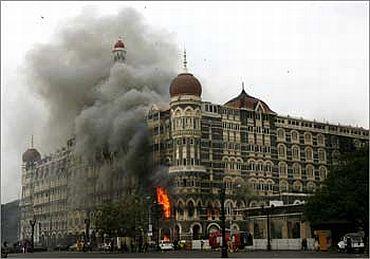 While the Lashkar-e-Tayiba leadership made plans for fool-proof attacks in Mumbai, the ten men involved in the carnage made a number of mistakes thus leaving crucial clues behind for Indian intelligence agencies, according to court documents.
These mistakes were conceded by the LeT mastermind Sajid Mir in multiple conversations with the David Coleman Headley, the Mumbai attacks co-accused, unsealed court documents said on Wednesday.
"Sajid told Headley that, despite news reports, there were only 10 attackers. He explained to Headley how Abu Qahafa, senior LeT member, had trained the attackers on use of explosives and how he (Sajid) had instructed them to place explosives in cabs to cause confusion amongst Indian officials responding to the attacks," it said.
Please click NEXT to read more...
'26/11 attackers failed to sink terror-boat'
Last updated on: May 26, 2011 11:04 IST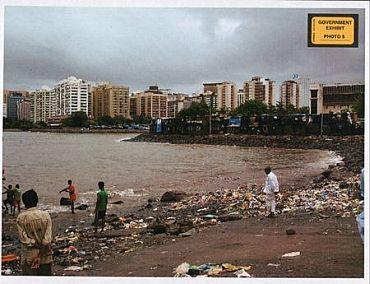 According to the court documents, in a later meeting with Sajid, he related to Headley that certain attackers had not followed his instructions, and had failed to sink the boat that was hijacked for their ingress to Mumbai.
Sajid related that one of the attackers mistakenly left on this boat a satellite phone that had been provided to him.
"Indian authorities located this boat, recovered this phone, and provided it to the FBI for forensic analysis. Stored in the phone's contacts were two numbers identified as 'Wasi.' The phone had been used to contact 'Wasi' on November 24, 2008, and had recovered a call from 'Wasi' on November 25, 2008," the documents said.
How LeT planned to free Kasab
Last updated on: May 26, 2011 11:04 IST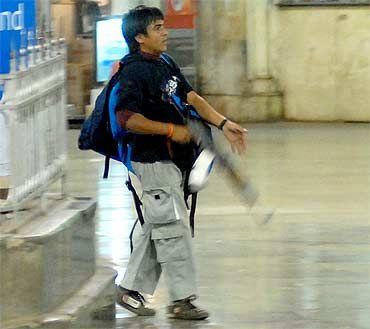 The documents were released after the district court conducting the Mumbai attack trial ordered that some of the over dozen sealed documents presented in the court as key evidences be made public.
"Sajid also told Headley that one of the attackers had been arrested and that he had tried to free the attacker by instructing an attacker at the Chabad House to contact the Israeli embassy and attempt to trade hostages for the attacker," the documents said.
According to the documents, Sajid explained that he had chosen the Leopold Cafe as an attack location because it was close to the Taj Mahal hotel and had instructed the attackers to move to the hotel after attacking the cafe.
Mir wanted to speak to Headley about 'some new investment plan'
Last updated on: May 26, 2011 11:04 IST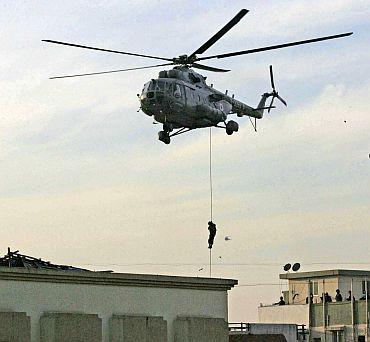 Headley and Sajid continued to communicate by email throughout parts of 2009. On July 3, 2009, Headley received an email from Sajid, who told Headley that he wanted to speak with him about 'some new investment plans', a coded reference to the planning of another terrorist attack.
On July 8, 2009, Headley sent an email to Sajid that stated, in part, "[y]ou were saying all plans were 'postponed indefinitely' anyway so I thought maybe I should relax a bit," Sajid responded, indicating in part that his plans were to "see Rahul", which was a coded reference to India, and that "matters are good enough to move forward."
Headley and Sajid continued to exchange emails throughout July 2009, with Headley asking whether the "Northern Project", another code for the planning of the Denmark attack, was still postponed and whether the "visit to Rahul's place" (India) was for "checking out real estate property like before", referring to Headley's earlier surveillance activity in Mumbai, the documents said.
© Copyright 2023 PTI. All rights reserved. Republication or redistribution of PTI content, including by framing or similar means, is expressly prohibited without the prior written consent.