A father's tribute to his martyr son
Last updated on: November 26, 2010 22:02 IST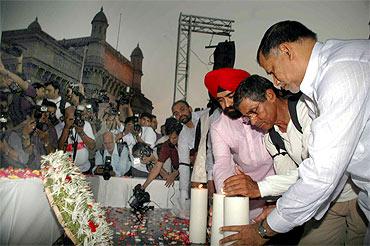 K Unnikrishnan, father of National Security Guard commando Major Sandeep who died fighting terrorists during the 26/11 terror attack in Mumbai, on Friday led a peace march in the city in memory of those who were killed during the carnage two years ago.
In the peace march, which began from Nariman Point and ended at Gateway of India, Unnikrishnan lit candles and released white balloons.
"The terrorists could kill only our body and not our soul. I have lost my only son but I am proud that he has given his life for the country," the 62-year-old father said.
Click on NEXT for more...


Let Kasab live: Major Sandeep's father
Last updated on: November 26, 2010 22:02 IST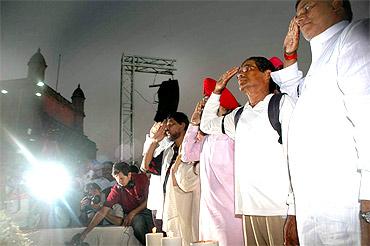 When the march culminated, Unnikrishnan spoke of his martyr son and his desire to do something for the country. "My son always told me I will do something for the country. He told me 'I will carry forward your thoughts'," he said.
Unnikrishnan also dismissed as "absolutely absurd" the demand for retrial made by lone surviving Pakistani terrorist Ajmal Kasab, saying there should have been no trial since video footage of the incidents cleared nailed him.
"There is no need for any trial and the talk of retrial is absolutely absurd," he said.
He also felt that 23-year-old Kasab should live. "Last year, when I was in Mumbai I said that Kasab should die. This year, I feel let Kasab live because it will strengthen our resolve to fight terrorism," he added.
Mumbai pays tribute to the NSG braveheart
Last updated on: November 26, 2010 22:02 IST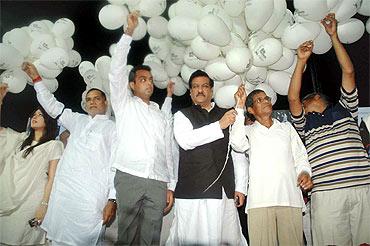 Maharashtra Chief Minister Prithviraj Chavan, who was present at the function, along with Mumbai Congress president Kripashankar Singh and Congress MP Milind Deora released white balloons as a mark of respect for martyrs.
Major Unnikrishnan was shot dead by one of the Pakistani terrorists at the Taj Mahal hotel during the terror siege two years ago.


Major Sandeep's scarifice will never be forgotten
Last updated on: November 26, 2010 22:02 IST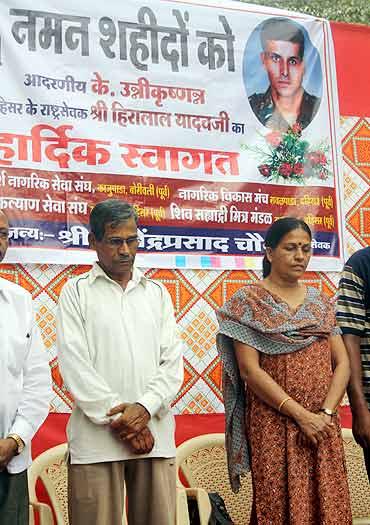 Though it is a tragedy for the family that they have lost their son, one must not forget that Major Unnikrishnan sacrificed his life to save the lives of several people," said Rabbi Nachman, father of Rabbi Gavriel, who was killed at the Jewish Centre Chabad House.


Unnikrishnan, along with his wife Dhanalakshmi, also paid homage to martyrs of 26/11 terror attack at the Chabad House, one of the sites of the terror onslaught.
End of an epic cycle journey
Last updated on: November 26, 2010 22:02 IST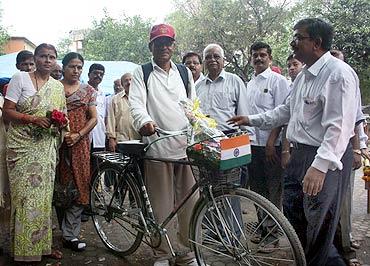 Marking the second anniversary of the terror attacks, he had started his month-long cycle journey from India Gate in Delhi that culminated at Gateway of India in Mumbai with an aim to remind the country of the sacrifice of the soldiers.
In his cycle rally, Unnikrishnan was accompanied by his wife Dhanalakshmi and another cyclist Hiralal Yadav.
Besides this, 20 surgeons of Bombay Hospital, who treated a total of 84 patients during 26/11 launched a Terror Forum on Friday.


© Copyright 2023 PTI. All rights reserved. Republication or redistribution of PTI content, including by framing or similar means, is expressly prohibited without the prior written consent.