Amit Shah is BJP's new president
Last updated on: July 09, 2014 15:25 IST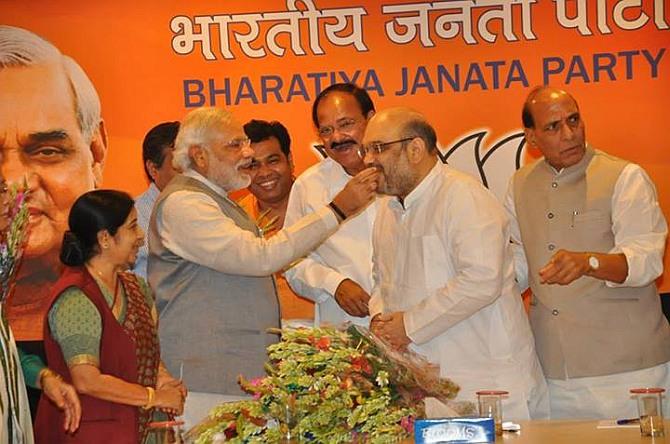 Amit Shah, who orchestrated Bharatiya Janata Party's stellar performance in the Hindi heartland in the Lok Sabha elections, was on Wednesday named as the party's next president.

Shah's appointment as BJP president marks Gujarat's firm grip over the ruling dispensation after Narendra Modi's elevation as Prime Minister.
Shah, a close and controversial aide of Modi, was appointed to the top post in BJP at a meeting of Parliamentary Board where incumbent Rajnath Singh resigned after tenure of one-and-a-half years.
The former Minister of State for Home in Gujarat, who faces charges in the Sohrabuddin fake encounter case, is largely credited for BJP's stunning performance in UP where it got 71 of the 80 Lok Sabha seats.
Click NEXT to read further...
Amit Shah is BJP's new president
Last updated on: July 09, 2014 15:25 IST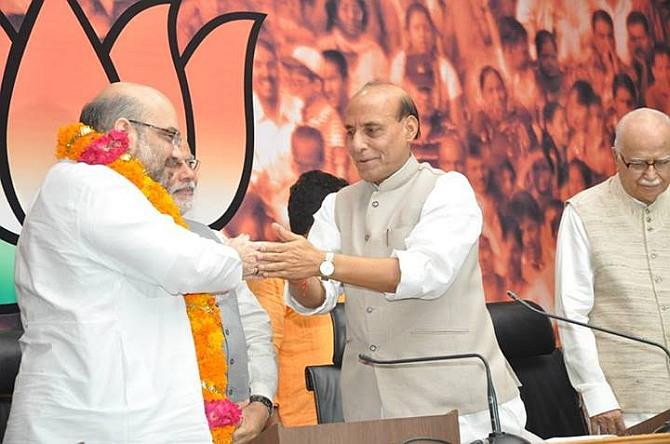 The meeting was attended among others by Modi, senior leaders L K Advani, Murli Manohar Joshi, M Venkaiah Naidu, Nitin Gadkari and Sushma Swaraj.
Finance Minister Arun Jaitley, who had to table the pre-Budget Economic Survey in Lok Sabha, joined the press conference where the announcement was made by Singh before all these leaders.
"From now and now on, Amit Shah will be the president of the BJP and lead the party. His appointment was approved unanimously," he said flanked by Modi and other leaders.

Shortly after the announcement, Modi and Singh offered sweets to Shah while other leaders including Advani, Joshi, Swaraj and Jaitley gave him bouquets.

Click NEXT to read further...
Amit Shah is BJP's new president
Last updated on: July 09, 2014 15:25 IST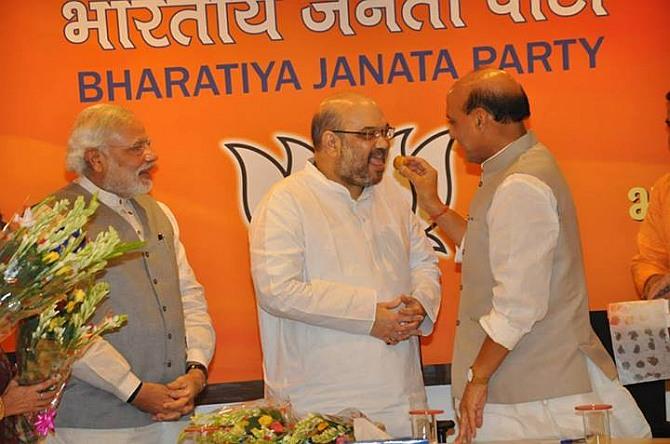 As reporters started plying him questions, Shah replied "I will speak later" bringing the brief ceremony to a close.

50-year-old Shah takes over from Singh who was appointed party president after the exit of Nitin Gadkari in controversial circumstances.
"I took over as the BJP President with a heavy heart. I felt helpless because of baseless allegations levelled against Nitin Gadkari. Since the Prime Minister has given me the responsibility of the Home Ministry...

"I convened the meeting of the Central Parliamentary Board and tendered resignation (as party chief)...the Parliamentary Board unanimously decided to appoint Amit Shah as the President of BJP," Singh said.

Click NEXT to read further...
Amit Shah is BJP's new president
Last updated on: July 09, 2014 15:25 IST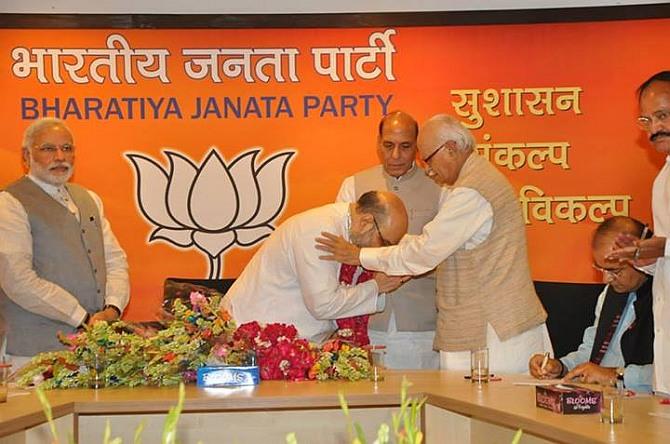 Singh had recently announced that he will relinquish his BJP role in keeping with the party's "one-man, one-post" principle.
"Shah is full of imaginative ideas and is good at organisational skills. As in charge of UP during Lok Sabha polls, he got a roaring success. BJP had never been so successful in its history in UP," Singh said.
He also credited former Prime Minister Atal Bihari Vajpayee and Advani for making the Indian polity from unipolar to bipolar.
Singh said under Modi's leadership, the party got thumping majority in the Lok Sabha elections, thus becoming the single largest party to get majority on its own after nearly 30 years.

Click NEXT to read further...
Amit Shah is BJP's new president
Last updated on: July 09, 2014 15:25 IST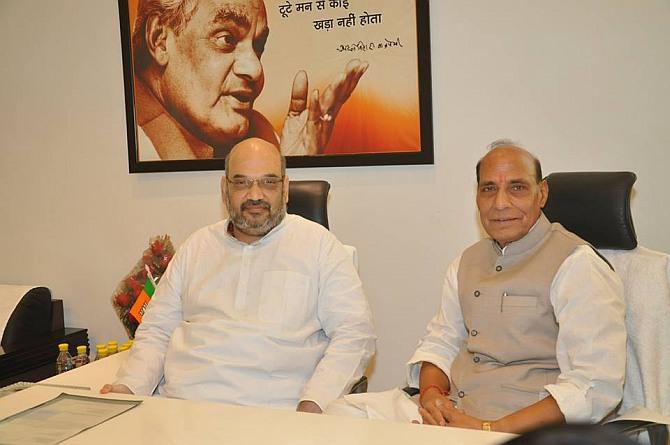 BJP is set for major organisational changes following its victory in the 2014 Lok Sabha polls as many of its senior leaders have become part of the Modi government.
The party's reorganisation will come ahead of assembly elections in states like Maharashtra, Haryana, Jammu and Kashmir and Jharkhand later this year and early next year.
The RSS, BJP's ideological fountainhead, is also keen that the party should not be weakened after government formation.
It had already deputed two of its key leaders -- Ram Madhav and Shiv Prakash -- to work for BJP and new roles for both of them will be assigned by the new party chief.

The two are likely to get key roles in the revamped party set-up with Madhav likely to be the new party general secretary.

The announcement of Shah's name as BJP President came after RSS' nod for the same.