104 killed, 50 injured in Sabarimala stampede
Last updated on: January 15, 2011 12:25 IST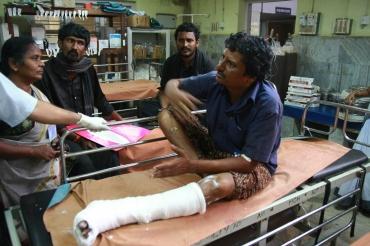 At least 104 Sabarimala devotees were killed and over 50 injured in a stampede when a jeep crashed into homebound pilgrims at Pulmedu in Kerala's Idukki district, in the worst tragedy to strike the worshippers of the famed shrine in a decade.
Kerala Home Minister Kodiyeri Balakrishnan said the toll in the stampede that took place on Friday night has climbed to 104.
"The pilgrims were coming to catch a bus when there was a stampede at Pulmedu. This resulted in the death of 104 people, while more than 50 were injured," said Balakrishnan.
Out of the dead, only 54 have been identified so far and they belong to Tamil Nadu, Karnataka and Andhra Pradesh, he said.
"The inquest and post-mortem will be done today of the identified bodies," the minister said.
Devotees were returning home
Last updated on: January 15, 2011 12:25 IST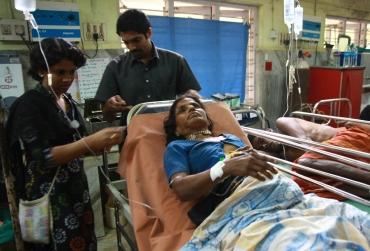 President Pratibha Patil and Prime Minister Manmohan Singh condoled the death of Sabarimala pilgrims.
Dr Singh sanctioned a relief of Rs one lakh each to the next of kin of those killed in the stampede and Rs 50,000 to those injured from the prime minister's relief fund. Congress president Sonia Gandhi also expressed her deep anguish and shock over the tragedy in Sabarimala.
Most of the victims who perished were from Tamil Nadu, Andhra Pradesh and Karnataka. They were returning home through the forest route after the Makarajyoti darshan, considered a celestial phenomenon, at the hill shrine of Lord Ayyappa.
The tragedy occurred at Pulmedu in Vandiperiyar when a jeep carrying pilgrims ploughed into a crowd and overturned, killing some on the spot and triggering the stampede, rescuers said.
Thirty-eight bodies have been identified so far, of which 18 are from Tamil Nadu, 12 from Karnataka and two each from Andhra Pradesh and Kerala.
Relatives of pilgrims from Tamil Nadu, who have not returned home, arrived in Vandiperiyar looking for them, Punnose said, adding photographs and particulars of the dead would be made available to help them locate their dear ones.
'I have never seen such a huge crowd'
Last updated on: January 15, 2011 12:25 IST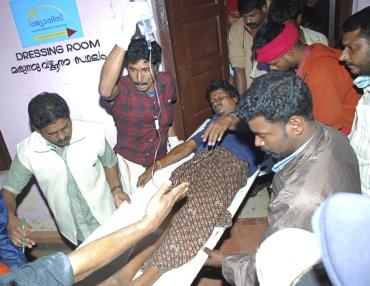 Kerala Director General of Police Jacob Punnoose said the number of injured was 'quite few' because they were evacuated first and admitted to a hospital in Tamil Nadu. Some others received minor injuries.
Aneesh, one of the early rescuers to reach the spot, said the mishap was caused by the jeep which ran into the crowd and turned turtle. While some people who got trapped under the jeep died, it also set off a wave of panic, triggering a stampede.
Thousands of pilgrims had converged at Pulmedu area, used mostly by devotees from Tamil Nadu and Andhra Pradesh for returning home after darshan, he said.
"I have never seen such a huge crowd at Pulmedu in my life. The flow of pilgrims returning was much more than anybody's expectations," said Aneesh, who hails from the area.
3 crore devotees visit Sabarimala
Last updated on: January 15, 2011 12:25 IST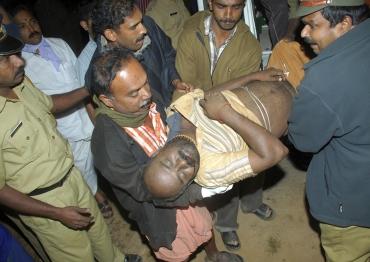 Kerala Deveswom Minister Kadannapally Ramachandran said the rush of pilgrims was much higher than expected.
"Though arrangements for controlling the crowd were on a usual scale, the flow of people had been much more than all expectations," the minister said from Vandiperiyar.
The two-month long pilgrimage which began in mid-November was, by and large, incident-free till Friday night. Over 30 million (3 crore) devotees had visited the shrine during the season.
Ten years ago, a stampede at Pampa on way to the hill shrine killed 50 people on the occasion of Makar Jyoti. Defence Minister A K Antony has offered Kerala government all help from defence forces for rescue operations.
A special team of the National Disaster Response Force is at the spot. A helpline number -- 04869222049 -- has been set up to help the families of the victims.