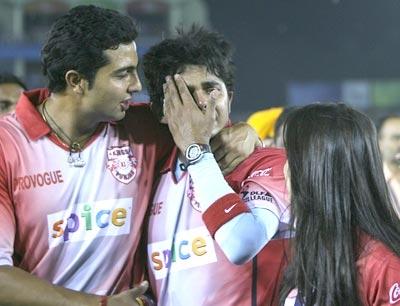 Underworld don Dawood Ibrahim's brother Anees has been trying to trap the pacer since his 2008 tiff with Harbhajan Singh. Vicky Nanjappa reports

The Delhi police have established a link between Indian Premier League betting syndicate and fugitive underworld don Dawood Ibrahim. Nearly 70 per cent of the betting market is controlled by the D Company, said police insiders.

In 1996, reports emerged of the D Company making a foray into the betting racket. Back then, it was masterminded by Dubai-based operative Sharad Shetty alias Sharad Anna.

Shetty began with fixing games at Sharjah. He would get in touch with at least three players from the team and fix the game for huge sums of money.
By 2003, the betting mafia in Dubai was headed by a Dawood man named Sunil Ramchandani alias Sunil Dubai. There have been several crackdowns on those involved in the betting racket, but this has not deterred them, said a Delhi police officer. "It is the Mumbai police who are to blame. They are sitting on loads of information and have let key persons such as Sunil slip out of the country and settle down in Dubai," he added.

Sources in the Delhi police said that during interrogation of bookies arrested in connection with the recent betting controversy it has been revealed that a few players were marked years back. They draw out a list of players who appear vulnerable and trap them.
Dawood's brother Anees Ibrahim had been eyeing S Sreesanth, who was arrested for fixing IPL games this season, since 2008. The Indian pacer was slapped by fellow spinner Harbhajan Singh during an IPL match between Mumbai Indians and Kings XI Punjab on April 25, 2008. Since then Anees thought he was a vulnerable target. Those in the betting circles felt that if a senior player like Sreesanth was lured he could rope in other players. By now, the bookies had started abstaining from match fixing to a large extent and concentrated only on spot fixing.

According to the confession of the bookies, they eyed Sreesanth in 2008, but managed to convince him to fix games only this year. Anees passed on information about the pacer to Sunil who activated the betting ring to tap the cricketer. At the same time, they were also on the trail of Ajit Chandila and Ankeet Chavan, the other two players arrested for spot fixing. These players were drawn towards a rich lifestyle and hence could be easily trapped, bookies told investigators.

All three cricketers were approached individually and at no point was the modus operandi made known to the other because of the fear of the fixing information being leaked. Sreesanth was vulnerable on two counts. He enjoyed a lavish lifestyle and secondly, he had resentment towards his team members following the slapgate, said the arrested bookies.

Sunil appointed bookies Ramesh Vyas and Chandresh Jain alias Jupiter to trap Sreesanth. They contacted Sreesanth's friend Jiju Janardhan, who finally got the cricketer to fix games.

According to bookies, they resorted to various tactics such as honey traps and finally when Sreesanth gave in they recorded the time he spent with these women, which was used to blackmail him.

Image: VRV Singh consoles Sreesanth (centre) after he was slapped by fellow spinner Harbhajan Singh during an IPL match between Mumbai Indians and Kings XI Punjab in 2008