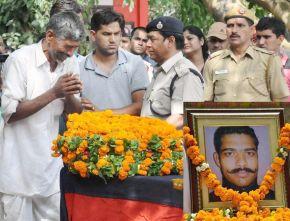 Delhi Lt Governor Najeeb Jung on Tuesday announced assistance of Rs 1 crore to the family of traffic constable Mana Ram, who was mowed down by a car while on duty on Saturday night.
Jung said the government will also explore the possibility of extending all help to the family of the cop, including possibility of a job to a dependent, subject to fulfilling certain requirements, according to statement issued by L-G house.
On Monday, Home Minister Rajnath Singh, who visited Delhi Police headquarters, had paid homage to the constable.
26-year-old Raman Kant, who was at the wheels of the Maruti Ritz car and accompanied by his two minor friends, was stopped at the Zakhira flyover by 24-year-old Mana Ram.
After an argument, Raman Kant reversed his car and allegedly ran over Mana Ram dragging him for around 150 metres. The constable was rushed to a hospital where he was declared dead. The trio fled the scene but were later nabbed.
As many as 10 traffic policemen have lost lives in violent incidents in the national capital in the last five years.