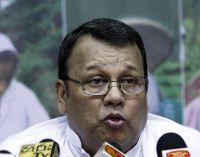 Sri Lanka has described the adoption of its periodic review of human rights at Geneva's United Nations Human Rights Commission sessions without a division as a victory and an acknowledgment of its rights progress.
"We can be happy that our report was unanimously accepted at the Universal Periodic Review. This was despite many powerful countries speaking against it," Mahinda Samarasinghe, a minister and President Mahinda Rajapaksa's Human Rights envoy, said.
Samarasinghe said that anyone taking an impartial view would note Sri Lanka's human rights progress made since the end to the conflict with the Liberation Tigers of Tamil Eelam four years ago.
The review came ahead of next week's crucial resolution to be moved by the United States. The US adopted a similar resolution last year with India's support which bound Sri Lanka to make rapid progress on reconciliation with the Tamils.
In a statement, the US Geneva mission regretted that Sri Lanka had rejected all UPR recommendations of member states that called upon Colombo to implement recommendations of its own reconciliation body, the Lessons Learnt and Reconciliation Commission.
In a critical tone, the US said Sri Lanka was trying to reframe human rights commitments in line with their National Plan of Action, which "does not address the broad spectrum of recommendations put forward by the LLRC report".
Samarasinghe on Friday said that the government had already made budgetary provisions needed to implement the national action plan of the LLRC report.
Image: Mahinda Samarasinghe
Photograph: Reuters