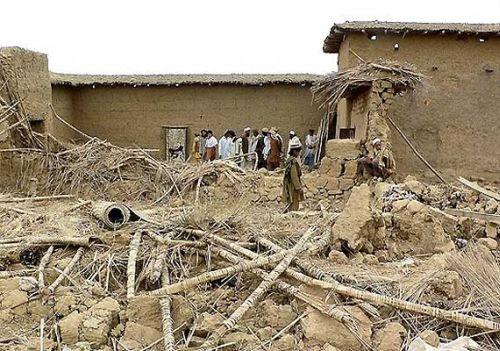 Sixteen militants were killed in two United States drone strikes within last 24 hours in Pakistan's restive tribal region, ending a five-month hiatus.
Ten militants were killed in a US drone strike early on Thursday in a northwest tribal district which followed another strike in Dargah Mandi area of North Waziristan in which six militants perished, Dawn News reported.

The second strike took place hours after first drone strike killed at least six at the same location.
In the first strike, four missiles were fired at a vehicle parked near a mud compound in Dargah Mandi area of North Waziristan, a security official said.
"Six militants were killed in the attack and both the vehicle and hideout were destroyed," the official said.
The last drone attack occurred in Pakistan in the last week of December, 2013, killing three insurgents.
The drone strikes had been temporarily halted since then to provide the Pakistani government a chance to have talks with the Tehrik-e-Taliban Pakistan aimed at ending their seven-year insurgency.
However, US President Barack Obama last month made it clear that he will continue to authorise Central Investigation Agency-operated drone strikes and covert operations abroad to capture terrorists based on "actionable intelligence".
Pakistan has criticised drone strikes as a violation of sovereignty and counter-productive to anti-terror efforts.
The strike came as Pakistani Taliban confirmed that Uzbek militants took part in the deadly assault on Karachi's international airport that killed at least 39 people.
Ten Uzbek militants entered the Jinnah International Airport on Sunday night from different directions in two groups, resulting in a bloody standoff lasting for about 13 hours that left 37 people dead including 10 terrorists.
A day after the attempted airport siege, Taliban militants attacked a training camp of the Airport Security Force outside Karachi international airport, but fled after Pakistani forces repulsed the assault.
Pressure has been mounting on Pakistan to react after the deadly Karachi airport attack.
At least 25 militants were killed Tuesday when Pakistani fighter jets pounded targets in the country's northwestern tribal region. The early morning air strikes were launched at Taliban hideouts in Tirah valley of Khyber tribal agency.

Image: A house destroyed in a drone strike
© Copyright 2022 PTI. All rights reserved. Republication or redistribution of PTI content, including by framing or similar means, is expressly prohibited without the prior written consent.