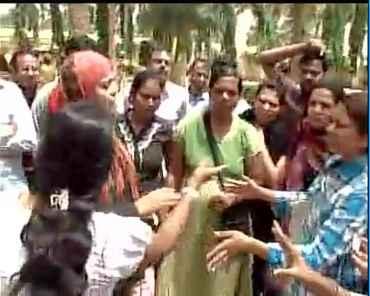 A six-year-old girl student was allegedly raped by "unknown persons" at a prominent school in Bangalore, leading to angry protests by parents who besieged the institution on Thursday, demanding action from the management.
"A six-year-old girl student was allegedly raped by unknown persons at Vibgyor High School under Varthur Police Station limits, which came to light on July 15," Joint Commissioner of Police (Law and Order-East) K V Sharat Chandra told PTI.
The forensic report regarding the sexual assault has now been received by the police and the result is positive.
The report, which has just reached the police, confirms sexual assault on the six-year-old girl by one of her teachers.
The girl from Vibgyor school in Bangalore was sexually assaulted on July 2. The complaint was however filed on July 14 as the girl took a while before reporting it to the parents. The parents have been up in arms against the school management for trying to hush up the matter.
Even when one senior officer visited the spot, the parents surrounded and manhandled him. The management on the other hand is now assuring of all cooperation.
Armed with the forensic report which confirms sexual assault on the child, the police will conduct in-depth investigation into the case.
Enraged over the incident, hundreds of parents swarmed the school demanding answers from the management whom they accused of being "insensitive" and not forthcoming with information, as they suspected involvement of some staffers.
Demanding action against the staffers over their alleged involvement, the irate parents tried to force their way into the building as police tried to pacify them. Window glasses were broken in the melee.
Addressing the agitating parents, Rustom Kerawala, spokesperson for the management said, "If somebody is found guilty of raping, let him be hanged."
He said the school management was co-operating with the investigating authorities. "We are waiting for the final conclusion from authorities."
Kerawala sought to pacify the parents, saying that security would be stepped up and "safety of the child is paramount."
With inputs from Vicky Nanjappa in Bangalore
Image: TV grab showing parents protesting outside Vibgyor High School in Bangalore on Thursday
Courtesy: ANI/Twitter