Documents declassified by the US espionage agency, the Central Intelligence Agency have revealed a shocking bit of information regarding an assassination attempt in 1950 on Field Marshal K N Cariappa, who took over as the first Indian Commander in Chief of the Indian Army from British Army officer General Roy Bucher on January 15, 1949.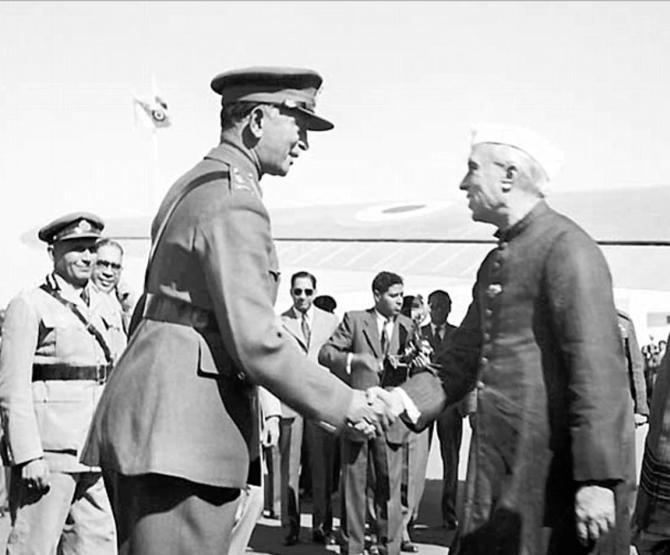 "An attempt to assassinate General Cariappa, the commander-in-chief of Indian Army, was made during the General's recent inspection tour of East Punjab," said the CIA declassified report, titled "Rift in Officers corps of the Indian Army", filed on June 12, 1950 that was hitherto unknown to the public.
The report is among some 13 million declassified documents, which the CIA have released online. The report was declassified in accordance with the US government's 1995 executive order that allows automatic declassification of nonexempt historically valuable records 25 years or older.
The "confidential" report states that six people were sentenced to death for making an attempt on the life of Cariappa.
"Six persons have been sentenced to death in connection with the plot; several high army officers are believed to be involved," the report said without identifying those sent to the gallows.
The report also states, "General Cariappa as South Indian is resented by the Sikh officers of the Indian Army. The RSS (Rashtriya Swayamsewak Sangh) is capitalising on the North-South split among army officers, persuading Sikh officers, whom informant considers treacherous and unreliable, to spread dissension. Officers from Travancore (later Kerala), Madras and Maharashtra are invariable loyal to General Cariappa."
That the US intelligence didn't see Cariappa favourably is reflected clearly in yet another declassified CIA document dated December 15, 1948 which states: "The impending departure of General Sir Roy Bucher, the British officer now commanding the Indian Army, increases the possibility of an open warfare between India and Pakistan. General Bucher, who is to reliquish the office of Comander-in-Chief on August 15, has exerted a moderating influence on Indian military policy and with the cooperation of his British opposite number in Pakistan has kept to a minimum direct encounter between the Indian Army and Pakistan's regular troops in Kashmir."
"His successor, Lieutenant General K M Cariappa, gives the impression of being vain, temperamentally unstable, and lacking sound military judgement; there is a danger that in attempting to give palatable military advice to the Indian government he may fail to give due consideration to all of the military and political factors involved and that he may use his new position to seek the personal glory that a speedy termination of the Kashmir campaign would provide."
General Cariappa was then the General Officer Commanding-in-Chief of the Western Command during the Jammu and Kashmir operations.
But could these notes just be tales of fantasy?
The assassination attempt report too is preposterous, Air Marshal (retd) Nanda Cariappa, General Cariappa's son, told Outlook magazine.
"I think it is implausible, I have never heard about it, quite honestly, and nobody I know has ever heard about it. In 1950, one year into being the commander in chief, he was in good terms with the politicians. I can't think of anybody who would want to bump him off," said Air Marshal (retd) Nanda, who retired from the IAF 20 years ago.
According to I Ramamohan Rao, former Principal Information Officer of the Indian government, said General Butcher had tried his best to tie General Cariappa's hands in 1948 by not approving plans to evict Pakistani 'raiders' from some sensitive areas. General Cariappa, as GOC-in-C, quietly decided to clear the Pakistani raiders from the Jammu-Naushera Axis. He also directed the operations for recapture of Zoji la Drass and Kargil.
"A great deal of credit goes to General Cariappa for making the Indian Army truly Indian. Today, the nation can take pride in the role played by the Army in guarding it against external threats and insurgency promoted by hostile elements."
"Not many remember that Field Marshal Ayub Khan served under General Cariappa in the British Indian Army. When his son Flt. Lt. K. C. "Nanda" Cariappa (who later rose to the rank of an Air Marshal) was taken prisoner after his Hunter aircraft was shot down during the 1965 war, Field Marshal Ayub Khan contacted General Cariappa in Mercara and offered to release his son.
The reply of General Cariappa was: "He is my son no longer... He is the child of this country, a soldier fighting for his motherland like a true patriot. My many thanks for your kind gesture, but I request you to release all or release none. Give him no special treatment," Rao wrote in an edit piece for news agency ANI.