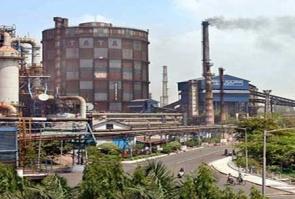 Around half a dozen Tata Steel employees and contract workers were injured following an explosion in the LD gasholder inside its factory in Jamshedpur.
Following the impact of the explosion, fire broke out in the adjoining gas pipeline. Six fire tenders were rushed to douse the flames, inspector of factories A K Mishra said.
Three of the injured were out of danger and the rest were admitted to the Tata Main Hospital, he said.
A roof of the gasholder was badly damaged under the impact of the explosion, Mishra said, adding, that the pipeline has been isolated.
The rubber material of the gasholder was melting in the fire and the priority was to control the fire, he said. Meanwhile, one of the seriously injured employees was shifted to the critical care unit of the hospital, company sources said.
Tata Steel spokesman Prabhat Sharma said both the fire as well as the gas emission were under control and there were no reports of any casualty. The movement of employees inside the factory and near the explosion site has been restricted, Sharma added.