The situation along the eastern border with China is "stable" but "unpredictable" due to the absence of delineation of boundaries, said general officer commanding-in-chief of the Eastern Command, Lt Gen R P Kalita.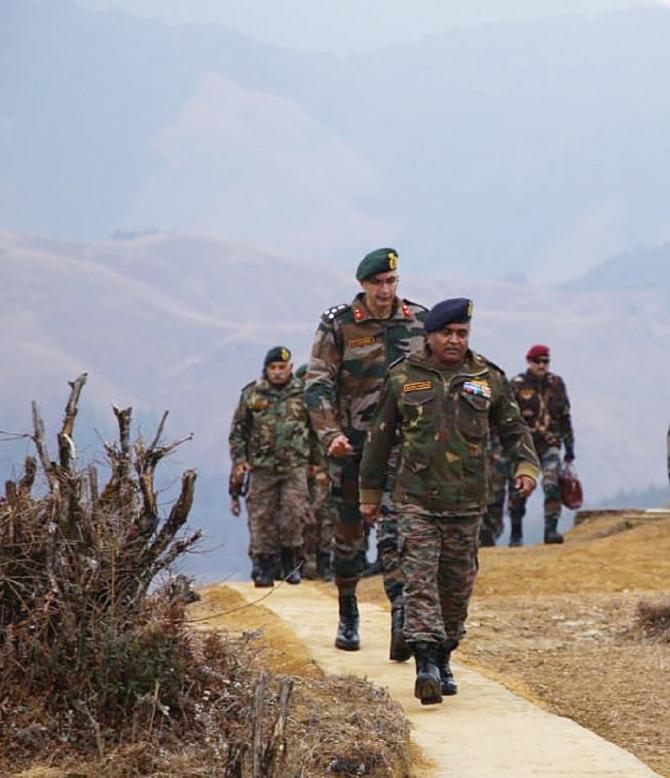 The Eastern Command takes care of the LAC in the Arunachal Pradesh and Sikkim sectors.
Lt Gen Kalita also stated that the Army is constantly monitoring the activities across the border and is well prepared to meet any emerging challenges.
"The whole problem stems from the fact that the border between India and China is not clearly defined," said the Army official.
There are different perceptions about the Line of Actual Control, which lead to problems, he added.
"However, let me assure you that the situation in the eastern border in Sikkim and Arunachal Pradesh is stable but unpredictable due to the absence of delineation of borders," he told a Meet the Press programme at the Press Club, Kolkata.
There has been a fresh spike in tension between India and China after troops from the two sides were engaged in a clash along the LAC at Yangtse in the Tawang sector on December 9.
Defence Minister Rajnath Singh said in Parliament on December 13 that the Chinese troops tried to "unilaterally" change the status quo in the Yangtse area in Arunachal Pradesh, but the Indian Army compelled them to retreat with its firm and resolute response.
Recently Chief of Army Staff Gen Manoj Pande conducted a comprehensive review of India's military preparedness along the LAC in Arunachal Pradesh after last month's skirmishes in the Tawang sector.
"We have read reports that gradually there has been an increase in troop deployment (by China) opposite our sectors along with infrastructure development that the PLA has carried out in their bordering areas," the GOC-in-C of the Eastern Command said.
He maintained that the preparedness level of the Indian Army remained "very high" along the LAC, and it has adequate forces and reserves in each of the sectors to deal with any situation effectively.
To a question on reports of China building alternate access to Chumbi valley in Tibet near Sikkim and how it would threaten the security of the Siliguri corridor, the senior Army officer said, "Siliguri Corridor is geo-strategically extremely important to us. Requisite measures and mechanisms are in place to ensure that there are no disruptions and maintenance of connectivity with the northeast remains intact."
Siliguri corridor, commonly known as the 'chicken's neck', connects the mainland with the northeastern states. The corridor shares international boundaries with Nepal, Bhutan and Bangladesh.
© Copyright 2023 PTI. All rights reserved. Republication or redistribution of PTI content, including by framing or similar means, is expressly prohibited without the prior written consent.