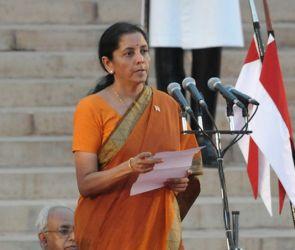 Union Commerce Minister Nirmala Sitharaman is expected to be elected to Rajya Sabha from Andhra Pradesh in the by-election slated for July 3.
The ruling Telugu Desam Party has decided to allot the lone seat to its alliance partner Bharatiya Janata Party.
The by-election was caused due to the death of sitting MP N Janardhana Reddy of the Congress, whose term was originally supposed to end on June 21, 2016.
Since Sitharaman is currently not a member of Parliament, her name is tipped for the Rajya Sabha seat from AP where the TDP-BJP alliance has a comfortable majority of 108 members in the 175-member Assembly.
Official announcement about Sitharaman's candidature is expected to be made in the next couple of days when notification for the by-election will be issued, TDP sources said.
Last date for withdrawal of nominations is June 26 and election, if required, will be held on July 3.
In all likelihood, it will be a unanimous election as the lone opposition party YSR Congress doesn't have the strength to pose any challenge.
Image: Union Commerce Minister Nirmala Sitharaman