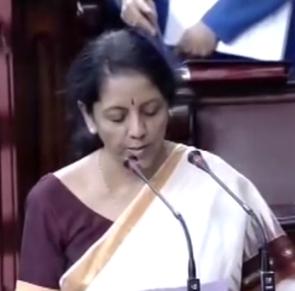 Union ministers Prakash Javedkar and Nirmla Sitharaman and senior Janata Dal-United leader Sharad Yadav and Nationalist Congress Party's Praful Patel on Monday took oath as members of Rajya Sabha.
Commerce and Industry Minister Sitharaman of the Bharatiya Janata Party, who was elected to Rajya Sabha from Andhra Pradesh, took oath in English while I&B and Environment Minister Javedkar, who was elected from Madhya Pradesh, took oath in Hindi.
JD-U's Gulam Rasool Balyawi and Pawan Kumar Verma, who were elected to Rajya Sabha from Bihar recently, also took.
Others who took oath are M V Rajeev Gowda and B K Hariprasad of the Congress from Karnataka, Anubhab Mohanty and Bhupinder Singh of the Biju Janata Dal from Odisha and Samajwadi Party's Vishambhar Prasad Nishad from Uttar Pradesh.
Members shook hands with Chairman Hamid Ansari and greeted leaders after taking oath.
After the oath, the House mourned the death of its former member Shanti G Patel. Ansari said Patel, a doctor by profession, passed away on June 13, 2014.
Patel, who was mayor of Mumbai during 1970-71, represented the state of Maharashtra in the Upper House from July 1980 to July 1986. "In passing away of Patel, the country has lost a veteran freedom fighter, an able parliamentarian, a noted trade unionist and a dedicated social worker," Ansari said.
The House also lauded PSLV-23 successfully launching 5 satelites of France, Germany, Canada and Singapore on June 30. The successful launch, Ansari said, was yet another milestone in success story of Indian space programme for which scientists and technicians need to be congratulated.

Image: Commerce and Industry Minister Niramala Sitharaman takes oath in Rajya Sabha