Weeks after their resignation from the Delhi Cabinet, Manish Sisodia and Satyendar Jain's bungalows have been allotted to newly inducted ministers Atishi and Saurabh Bharadwaj.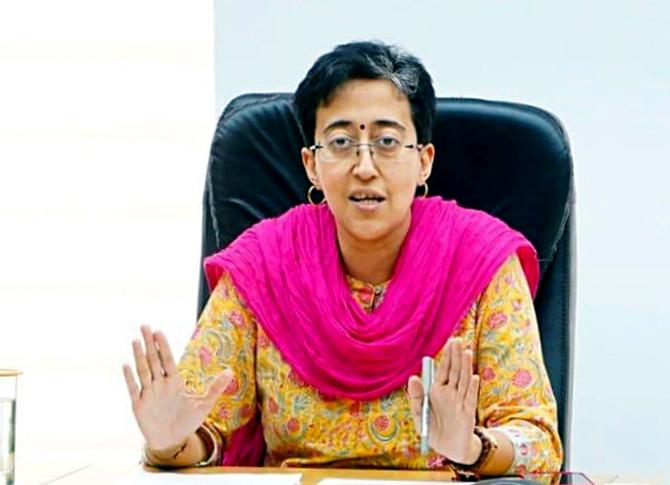 Sisodia and Jain have been asked to vacate the bungalows on or before March 21, according to a letter by the Public Works Department on March 14.
It also asked Atishi and Bharadwaj to give their acceptance within eight days of the issuance of the letter.
The BJP questioned the urgency behind getting Sisodia's bungalow vacated.
"Why is Kejriwal in such a tearing hurry to get rid of Sisodia? What happened to his promise to take care of Sisodia's family after his arrest," Delhi Bharatiya Janata Party media cell head Harish Khurana said.
The Aam Aadmi Party and said the order was 'nothing but a compliance of law'.
Sisodia had been staying at the AB-17 bungalow on Mathura Road, which was earlier with former Delhi chief minister Sheila Dikshit.
The bungalow was allotted to Sisodia in 2015 when the AAP came to power in Delhi.
Jain was staying at the 2, Raj Niwas Marg, Civil Lines bungalow, which has now been allotted to Bharadwaj.
'As far as the order regarding the former deputy chief minister's residence is concerned, it is the law that a minister upon resigning from his/her office is bound to vacate the government residence occupied by them within 15 days. This order is nothing but a compliance of the law,' the AAP said.
The letters to the two former ministers said only a 15-day retention period is permissible under the rules.
Sources said the nameplate bearing Sisodia's name and cabinet rank had also been removed from the bungalow.
The AAP said that it supports Sisodia and reiterated that his arrest was unjustified.
'The whole country is in awe of his work in education. The AAP has been running a signature campaign across Delhi and the country and we have seen that everyone feels that Sisodia's arrest is unjustified,' the party said.
Following the resignations of Sisodia and Jain, both currently in Tihar jail in alleged corruption and money laundering cases, respectively, two Cabinet berths had fallen vacant. Their resignations were accepted by the President on March 7.
Atishi and Bharadwaj were later inducted into the Cabinet.
Sisodia was arrested by the Central Bureau of Investigation (CBI) on February 26 in connection with alleged corruption in the formulation and implementation of the now-scrapped Delhi excise policy for 2021-22.
He is in judicial custody till March 22.
© Copyright 2023 PTI. All rights reserved. Republication or redistribution of PTI content, including by framing or similar means, is expressly prohibited without the prior written consent.