Former Delhi deputy chief minister Manish Sisodia, who arrived at his residence from the Tihar jail on Saturday, could not meet his ailing wife as she was taken to a hospital after her health deteriorated, Aam Aadmi Party sources said.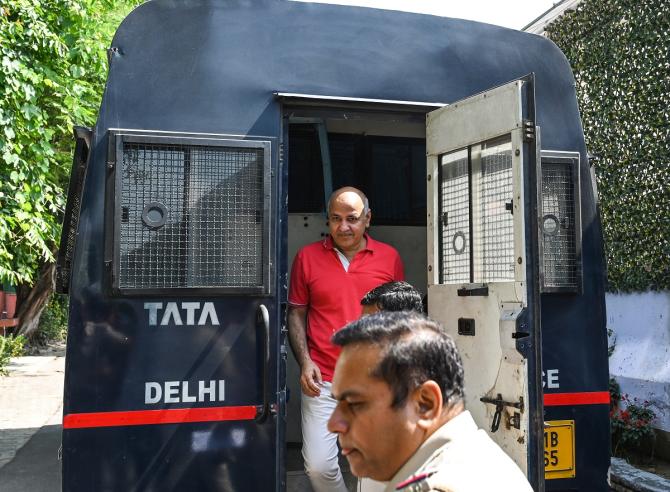 Later, Sisodia left his residence for the central prison.
The Delhi high court on Friday allowed the jailed Aam Aadmi Party leader to meet his ailing wife at his residence. Justice Dinesh Kumar Sharma directed the Tihar jail superintendent to take Sisodia to his residence to meet his wife from 10 am to 5 pm.
According to AAP sources, Sisodia's wife Seema was hospitalised as she felt unwell.
She is suffering from multiple sclerosis and was hospitalised last month as well.
"She was taken to the emergency ward of LNJP Hospital. Sisodia reached AB-17, Mathura Road, to meet his ailing wife at 9.38 am in a prison van. He was taken inside the house amid tight security.
"But he could not meet his wife as she had to be hospitalised after her health deteriorated," a party source said.
In a related development, the Delhi High Court on Saturday sought a report from the LNJP hospital on the health condition of Sisodia's ailing wife as it reserved its order on his interim bail plea for six weeks in a money laundering case arising from the alleged excise policy scam.
Sisodia was arrested by the Central Bureau of Investigation (CBI) on February 26 for his alleged role in the scam and has been in custody since. The high court denied him bail in the CBI case on May 30.
He was arrested on March 9 in the case lodged by the Enforcement Directorate and is currently in judicial custody.
The high court made it clear that Sisodia shall not interact with the media or any other person except his family members, and also not access phone or internet.
© Copyright 2023 PTI. All rights reserved. Republication or redistribution of PTI content, including by framing or similar means, is expressly prohibited without the prior written consent.