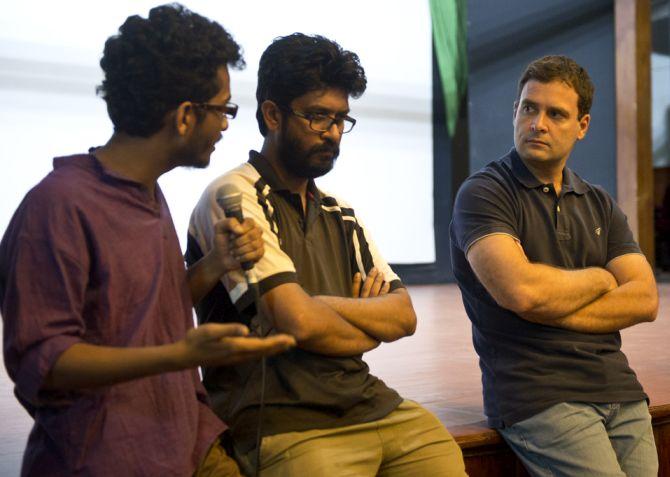 Rahul Gandhi on Wednesday slammed the government over the arrest of protesting Film and Television Institute of India students, telling Prime Minister Narendra Modi that they are not criminals who needed to be caught in a midnight crackdown.
"Protesting #FTII students arrested in #midnightcrackdown. Our students are not criminals Modiji. Silence. Suspend. Arrest: ModiMantra for AcheDin," the Congress vice president said in a tweet.
Gandhi had visited the FTII in Pune in July to express solidarity with the protesting students demanding removal of Gajendra Chauhan as chairman.
The Congress vice president's reference to "silence" was apparently to the prime minister's silence on the opposition demand for resignation of External Affairs Minister Sushma Swaraj and Rajasthan Chief Minister Vasundhara Raje in the wake of the Lalit Modi controversy and that of Madhya Pradesh Chief Minister Shivraj Singh Chauhan over the Vyapam scam.
The reference to "suspend" related to the suspension of 25 Congress member of Lok Sabha in the recently concluded Monsoon session of Parliament for repeatedly disrupting proceedings while seeking action in the Lalit Modi case and Vyapam scam.
In a midnight swoop, police arrested five students of FTII in Pune, charging them with rioting and other offences in connection with the gherao of director Prashant Pathrabe.
The students on strike for the last 69 days against appointment of Bharatiya Janata Party member and TV actor Gajendra Chauhan as the institute chairman, had gheraoed Pathrabe on Monday evening, challenging his decision to go ahead with the assessment of the incomplete diploma film projects of the 2008 batch.
Defending the arrest, Film Television Institute of India Director Prashant Pathrabe on Wednesday said he had no choice but to have the students arrested after he was illegally confined and verbally assaulted by them.
"I was kept in illegal confinement by the students for about 8-10 hours on Monday night, they (students) formed chains to forcefully block me. I was tortured using interrogation techniques, verbal assault," said Pathrabe.
"I permitted six students for a discussion but more than 40 to 50 people came in forcefully and I had no choice but to start a discussion. After the discussion on the agenda of assessment, when I told them my decision, they said we will not allow you to go," he added.
The FTII director further said that he was still in a state of mental shock, adding that it would take him a couple of days to come to normal.
Prashant Pathrabe noted that he had no choice as tolerating this kind of lawless behaviour would have emboldened the students to do anything further.
"I really wonder by what yardstick you can call such people 'students'. They wanted to enact a drama, it was all pre-planned to show the director and the institution in poor light," he added.
After unveiling the statue on the premises of Sant Vinoba BhaveCollege, Chheera in Amethi district, Rahul said both Bhave and Mahatma Gandhi followed the paths of truth and non-violence to serve the society. And later India developed itself following the paths shown by such great leaders who lived like saints.
At that time, forces like Rashtriya Swayamsevak Sangh protested against the paths followed by Gandhi and Bhave and the same pattern is now being supported by BJP and the central government, he claimed.
Later talking to reporters, Rahul alleged the BJP-led National Democratic Alliance
government was appointing "incompetent" people in important post to execute its hidden agenda. Congress will always protest such tricks as this is not in the interest of the country, he said.
From Chheera, the Congress vice-president left for New Delhi.
-- With inputs from ANI
Image: Congress vice-president Rahul Gandhi interacting with the FTII students back in July.