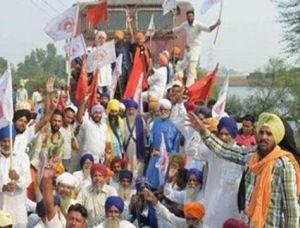 Two people were killed and 75 others, including an IGP, were injured as clashes rocked a number of places in Punjab, including Faridkot, Moga and Sangrur districts, over alleged desecration of a holy book.
A major clash between protesters and police took place in Behbal Kalan village, some 20 kms from Faridkot, where activists of various sikh organisations, including radicals, had set up a blockade.
"A police party was sent to clear the blockade set up by some activists near Behbal Kalan village. The protesters clashed with cops, pelted stones on them, forcing police to fire in self defence, lob tear gas shells and use water cannons to disperse the mob," Faridkot Senior Superintendent of Police (SSP) Sukhwinder Singh said.
The clash left two youth, both in their 20s dead, and many injured, he said, adding "The situation is tense, but under control."
Earlier, protesters clashed with police at Kotkapura also in this district, he said.
Bathinda Zone IGP J K Jain was among 75 people injured, four of them seriously in these clashes. There were 15 police personnel among the injured, officials said.
Clashes between protesters and police were also reported from some places in Sangrur and Moga.
Police had to open fire, use water cannons and lob tear gas shells and cane charge the protesters to disperse them, officials said.
The protesters were agitated over reports of tearing of pages of a holy book.
Heavy police force has been deployed to maintain law and order in Faridkot, Moga, Mansa, Bathinda and Sangrur district, officials said.
Chief Minister Parkash Singh Badal and his Deputy Sukhbir Singh Badal have promised action against the miscreants and appealed for maintenance of peace.
Picture for representation only.