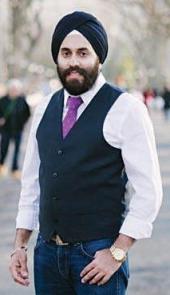 Gurpreet S Kherha, who was denied a job at Tri-County Lexus -- a car dealership in Little Falls, New Jersey -- due to its 'no-beard' policy will get $50,000 in an out-of court settlement with the firm.
"This case demonstrates that discrimination does not necessarily involve blatant harassment, including verbal or physical harassment. Employers who use neutral dress code policies to keep Sikhs and other religious minorities out of the workplace may also be violating the law," Gurjot Kaur, staff attorney, Sikh Coalition said.
"No employee should ever have to choose between his or her job or religion."
Kaur and attorney Ravinder Bhalla filed a discrimination complaint with the Equal Employment Opportunities Commission in 2009 and a lawsuit in New Jersey state court in 2010, claiming Kherha was not hired by the car dealership because he had a beard, in violation of the dealership's 'no-beard' policy for sales and administrative personnel.
In March 2010, the EEOC determined that Kherha suffered discrimination and filed a federal case against the dealership.
After Lexus lost a request for summary judgment, the parties decided to settle the case.
According to the EEOC's lawsuit, Tri-County Lexus strictly enforced its dress code policy without granting reasonable religious accommodations.
Kherha applied for an available position as a sales associate in 2008 for which he was qualified, EEOC said.
Tri-County Lexus requested that he shave his beard, which he refused to do and the dealership denied him the job, EEOC charged.
As part of the settlement, Tri-County Lexus has agreed to pay Kherha $50,000 in compensatory damages, and has entered into a two-year consent decree with the federal government, which requires it to undertake a series of remedial measures for the next two years.
These include revising its written policies and procedures prohibiting employment discrimination, providing ongoing trainings to all staff on anti-discrimination laws, and ensuring a copy of its revised policies be provided to any applicant (not just employee) who requested a religious accommodation during the hiring or interviewing process.
"As this settlement demonstrates, Sikh Americans have a right to live, work, and thrive in the US just like anyone else. We will continue to stand up against employers who fail to understand their legal obligations to provide religious accommodations and keep Sikhs and other religious minorities out of the workplace," Kaur said.
Image: Gurpreet S Kherha