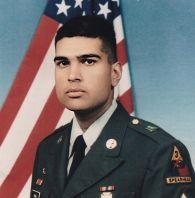 About 200 people from various interfaith groups joined the memorial and candle light vigil held in honour of Parminder Singh Shergill, an Iraq war veteran, who was shot dead by local police on January 25 at Lodi, California.
The service was held at the Dasmesh Darbar Sikh Temple, California on Friday.
Shergill, 43, was killed near his home around 9.30 am. The Lodi police claim Shergill attacked the officers with a knife.
However, eyewitnesses have a different story to tell, says Shergill's first cousin.
"There are serious questions regarding his death and there are irregularities with regard to the action by the police," says Jack Johal, who is representing the Shergill family, in their interactions with the media. Shergill was shot 10 times, Johal told Rediff.com.
Johal says his cousin did not brandish a weapon, charge at the officers, or threaten them with physical harm before the shooting.
Shergill served in the US army including Iraq during the Gulf War and was honourably discharged in 1995. After retiring from Iraq he earned a bachelors degree in biochemistry and electrical engineering from California State University, Sacramento.
"He was very quiet, very friendly and a nice man," said Johal. But after retiring from Iraq he was suffering from post-traumatic stress syndrome.
Johal said that whenever Shergill had an episode, he would get nervous and fidgety. His mother would call the police to take him to the veteran hospital.
On the day of the incident his mother had called the police, but by the time the police arrived he already had left for a walk in the neighborhood park.
"So when he was walking back from the park the police was following him asking him to stop. When he was near his home he turned around and the police shot him," said Johal, an attorney.
He said Shergill lived with his 70-year-old mother, he was married but divorced.
Amar Shergill, attorney and board member of the American Sikh Political Action Committee, a non-partisan organisation who joined the memorial service said through a press statement, "Although the investigation into the incident has not yet been completed, several troubling facts have already come to light."
Shergill's case has created concern in the Sikh community said Satnam Singh Chahal executive director of North American Punjabi Association in California. He said NAPA has demands a high-level investigation into Sikh killing by Lodi police.
"Why did the police fire shots at Shergill while he was at least ten feet away from the officers?" asked Chahal.
A phone call to the Lodi Police was not returned.
However, Mark Merin, civil rights attorney who has taken the case for the Shergill family said in a press statement that the witness's statement provides a description of the incident different from the police version.