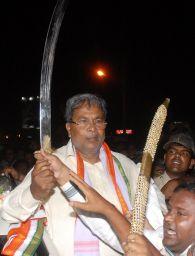 K Siddaramaiah, who took over as the 22nd chief minister of Karnataka on Monday, is all set to face a stormy legislative assembly session. Among the several decisions that he took after being sworn-in was to reverse the previous Bharatiya Janata Party government's decision banning cow slaughter in the state.
The BJP had decided to implement a ban on cow slaughter in Karnataka when it came to power in 2008 and had passed the Karnataka Prevention of Cow Slaughter and Preservation Bill.
This meant that there was a blanket ban on cow slaughter across the state. The same was passed in the legislative assembly. However, Siddaramaiah made it clear that the bill would be withdrawn.
This would now lead to a debate on the floor of the House and the BJP, with 40 legislators, has decided to oppose this move.
BJP leader Suresh Kumar, a former law minister, said, "Let it come to the assembly. We will debate it. We had taken the decision to prevent the in-discriminatory slaughter of cattle."
When the BJP had introduced the amendment bill, the Congress had petitioned the governor and Siddararmaiah had vehemently opposed the same on the floor of the House. He had said that it affects beef-eaters and also those persons who are into transportation of cattle.
It also has an impact on those in the leather industry and the meat packaging industry, he had pointed out.
The BJP, however, decided to go ahead with the amendment bill. As per the amendment bill, slaughtering of cows, calf of a cow and bull, bullock, buffalo male or female and calf of she-buffalo is prohibited. However, if permission is obtained from a competent authority, animals above the age of 15 could be slaughtered.
The original act which was passed in 1964 stated that cows, calves or she-buffaloes cannot be slaughtered. However, it allowed the slaughter of bulls, bullocks and buffaloes provided they were 12 years of age or above and also unfit for breeding, did not give milk or victims of drought.
The bill has been contentious in Karnataka and the movement to ban cow slaughter was strongest in Mangalore. There were protests -- and at times violence -- over this issue and the BJP government had decided to ban cow slaughter despite reservation from the Muslims.
Image: K Siddaramaiah greets the people of his Varuna constituency after becoming CM
Photograph: Madhusudan S R