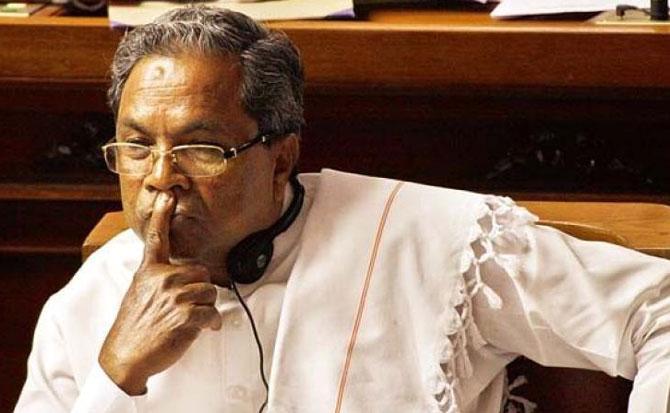 Hitting back at Narendra Modi for his all-out attack on his Congress government, Karnataka Chief Minister Siddaramaiah on Monday accused him of telling a "tissue of lies" and said he was "morally not fit" to be prime minister.
"He did not speak as prime minister. He has uttered a tissue of lies and made baseless and irresponsible allegations," Siddaramaiah said in an angry rebuttal to a litany of charges by Modi at a Bharatiya Janata Party rally on Sunday.
This came as a retort to Modi's assertion that the countdown for the exit of the Siddaramaiah government had begun and it was at the exit gate.
Sounding the poll bugle for the upcoming assembly polls in Karnataka, Modi had accused the Siddaramaiah government of creating new records in corruption and dubbed it a "10 per cent commission government."
"If they have evidence to prove, let them furnish the documents under which project or scheme corruption happened," the chief minister said.
Raising the issue of murders of several BJP and Sangh Parivar activists, Modi had alleged criminals were ruling the roost and "ease of doing murders" was being discussed in the state while his government talked of ease of doing business.
"He (Modi) has accused the government of taking 10 per cent commission in all the schemes and programmes. This is the most baseless and irresponsible allegation," he told reporters.
Giving a point-by-point rebuttal, he said "Modi as a prime minster has lied to the people of the state and misled them by giving wrong information. According to me, he has denigrated his position."
Asked if he thought Modi was fit to continue as prime minister as he had accused him of lying, he said, "According to me, he is morally not (fit) to be prime minister."
Attacking Modi for the corruption jibe, he said BJP state chief B S Yeddyurappa was seated next to him at the rally and the prime minister should have known about what all happened during his term as chief minister.
Yeddyurappa had gone to jail and similarly former BJP ministers Katta Subramanya Nadu, Krishnaiah Shetty and Janardhan Reddy too went to jail duing the BJP rule.
He said by projecting the person who had gone to jail and indulged in "looting" as chief minister, (apparently referring to Yeddyurappa), Modi had shown disrespect to the people of Karnataka. "I strongly condemn it."
He said during Modi's chief ministership in Gujarat, the Lokayukta was not appointed for nine years because of the fear that their alleged corruption deeds would come out in the open.
They did not appoint Lokayukta because of the fear that their illegal help to industrialists would come out. Even now after coming to power at the Centre, they have not appointed Lokpal, he said.
Siddaramaiah said as the prime minister of the country, "stooping to the level" of Yeddyurappa and making "baseless" allegations was the "most shameful" thing.
Terming BJP's rule in the state from 2008 to 2013 as the government of "looters", Siddaramaiah said, "I'm not saying this for the sake of making allegations."
On the alleged illegal mining scam during the BJP rule in the state, he said, "Yeddyurappa was next to him (Modi), who had also gone to jail, keeping him beside (accusing) fingers were shown at us. This is highly irresponsible and politically motivated statement." There was no other thing that was more shameful than this, he added.
He also refuted the charges made by the BJP that his government was being "soft" towards "jihadi forces" whom it had blamed for the killings of Hindu, BJP and Sangh Parivar activists.
Asserting that Karnataka had maintained number one position in various spheres, he said despite all this, Modi was claiming there was no law and order in the state.
"Let Modi check top 10 states in the country where law and order issue was more severe," he said.
He said BJP-ruled states like Uttar Pradesh, Madhya Pradesh, Rajasthan, Gujarat, Haryana and Maharashtra and Bihar (in coalition with Janata Dal-United) topped the list.
"He is not just Narendra Modi. He is the prime minister of this country... he should have noted other states when he spoke about law and order in Karnataka," Siddaramaiah said.
Accusing Modi of making the charges out of malice with the coming polls in mind and to cover up the "loot" by the earlier BJP government, he also reminded Modi about the post-Godhra violence and alleged lawlessness in BJP-ruled states.
He also hit out at BJP president Amit Shah, saying he was made an accused in a fake encounter case and went to jail. Shah was subsequently discharged by a CBI court in Mumbai.
The chief minister said there were expectations that the prime minister would speak about waiving of loan obtained by farmers from nationalised and scheduled banks and on the Mahadayi issue over which the state is locked in a dispute with Goa.
He rejected the claims that excess amount was given to Karnataka under the 14th finance commission, maintaining that what has been provided to the state was as per the constitutional mandate which was "our share."
He said Modi had come here to make a political speech keeping elections in mind. "Even if he comes here 100 times or Amit Shah tries to instigate communal tension, people have decided to bring Congress back to power" he said.