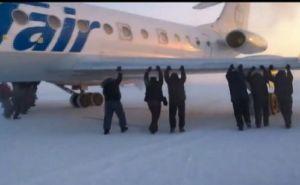 A cheery group of travellers got off their plane in temperatures of minus 52 degrees Celsius at Igarka, which is beyond the Arctic Circle, to push the Tupolev plane on the snow-covered runway after its chassis froze.
The extraordinary story emerged after a passenger posted a video on YouTube.
"Let's go," passengers in thick winter coats shout and whoop as they put their hands on the wings of the plane and shove it several metres along the runway, AFP reported
The aircraft's wheels simply froze to the ground after having spent over 24 hours on the tarmac. According to the company, the ice-covered ground was the reason the plane couldn't be moved. The incident is currently under investigation, and will involve airport staff, the airline, crew and passengers.
"Due to the low air temperatures, the chassis's brake system froze and a tow truck was unable to move the plane onto the taxiway to carry out the flight," Russian prosecutors confirmed in a statement.
"The passengers on board got out of the plane and started pushing it onto the taxiway."