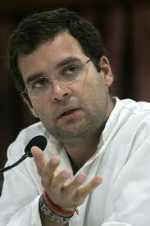 Talking tough, Congress leader Rahul Gandhi on Thursday warned party men against groupism and asked them to forget the past and prepare for the 2014 Lok Sabha polls.
At a meeting with party men at the KC Inter College in Shukul Bazar area, he said steps would be initiated soon to strengthen the organisation.
According to some workers who attended the meeting, Rahul warned those indulging in groupism to mend their ways saying it would not be tolerated. He said the 2014 Lok Sabha elections were not very far and all have to start preparations for it. He asked them to forget the past and dedicatedly work for the future.
Asking workers to tour villages and apprise people of welfare schemes being run by the Centre, Rahul regretted that though the United Progressive Alliance government was doing a lot of work for the common man, others were taking credit.
On the complaint of workers regarding lack of development and problems relating to power, water and roads in Amethi, he said since there was a non-Congress
government in Uttar Pradesh central funds were not being properly utilised on various schemes and this was affecting development of the region.
Rahul said while other states have shown good results in rural job guarantee scheme, the Mahatma Gandhi National Rural Employment, it were not the same in Uttar Pradesh.
On the issue of non-utilisation of MP Local Area Development fund, he said a committee has been constituted at the block level to ensure proper utilisation of the money.
Gram pradhans present in the meeting complained that the officials did not pay heed to development programmes of their areas. To this, Rahul said he would take up the matter with the administration in the next meeting.
When some party workers raised the issue of cap on subsidised LPG cylinders at a meeting in Jagdishpur, Rahul said the government was looking into it and a decision would be taken to solve their problem soon.