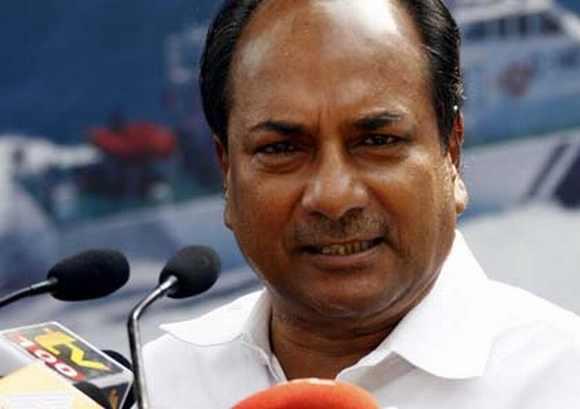 Against the backdrop of a tiff between India and China over the South China Sea, Defence Minister A K Antony on Tuesday called for exercising restraint to resolve the issue while pressing for freedom of navigation and access to resources.
"Our view is that all countries should exercise restraint and resolve the issue through dialogues according to principles of international law," Antony said in Jakarta after meeting his Indonesian counterpart Purnomo Yusgiantoro.
The defence minister is in Indonesia on a three-day visit. "India supports the freedom of navigation and access to resources in accordance with principles of international law and these should be respected by all," he said.
In recent times, China and several other countries have been engaged in territorial disputes in the South China Sea territory. China has also objected to oil exploration by Indian companies in partnership with Vietnam.
Talking about the power rivalries in the Indian Ocean Region, Antony said although these are being conducted in local theatres, the impact is felt in the wider regional arena and also, globally.
"We have a stake in the maintenance of peace and stability in our immediate and extended neighbourhood. This includes the entire IOR to our east and west," he said.
The minister's remarks come in wake of the increasing presence of the Chinese navy in the IOR and the launch of its latest aircraft carrier 'Varyag'.
"We have a vital stake in the evolution of balance security and cooperation mechanisms through which we can build consensus and pursue dialogue. We seek to improve our partnership with all countries in the IOR on bilateral as well as through multilateral basis," Antony said.
In the meeting, the two countries decided to enhance their military cooperation with Antony declaring his meeting with Yusgiantoro as a 'turning point' and an 'excellent beginning', defence ministry spokesperson Sitanshu Kar said.
This was the first Ministerial-level biennial defence dialogue between the two countries which lasted nearly two hours where the ministers also exchanged views on the emerging scenario in Afghanistan and West Asia.
Encouraged by the success of their first counter-terrorism exercise earlier this year, Antony proposed that the two countries should continue the joint exercises between the two armies on a mutually agreed frequency.
On cooperation between the two air forces, he said a high- level Indian Air Force team would send a team to finalise details of training and spares support package, once the Indonesian air force firms up its requirements.
Indonesia has also acquired the Su-30MKI aircraft from Russia as its front-line aircraft and India is likely to offer its support to the country for training and other requirements.
Antony also offered to his Indonesian counterpart establishment of a formal maritime domain information sharing arrangement between the two navies.
He invited Yusgiantoro to visit India for the next round of talks next year and the same was accepted.    Defence Secretary Shashikant Sharma, Indian Ambassador to Indonesia Gurjit Singh, Integrated Defence Staff Chief Vice-Admiral S P S Cheema, Andaman and Nicobar Command Chief Lt Gen N C Marwah and DG Ordnance Factory Board S K Beri are accompanying the defence minister in the visit.