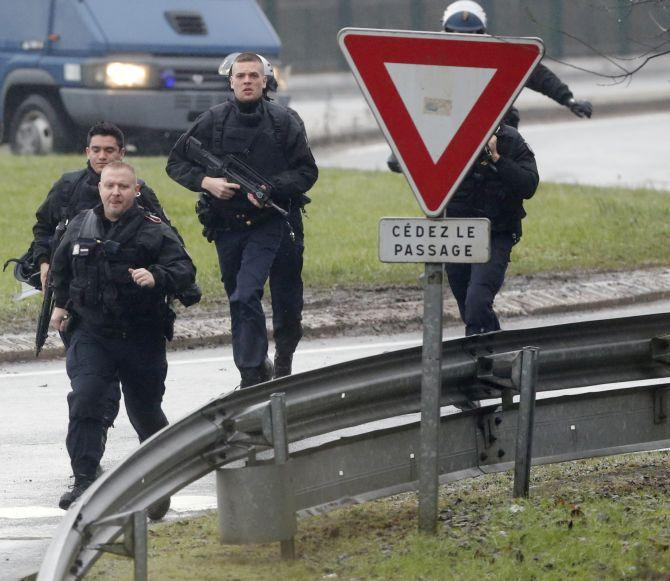 Members of the French intervention gendarme forces arrive at the scene of a hostage taking at an industrial zone in Dammartin-en-Goele, northeast of Paris. Photograph: Christian Hartmann/Reuters
"We are ready to die as martyrs," the Charlie Hebdo killers have reportedly said after they seized a hostage and are now holed up on an industrial estate near a Paris airport, at Dammartin-en-Goele, north-east of the capital, where they are surrounded by dozens of armed police.
The airport authorities closed a few runways amid fears that the perpetrators may have anti-aircraft weapons.
The killers, Cherif and Said Kouachi, believed to have affiliations with terror group Al Quaeda, exchanged gunfire with the police after a long car chase towards Paris.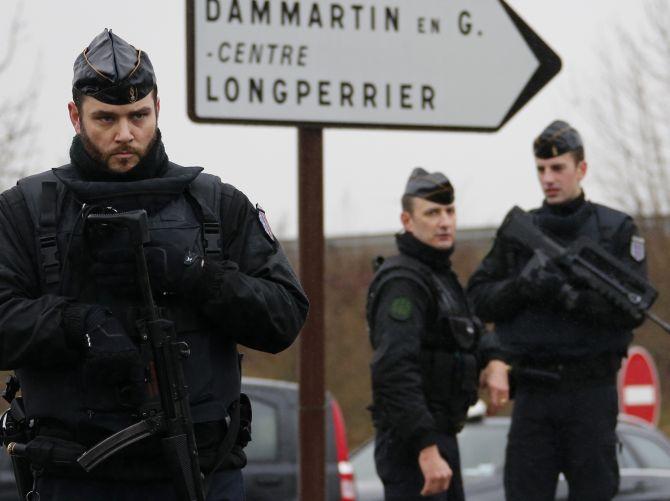 French gendarmes secure the roundabout near the scene of a hostage taking at an industrial zone in Dammartin-en-Goele. Photograph: Eric Gaillard/Reuters
However, the public prosecutor has deny reports there had been casualties.
The gunmen are believed to have taken one hostage with them into a storage unit, which is now surrounded by police commandos who have begun negotiations to try to secure their release.
As helicopters hovered overhead, France's Interior Minister Bernard Cazeneuve said: "A police operation is underway."
The brothers were holed up in a small printing business named Creating Trend Discovery, a source close to the investigation said. "It's not sure how many people are inside," the source said.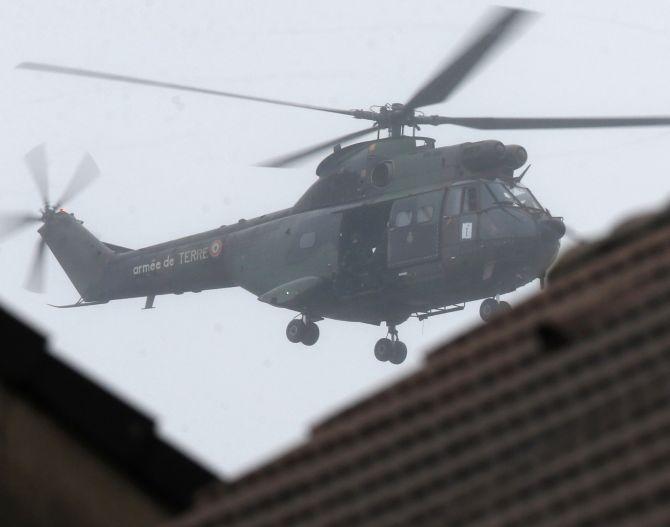 A French Army helicopter with intervention forces hovers near the scene of a hostage taking at an industrial zone in Dammartin-en-Goele after the gunmen took a hostage. Photograph: Christian Hartmann /Reuters
Prior to the standoff, the suspects had hijacked a Peugeot 206 in Montagny-Sainte-Felicite from a woman who said she recognised them as the wanted men, a police source said.
The standoff was close to the same area where special police forces had been combing the countryside for the brothers.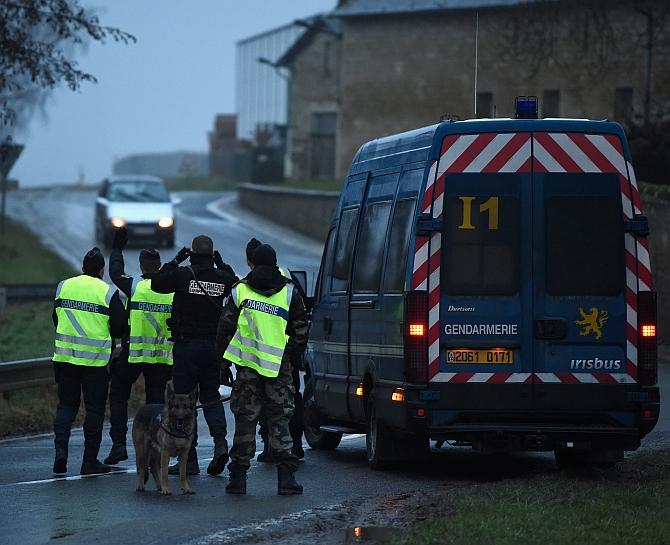 Police officers stop a car at a check point outside Longpont, France as cops continue their massive manhunt for the two suspected gunmen in Wednesday's deadly attack on Charlie Hebdo magazine office. Photograph:Pascal Le Segretain/Getty Images
Dozens of police had earlier pursued the brothers along the National 2 highway, ending Dammartin-en-Goele, around 7 miles from Charles de Gaulle international airport.
The dramatic development came after thousands of police and soldiers had focused their hunt for the gunmen in a nearby forest amid fears they were planning a final 'spectacular' before capture.
The search for the gunmen last night focused on a cave in a vast forest in northern France, but had turned up nothing.
The pair left behind their identity cards in the Citroen they used for the massacre – a move which appeared deliberate, intelligence specialists said.