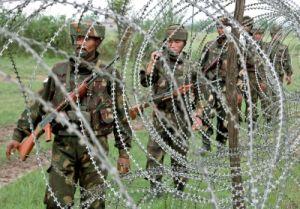 In a worrying trend, the country's largest border guarding force the Border Security Force has lost four times more troops in off-duty bike accidents than at the borders or other conflict theatres in the hinterland in the recent past.
The death of 42 jawans in motorbike accidents in the last year as compared to 12 personnel who died in action in various BSF operations has made the top brass up and take notice of these instances.
"We are losing about five jawans per month in bike accidents. These accidents are happening when these men are off-duty or when they go home on leave. Those getting killed in such incidents are in the prime of their lives, about 45-50 years of age. Our personnel are our biggest asset and we cannot let this happen. Deaths due to motorbike accidents are a big concern for us and we are taking immediate remedial steps," BSF Director General D K Pathak said.
He added that the force has made some prompt interventions in this regard which includes keeping an eye on rash drivers in the paramilitary and starting a programme to initiate safe driving.
All the supervisory officers, in the field formations and headquarters, have been asked to keep a check on their drivers and those found driving recklessly are being pulled out and taken to task.
"We are weeding out the bad drivers. A disciplined force like BSF, which has onerous security tasks on its shoulders, cannot lose its men in such freak accidents," Pathak said.
The DG said the force headquarters has initiated a new programme to initiate safe driving and good road discipline skills in its men and women in uniform.
"The course will be run at all the sector and frontiers of the BSF. We are trying to make them understand that life is too precious to be lost in such misadventures. They are trained to fight for the country and in this pursuit our men have also laid down their lives. But these (bike accidents) incidents are totally unacceptable to us," Pathak, who has chaired half-a-dozen meetings with his force commanders in this regard in the recent times, said.
The force, tasked to secure two of the most important borders of India with Pakistan and Bangladesh, lost seven jawans in train accidents, five due to malaria and four due to other incidents related to road accidents in the corresponding time period.
Another big health hazard in the force, celebrating 50 years of its raising this year, has been a slight spurt in heart related diseases and deaths.
The force has had over a dozen heart diseases related deaths in the last year and till March this year.
"We have issued directions that the rules vis-à-vis preparation of healthy food in the mess and kitchens of the force should be strictly adhered to. It has been reinforced that less of oil and spices should be used and low-calorie food be prepared in the units along borders and other places," he said.
The force has made elaborate plans to train its men in safe-driving of two-wheelers and four-wheelers at its various training institutions in the country, a senior officer said.
"It was a proud moment when US President Barack Obama praised our bike-borne 'janbaaz' jawans during the Republic Day celebrations at Rajpath. Now when you have that kind of recognition coming from a world premier, such incidents should not put a question mark on our safety and discipline records," the officer tasked with imparting road traffic skills to the troops said.