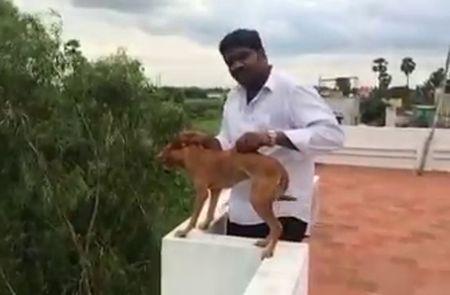 Horrifying video of a man throwing a dog from rooftop surfaces, a NGO offers reward to trace him, reports T S Sudhir.
Look at this picture very carefully. This is a grab of the video in which the man is holding a puppy on a terrace and throwing him down, an act that would have broken the spine and many bones of the canine, leaving him crippled for life. Shocked by the brutality, the Humane Society International has announced a reward of Rs 1 lakh to any one who provides information about the person that could lead to his arrest and conviction.
"We do not know where this is. We need help to track this man down,'' says NG Jayasimha of the HSI.
Jayasimha, who is also a member of the Animal Welfare Board of India, says, "This seems to be a trend. Every day, we get a case of cruelty against animals. But this one is really very shocking.''
Animal activists point out that the video was first uploaded by someone in Chennai on Sunday and therefore plan to file a case with the cyber crime cell in the city.
Activists say that unless this is stopped and action is taken, it triggers a pattern where humans love to exhibit cruelty, like tying firecrackers to a dog's tail, throwing acid on an animal or lifting a dog by its hind legs and rotating it.
Even though NGOs like the HSI announce reward amounts regularly, the only time they tasted success was when they cracked a case relating to a man raping a dog in Kerala. The video was shot and uploaded on Whatsapp, where it started getting shared.
"Fortunately, the people speaking in Malayalam was audible. And since we had announced a reward amount of Rs 50,000, the man who had shot the video called us and identified the person, a 48-year-old carpenter named Zachariah in Kottayam. He was booked for bestiality under section 377 and is now in jail,'' says Jayasimha.
Animal activists ran a sustained campaign when some persons backed by Kerala's civil society took to killing of stray dogs, after over 1000 dog bite cases were reported in the state in 2014-15. Things took an ugly turn with activists even taking out an online 'Boycott Kerala' campaign to put pressure on the state's administration not to resort to mass killing of dogs. Despite the effort, several strays were poisoned to death in different districts of Kerala.
Anyone with information on the person in the picture can contact HSI at 7674922044.