The budget for the 'Shiv Smarak' has risen 35 times since it was first conceived.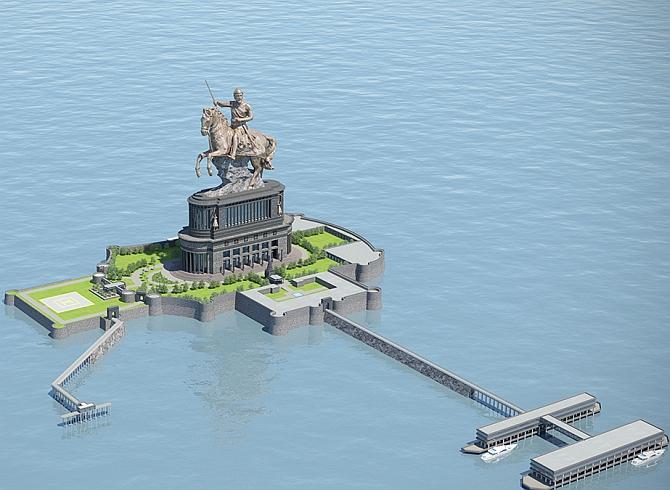 It could pay for a micro-irrigation programme to bring water to thousands of farmers over two years; pay for new rural roads seven times over; electricity projects five times over; restore 300 medieval forts in Maharashtra.
But the Maharashtra government, on October 26, 2016, started work on the world's tallest statue -- of medieval Maratha monarch Shivaji -- off Mumbai's coast and intends to spend Rs 3,600 crore (Rs 36 billion), at current estimates.
Since it was first conceived 12 years ago, the budget for Shivaji's statue has risen 35 times.
The state government bypassed legal procedure by getting an exemption on February 5, 2015 from conducting public hearings on the statue's construction -- local fishermen say it will affect their fishing grounds, and the island that will be its base -- from the Union ministry of environment forests and climate change.
The Municipal Corporation of Greater Mumbai and the electricity utility BEST recently expressed their inability to lay underwater cables to the statue site -- 3.5 km out to sea -- citing 'lack of expertise.'
Shivaji's statue will surpass Sardar Vallabhbhai Patel's 'Statue of Unity,' now under construction in Gujarat and slated for completion in 2018, by 8 metres, to be tallest in the world.
Currently, the Veera Abhaya Anjaneya Hanuman Swami in Vijayawada, Andhra Pradesh, is the tallest statue (41 metres) in India.
The idea for the Shivaji statue first emerged in 1980.
In 2004, the budget was around Rs 100 crore (Rs 1 billion), which jumped to Rs 700 crore (Rs 7 billion) in 2009, Rs 1,400 crore (Rs 14 billion) in 2013 and Rs 3,600 crore in 2016.

Indiaspend.org is a data-driven, public-interest journalism non-profit.