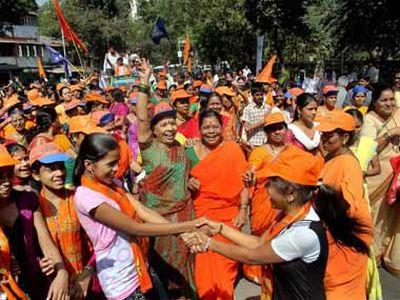 The Shiv Sena-Bharatiya Janata Party alliance won the Aurangabad Municipal Corporation polls winning 51 of the 113 seats.
In Aurangabad, Shiv Sena bagged 29 seats, BJP 22, Congress 10, NCP 3, Bahujan Samaj Party 5 and others 19.
The All India Majlis-e-Ittehadul Muslimeen made an impressive debut in Aurangabad, bagging 25 seats and coming second in the polls.
Aurangabad mayor Kala Ojha and another former woman mayor Anita Ghodele tasted defeat.
Hrishikesh, son of Sena MP Chandrakant Khaire won the poll. Khaire's nephew Sachin Khaire, however, lost to independent candidate Raju Tanwani from Gulmandi seat.
Former CM Ashok Chavan maintained his hold over the Bhokar municipal council in Nanded district. Meanwhile, reacting to the poll results, Chief Minister Devendra Fadnavis thanked people for "trusting" the BJP-Shiv Sena alliance.
"From the results, it is clear that people have voted for the BJP-Shiv Sena alliance. We are also getting power in many municipal councils. We thank the people as they have shown trust in us," Fadnavis said.
In the Navi Mumbai polls, former NCP minister Ganesh Naik managed to fend of the saffron challenge as his party bagged 53 seats and is likely to retain power unless Congress and others back Sena-BJP alliance which secured 43 seats.
NCP got 53, Sena 37, BJP 6 and others 5 in the Navi Mumbai polls.
Seven municipal councils also went to polls on Wednesday and the counting was held on Thursday.