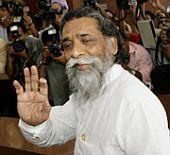 Jharkhand Chief Minister Shibu Soren, heading a Jharkhand Mukti Morcha-Bharatiya Janata Party coalition government, on Thursday won a trust motion in the assembly by 19 votes.
Sixty-five-year-old Soren received 45 votes in the 81-member House while 26 were cast against him.
All five Rashtriya Janata Dal members abstained from voting, while Enos Ekka of Jharkhand Party, Independent Harinarayan Rai, Congress' Gopal Nath Sahadeo and Arup Chatterjee of the Marxist Coordination Committee were absent.
Ekka and Rai are in jail in a disproportionate assets case.
Soren was invited by Governor K Sankaranarayanan on December 27 to form the government and asked to seek a vote of confidence by January eight when he was sworn-in for a third time as chief minister on December 30.

Besides his 18-member JMM , Soren claimed the support of NDA-20, AJSU-5, Jharkhand Janadhikar Manch-one, Rashtriya Kalyan Paksh-one and one Independent MLA Bidesh Singh.