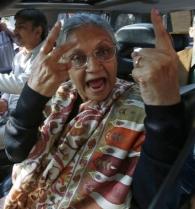 Former Delhi chief minister Sheila Dikshit on Saturday said Arvind Kejriwal had no option but to resign after losing majority on the floor of the assembly.
"His (Kejriwal) government lost majority on the floor of the House, it is not a matter (of choice), so he quit," said the 75-year-old Congress leader.
She also took a dig at Kejriwal, saying the Aam Aadmi Party leader had to quit because he had said he was not going to "rule by the law".
She was responding to a query on Kejriwal's decision to step down after he was prevented from tabling the Jan Lokpal Bill in the Delhi Assembly on Friday in the face of stiff opposition from both the Congress and the Bharatiya Janata Party.
Dikshit made it clear that her party's support was very "categorical".
"Anything that is good for the city and its citizens, we will back you for it, but it does not mean that tomorrow you will say that we will not listen what the Lieutenant Governor says. We did not promise to support that," said the three- term chief minister, who lost her own seat to Kejriwal by more than 25,000 votes in the assembly polls last year.
Asked about the feeling among Kejriwal's critics -- that he was all talk and no action -- the Congress leader quipped, "He believed in talking action only."
She also contradicted Kejriwal's remarks -- that she passed nearly 13 money bills without the permission of the Union home ministry.
"We have never done anything which was against the procedure," Dikshit said.
Defending his decision of not sending the Jan Lokpal Bill to the Union home ministry for approval, Kejriwal had said, "I have a list of 13 legislations in which they (Dikshit government) did not take any approval".
"The legislations have been held back by the home ministry for six-seven years. If this is the case, then how can the assembly make a law? Sheila Dikshit used to pass laws before taking the Centre's approval," Kejriwal had said.