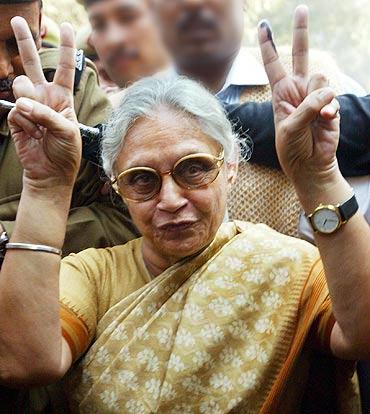 Chief Minister Sheila Dikshit on Wednesday debunked results of various opinion polls giving some weightage to Aam Admi Party and edge to BJP in the December 4 assembly election, saying their projections do not reflect the ground realities as people are likely to go for the Congress which fulfilled their aspirations.
Dikshit, aiming to lead the Congress for a fourth straight victory in the polls, said her government has delivered on the promises made to people and ensured inclusive growth through series of forward looking schemes and projects in the city besides scaling up infrastructure commensurate with rise in population.
"I do not think the opinion polls reflected the ground reality. How can you say Aam Admi Party will get so many seats when they have not yet come out with their agenda. I do not know on what basis they arrive at conclusion and how credible their figures can be," Dikshit told PTI in an interview.
When asked whether she was worried about possibility of Arvind Kejriwals's Aam Admi Party eating into Congress' vote share, the 75-year-old Congress leader rejected such possibility and said people of Delhi will support her party which has performed efficiently in the last 15 years.
"The bahujan Samaj Party which is an established party had campaigned hard during the last assembly election but it could not achieve much despite Mayawati holding a series of meetings. It is too early to say whether AAP will have any impact or not as people don't even know what it stands for," Dikshit said.
"The Aam Admi party is not a political party in true sense. Aam party may be a phenomenon. But is it a political party? I doubt," she said.
"I think people will support us as we carried out an inclusive development model. We ensured welfare of all sections of society. We have worked hard to offer the citizens a better life and our work is not yet complete," she said noting that the main fight in the polls will be between the Congress and the BJP.
Various opinion polls have projected that AAP may eat into the Congress' vote share while some polls have given edge to the BJP.
Asked whether the BJP will be able to give better fight to Congress this time compared to 2008, Dikshit said the party was united during the last assembly polls.
"It is difficult for me to say what their internal strength is but in 2008 it doesn't seem to have differences. This time their differences are out in the open," she said.