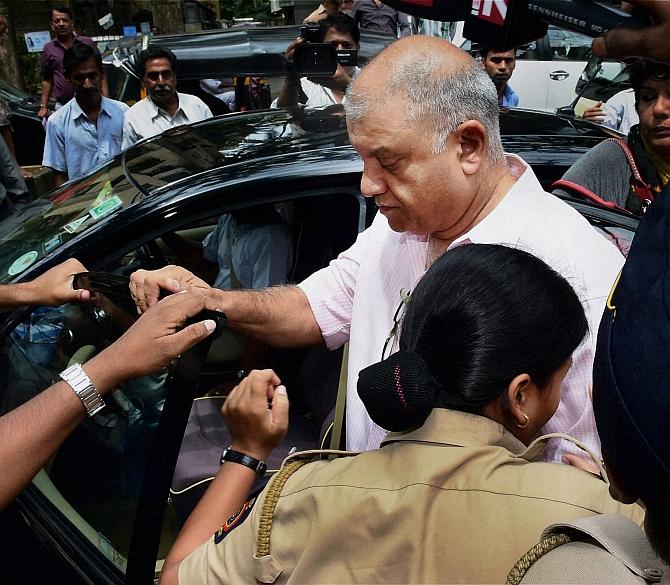 The Central Bureau of Investigation arrested former top television executive Peter Mukerjea in Sheena Bora murder case on Thursday, hours after the investigating agency filed a chargesheet in the case.
CBI's spokesperson said that Mukerjea's name surfaced during its probe in the case and 'he has been arrested'.
The spokesperson refused to divulge any further details in the case but sources in the probe agency alleged that he had some more insight in the crime which he had not shared with the Mumbai police.
Sources said that he has been arrested for allegedly 'shielding the accused' and 'inconsistencies' in his statements. Mukerjea was placed under arrest after another round of questioning on Thursday.
He has been kept in the office of Special Task Force of the CBI in Mumbai and will be produced before the competent court on Friday.
The development came after the CBI filed the chargesheet in a magistrate's court in Mumbai in which Sheena Bora's mother and former media magnate Indrani Mukherjee and two others have been named as accused.
Sheena was Indrani's daughter from her first marriage.
The CBI had questioned Mukerjea for hours before it was decided to place him under arrest, the sources said.
Mukerjea's lawyer Mahesh Jethmalani said he was surprised at the decision of the CBI to place him under arrest. "I contacted him through messages and my last contact was well past 7.30 pm when he informed me that he was being questioned by the CBI and that he would contact me later," he said.
Sheena Bora, 24, was allegedly murdered by her mother, Indrani's former husband Sanjeev Khanna and her former driver Shyamvar Rai here in April 2012 and her body was dumped in a forest in the neighbouring Raigad district.
The probe into the sensational case, which was personally supervised by the then Mumbai police commissioner Rakesh Maria, was later handed over to the CBI by the Maharashtra government considering its various aspects, including the suspected money trail.
Indrani, Khanna and Rai are currently lodged in judicial custody here which is due to expire on Friday.
Ever since the investigation began, the case has been through some dramatic turns like hospitalisation of Indrani after she collapsed in the Byculla prison in Mumbai.
The case also generated much political heat with the Opposition attacking the Bharatiya Janata Party-led government in the state for abrupt transfer of Maria in September in the midst of the probe.
Recently, Indrani was again hospitalised after her platelet count dipped drastically. However, doctors at the J J Hospital in Mumbai made it clear that she had not contracted dengue as suspected.
© Copyright 2023 PTI. All rights reserved. Republication or redistribution of PTI content, including by framing or similar means, is expressly prohibited without the prior written consent.