There are twists and turns and then some more. The Sheena Bora murder so far reads like a script of a bestseller whodunit, but the fact that it's not fiction can send a chill one's spine. There are too many convoluted wires in this case that need to be straightened out and there are certain questions that need to be answered.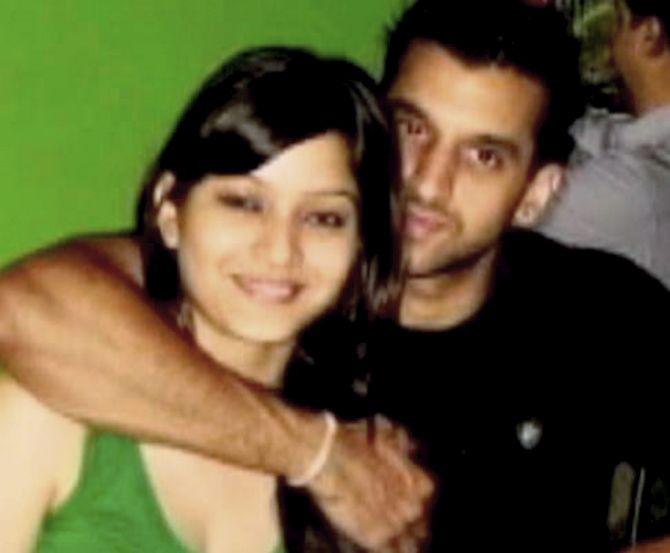 Sheena Bora with Rahul Mukerjea.
1) How is Sheena Indrani's daughter and just when did Indrani give birth to Sheena?
Sheena Bora was 24 when she mysteriously disappeared in December 2011. In 2002, Indrani married Peter Mukerjea when she was 30. So, at the time of Sheena's disappearance, Indrani was 39. So, did she give birth to Sheena at the age of 15 which is quite possible but that leaves us with another question was she married then?
2) How did everyone believe that Sheena was in the US all this time?
According to reports, Indrani told everyone that Sheena had gone to the US. In fact, on Wednesday, Peter Mukerjea had said that he believed Sheena was in the US all this time.
However, there were no images of Sheena in the US. Additionally, no one had Sheena's contact number or a destination.
3) Why didn't Mikhail notify the police?
Mikhail, Sheena's brother, has alleged that it was Indrani who murdered his sister and he knew about the motive. But, he is waiting to 'spill the beans' after the cops finish their probe. He added that for three years every time he asked Indrani about Sheena, his mother would tell him that she was in the US and that he had his doubts. However, that begs the question, if he had doubts, he knows why Indrani wanted to kill Sheena and he was next on Indrani's list, why didn't he inform the cops? Why didn't he notify the authorities about the dangers Indrani posed to his well-being?
4) Why was Mikhail keeping his grandparents indoor and why aren't they being questioned?
A neighbour of Sheena's brother Mikhail on Thursday claimed that he has kept his maternal grandparents in his house against their wishes. Additionally, every time the grandparents came out of the house, he would rush them inside, saying, "Go inside, go inside. What or who was Mikhail so afraid of? Why aren't the grandparents, who might know about Indrani's previous relations and have an insight into the family, being questioned? One has to wonder what pandora's box will the parents open.
5) Who tipped-off the police of Indrani's involvement in the case?
In May, 2012, a young woman's burnt body was found in the forests, 84 km from Mumbai. It is reported that based on a tip-off from a source, the police began investigating Indrani, believing that the body disposed off was of Sheena.
6) Who "resigned" from Reliance on Sheena Bora's behalf?
Reliance on Wednesday issued a statement saying that Sheena Bora had joined Mumbai Metro as an assistant manager on June 20, 2011. She took leave of absence on April 24, 2012 and while she was on leave, she sent in her written resignation.
The body that is now believed to be Sheena was found in Raigad on May 23, 2012 and the murder was committed on April 24, 2012. So, who sent the resignation? And when? Was the resignation letter signed by Sheena?
7) What has happened to Sheena's father? Who is he, why hasn't he come forward or been located?
According to reports, Sheena is stated to be Indrani's daughter from an earlier marriage with one Siddharth Das. Was he in touch with Sheena and used to speak to her? Where is he been all this time?
8) How did Indrani's husbands not know of the children?
Neither did Sanjeev Khanna nor Peter Mukerjea know that Sheena and Mikhail were Indrani's children and believed that they were all siblings.
Moreover how did Indrani's parents explain two newborn children as their own, when their child, Indrani was already a teenager, either 15, or 19.
9) Why was Sanjeev, Indrani's ex-husband involved?
Mumbai police arrested former husband of Indrani, Sanjeev Khanna, in connection with the case in Kolkata. Why would Indrani ask her former husband for help in getting rid of her daughter? How would Sanjeev benefit from Sheena's murder?
10) Did Rahul know of the true nature of Sheena's relationship with Indrani? Did he tell his father, Peter?
According to latest reports, Rahul, the son of Peter Mukerjea, had told him that Sheena was Indrani's daughter. However, Peter on TV on Thursday night, insisted that he believed Indrani 9.9 times out of 10. "Indrani is my wife and I believe her." However, why did Peter not believe it even though his son insisted on it?