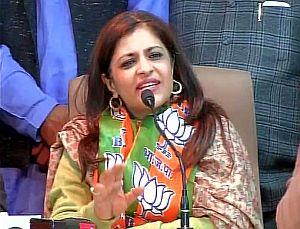 Delhi Police has registered a case of sexual harassment against unknown persons on a complaint by Delhi Bharatiya Janata Party leader Shazia Ilmi who alleged that she received a barrage of vulgar comments on social media.
Shazia, a vice president of Delhi unit of BJP was allegedly trolled after commenting on Sandeep Kumar, the sacked minister of the Aam Aadmi Party government. She had filed her complaint at Economic Offences Wing of the Delhi Police.
"The case against unidentified persons has been registered under charges of sexual harassment and publishing or transmitting obscene material in electronic form. Further investigation is underway," said a senior police officer.
"FIR Against Obscenity by 'AAP'! Will not tolerate any more filth from AAP supporters ! Enough is enough! Respect women!" Shazia tweeted after registration of the FIR.
She said that police was trying to identify the persons who had sent her "obscene" comments hurling "sexual innuendos" at her on social media.
"The accounts have been deleted but I hope police catch the culprits," she said.
She was trolled over her video statement on Twitter, where she had attacked the Arvind Kejriwal government over the alleged involvement of sacked AAP minister Sandeep Kumar in a sex tape.
Kumar, a former minister in the Kejriwal government, was sacked from the AAP last year over a sex tape purportedly featuring him.
He was recently in news as he was seen campaigning for BJP's Narela candidate Savita Khatri who was later expelled by her party.