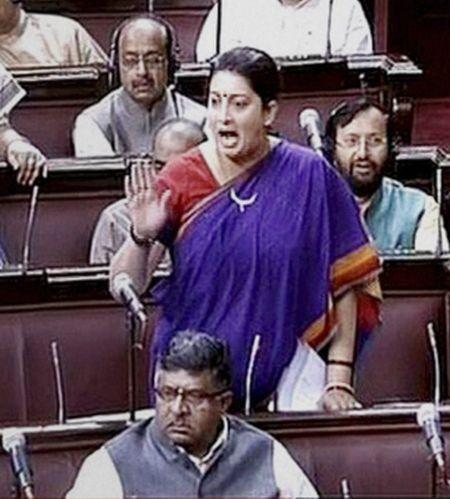 The controversy over the sexist remarks of Janata Dal-United leader Sharad Yadav refused to die down as he remained unapologetic in the Rajya Sabha that witnessed uproar briefly on Monday over his defiant attitude.
Calls to him to desist from such a language and withdraw his remarks over the colour and body of South Indian women fell on deaf ears as Yadav said he was ready to debate discrimination based on colour.
With Human Resource Development Minister Smriti Irani appealing to him not to bring in issues like colour of women, the JD-U leader retorted in a tone of derision, "Who are you? Why should I apologise? I raised a very important issue of discrimination on colour," he said.
"There has been a long struggle against discrimination based on colour... I am ready to participate in a debate any time," said Yadav.
Irani reacted sharply to the remarks, asking Yadav to refrain from commenting on complexion of women in any manner.
"I appeal through you (chair) to the gentleman, do not make comments about the colour of any woman's skin. I beg of you. You (Sharad Yadav) are a senior member, a very wrong message is going to the rest of the country," she said.
Yadav responded saying: "I strongly refute the allegation. I know what you are." His comments stunned other leaders and Irani herself.
"From Gandhi to Lohia, I have all the record of what has been said about women. A lot of struggle has been done for women with dark complexion," he said.
Irani again got up to respond saying: "Please don't do this. Naming Lohia and Gandhi and commenting on women"
Trying to clarify, Yadav said, "I can discuss the issue with anyone, we are in favour of Indian culture."
The issue figured after Prasad rose to dissociate himself from comments made by Yadav last week. "I dissociate myself from those remarks. I completely disassociate and disapprove of the remarks... I appeal to Sharad Yadav to kindly withdraw his comments," he said.
During the debate on the insurance bill in the Rajya Sabha last week, he spoke on Indians' obsession for fair skin and said: "Your God is dark like Ravi Shankar Prasad, but your matrimonial ads insist on white-skinned brides."
On Monday, Yadav defended his remarks saying, "What have I said ... 'saanvli' (dark complexioned) women are more in number in India, they are more in number the world over. I am ready to debate with anyone on the struggle of (Ram Manohar) Lohia and others for them."
Irani said as long as people like here were in Parliament, dignity of women would not be allowed to suffer.